Visions from Monroe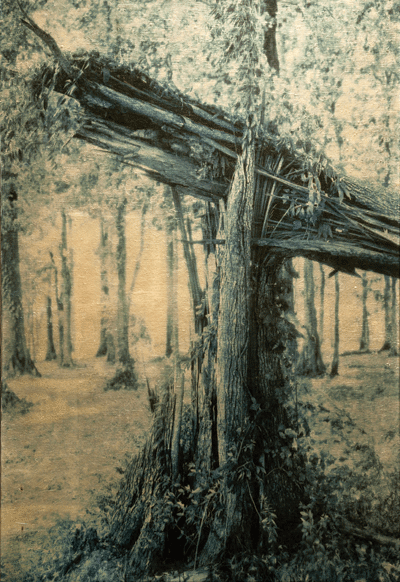 Carl Jung, the famed Swiss psychiatrist and founder of analytical psychology, knew what creating art was all about. "Your vision," he once wrote, "will become clear only when you can look into your own heart. Who looks outside, dreams; who looks inside, awakes." Monroe photographer Joli Livaudais Grisham looks within to create iconic images that speak to her own spiritual sense of place.
Grisham and her husband, Jason, have renovated a late-19th-century commercial row building on South Grand Street backing up to the Ouachita River in downtown Monroe. The comfortable old storefront, which housed numerous businesses over the years, including Mexican and Chinese restaurants, is now their studio, art gallery and home. Joli is a professional photographer, and Jason is a graphic designer with a local advertising firm.
When she is not off on paid assignments, she wanders about Northeast Louisiana with her camera and awakened sensitivities open to images in the landscape that "embrace that sense of place and how they relate spiritually." She searches until that single element – perhaps a kudzu-covered tree, a decayed honeycomb or veils of Spanish moss in a leafless tree – speaks to her imagination.
"I believe my work captures something real and wonderful about Louisiana," she says. "This is a place teeming with life, but it is also heavy with decay and ancient beyond our understanding. The contradiction is in the landscape, woven into the fabric of the soil and the creatures that live here. It is revealed in my artwork for I have made my home the focus of my spiritual search."
Grisham didn't plan to be a professional photographer and artist. Born in Chicago, she spent her childhood moving from one state to another due to her father's job as a quality control engineer for nuclear power plants. They eventually ended up in Baton Rouge, where she finished high school. Upon graduation, she joined the Army to challenge herself and did an eight-month tour in Saudi Arabia and Iraq during Desert Storm. Stationed just behind the front line, she was assigned to the Signal Corps to support the Army's First Cavalry engineers. "It
was dirty, long and hard," she says, looking back over those months. "But I learned what I'm capable of in
tough situations."
After her discharge in 1991, Grisham attended the University of Texas at Arlington where she received bachelor's and master's degrees in experimental psychology. She intended to go on for a doctorate and a career in teaching and research. But after a little soul-searching, she decided art, not teaching or experimental psychology, satisfied a longing within her. She quit graduate school, took a job in Dallas as a photographer's assistant and then worked as a freelance photographer with clients such as Neiman Marcus, J.C. Penney and Pier One. All the while, she explored her fine art photography on the side.
"I was always interested in art, but my mother convinced me I couldn't make a living as an artist," Grisham explains. "I believed her, but a longing for that never left me. I suppressed it, but then I decided it was worth the risk. It's not that I feel I have something to offer, but I had this need to express myself and make something. It wouldn't be silenced. It's almost an obsession in my mind.
It really fills you."
In 2004 she moved to Monroe to be closer to Jason, whom she met while on a photo assignment in Dallas. In Monroe she took a job as a senior photographer with the advertising firm of Newcomer, Morris & Young. In 2007 Grisham opened Livaudais Studio and has since had a child and returned to college, working on a master of fine arts degree in photography at Louisiana Tech in Ruston. Grisham also co-founded Monroe's Downtown Arts Alliance, a not-for-profit organization of artists and galleries created to help promote the visual arts with bimonthly coordinated downtown gallery openings.
In creating her art, Grisham's studies in psychology have clearly influenced her work. She refers to Carl Jung's thoughts on using symbols and images to convey ideas. "I do use those concepts as tools to express what I'm saying. I am also intrigued by religion and science and how similar they are. It all comes from an analysis of one's self in life."
Thoughts of life, death and our place in the cosmos are underlying themes in a recent series of photographs Grisham titled Meditations.
"I think people resonate with it," she says. "People wonder about things around us and what it means." In this series, she digs deep into metaphysics. "The wheel of creation, maintenance and destruction grinds endlessly, a ravening machine, terrifyingly pure in its lack of concern or gentleness," she wrote for an artist statement accompanying the work. "Yet it is also beautiful, orderly, a profoundly synchronized web of vibrating particles."
In a sense, images in Meditations are not simply photographs but also contemporary icons with subtle visual references to the religious Byzantine icons of the Middle Ages. "Byzantine painters used a set of visual symbols to reveal the divine in the mundane," Grisham explains. "One of the most important of these was gold. Gold gave the work a feeling of material preciousness while also creating a source of otherworldly luminosity and warmth. They also used ultramarine blue, a rare and expensive pigment, to signify spiritual purity. I print my images in tones of blue and suspend them over 23-karat gold leaf using resin. By applying these symbolic spiritual elements to a photograph, a process intrinsically rooted in reality, both are interpreted in a new way. The work is experienced as concept and as a physical object, mirroring the duality of spirit and earth."
Grisham begins by applying 23-karat gold leaf to a prepared wood panel. Over the gold leaf, she pours a thin layer of transparent epoxy resin. Once that dries, she affixes, or floats, the photographic image printed on rice paper on top of the resin. She then completes the work with a thicker layer of transparent resin. The process, she says, gives the images "depth and layers that are both metaphysical and spiritual."
Photography, perhaps more than any other artistic medium, Grisham believes, is an intuitive way to engage viewers.
It's about symbolism. "When you show someone a photograph," she says, "you're asking someone to step into that reality. In these icons, you want viewers to turn inward into themselves in a spiritual way and feel a vibration and spirituality they can connect with in their real lives. The fact that this is a photograph and not a painting says, 'This is really here.' It's a stronger message." Or as Carl Jung wrote, it is a way to look within and awake.
To see more of Grisham's work, visit her gallery at 122 S. Grand St. in Monroe or her Web site
www.joli-grisham.com.