Water's Edge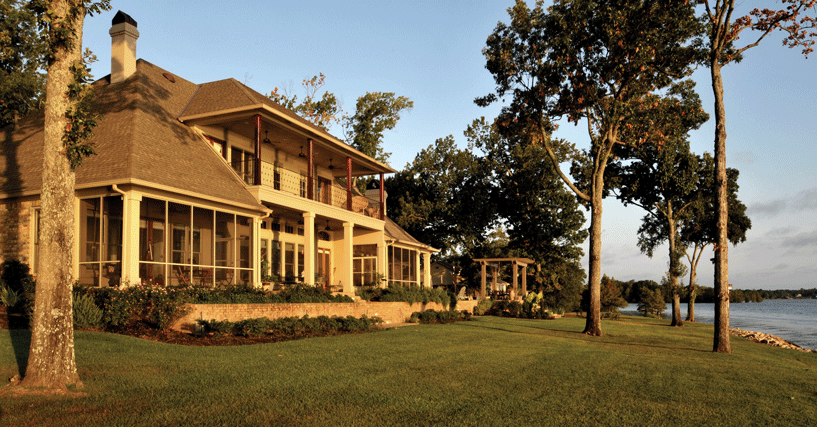 On almost 10 acres of land that once belonged to his great-grandmother Alice Werner, Murray Viser and his wife, Pat, built their new home three years ago. Murray spent many happy childhood years staying in a simple waterfront house on the edge of picturesque Cross Lake in Shreveport.
"I'd sleep on the screened porch and wake up to the birds singing in the treetops," Murray recalls. "It was a magical place where an occasional alligator would venture near our boat dock to sun itself. Here is where I would dream that someday I would build a house on the gentle slope that ended at the water."
His dream took almost a half-century to materialize, but today there is indeed a beautiful new house on the water's edge, while the original lake house and all of its memories still exist nearby as a reminder of happy
days gone by.
"We always talked about building a house on Cross Lake," Pat says. "It just took us 23 years to do it." A tour of the unique home that fully embraces its setting makes you realize that it was worth the wait.
Today the 4,300-square-foot home is a comfortable retreat for the busy couple –– Pat is the owner/partner of Viser/Williams Create LLC and a writer, account executive and strategist for Williams Creative Group Inc., and Murray is president and chief operating officer of Barksdale Forward Inc., a nonprofit organization that supports Barksdale Air Force Base.
"It is always peaceful here," Murray says. "There is still that magical quality I felt as a child." Pat loves waking up each morning to a view of the lake. "This is truly a bird sanctuary, and we always seem to have at least one eagle watching over us from a high tree limb," she says and points to the sky speckled with birds, adding, "Look at the myriad of purple martins flying overhead; they are eco-friendly mosquito eradicators. We also have lots of hummingbirds."
Designed by architect Rand Knicely of Rand Knicely Design Build, the home has broad verandas and balconies on both the front and back, with screened porches flanking the veranda on the lake side. "It's all about the view," Murray says, and Pat adds, "One of the first things I told the architects was that I wanted to be able to drive up to the house and have an unobstructed view from the front door to the back veranda and the lake beyond."
Inside, "comfort" and "elegance" are the watchwords, with a great room that spans 37 feet facing the lake and a surprisingly elegant formal living room and dining room on either side of the grand two-story foyer. Both are furnished with grand family antiques and treasures, such as an oil portrait of Murray's mother at the age of 16 painted by Jean Despujols, a native of France who lived for a time in Shreveport. In the dining room there is a china cabinet chockablock with family silver, china and crystal. Both rooms feature family heirloom
antique chandeliers.
Interior designer Regina Lynch played a major role in helping to select the colors throughout the home. "She worked beautifully with a neutral palette and natural materials so that everything blended with and brought out the natural setting of the lake," Pat explains. "She also helped with the window treatments to make sure our goal of having nothing obstruct the views of the lake [was realized]."
In the end, Pat and Murray are settled in a place they both love, and although Werner, their 22-year-old daughter, had already left for college when the family moved into the home, she was very much a part of the effort and carefully designed every inch of her suite on the second floor, which has a perfect view of the lake. "Yes, all three of us have wonderful memories of the times we spent at the lake house, and now we all marvel that our dream house is a reality," Pat says. Today the original lake house is used as a guest cottage for family and friends.
"My great-grandmother is surely looking down on us with pleasure," Murray adds with a smile. "She must be happy to know that for four generations, her family has enjoyed the land she acquired and loved so much at Cross Lake."