Weaving a Connection
Folk artist Janie Verret Luster keeps United Houma Nation basketmaking tradition alive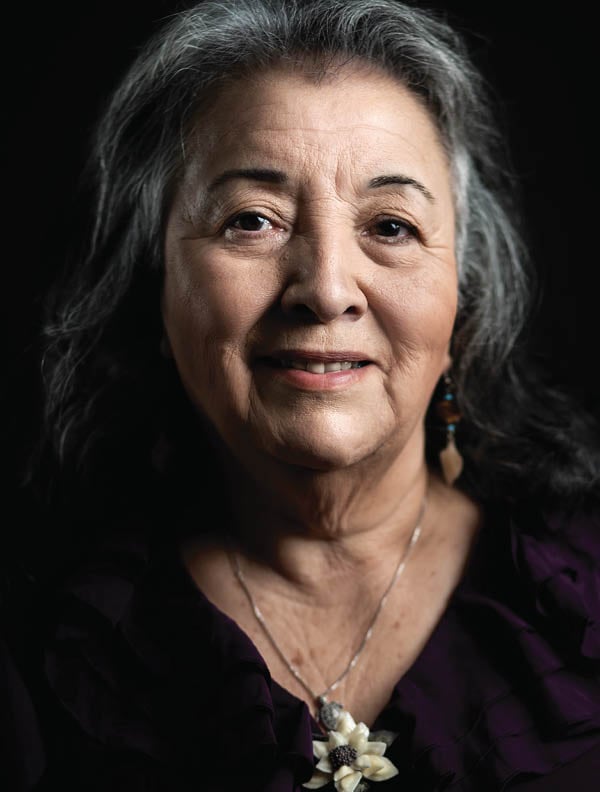 Art & Culture
Occupation: Artist – Hometown: Terrebonne Parish

Janie Verret Luster
Art can convey an emotion, perhaps tell a story or simply respond to the beauty of nature. To Janie Verret Luster, teacher, healer, practitioner of tribal ways and member of Louisiana's United Houma Nation, art is her way of preserving an ancient tradition almost lost to changing times, assimilation and a slow diaspora of the Houma people.
Luster, who was born in 1952 and has lived most of her life along Bayou Dularge in Terrebonne Parish, has been on a mission to teach other members of the tribe, especially younger generations, the almost extinct but recently revived Houma tradition of weaving baskets from the ubiquitous palmetto plant found all along the Gulf Coast.
Once an ordinary home industry, weaving baskets from palmettos was commonplace among Louisiana's Houma Indians, who have lived in Terrebonne and Lafourche parishes since the early 1800s. These baskets were used for almost every daily household activity, including carrying babies. But then in the 1940s it disappeared. Thanks to Luster and those she has taught, the once popular palmetto baskets with their unusual half-hitch knotting construction are making a comeback.
Luster credits that revival to two non-Houma outsiders — French teacher Oradel Morris and her 1993 book "I Hear the Song of the Houmas" and Richard Conn, curator of American Indian Art at the Denver Museum of Art. In 1992, Conn brought several Houma baskets to Louisiana where he gave Luster and others a workshop on the half-hitch weaving method. Since then, Luster has taught the art to her daughters, granddaughters, other members of her tribe and non-Houmas, too.
That revival has brought Luster considerable recognition, including exhibitions at the New Orleans Museum of Art, New Orleans Jazz & Heritage Festival, the Louisiana Art & Folk Festival, the Natchitoches-Northwestern State University Folk Festival, and the American Indian Museum in Washington, D.C. In 2011 she was inducted into the Louisiana Hall of Master Folk Artists. Among other honors, Luster has received the United Houma Nation Cultural Preservation Award and the Louisiana Division of the Arts Folklife Fellowship Award. To keep the tradition alive, she conducts "Passing It On" workshops through the Louisiana Division of the Arts' Folklife Program and the Bayou Culture Collaborative.
Her work is important, especially now. In recent years, hurricanes and rising sea levels have forced many Houma people to leave the bayous and marshes of South Louisiana to find higher ground elsewhere. Luster says her workshops will help these self-exiles take their culture with them wherever they go.
"When tradition is lost," says Luster, "it's lost forever. Native tribes look at basketmaking as part of their identity. When I do a workshop, more goes on than just basket-weaving, there's a sharing of stories and ways of life and family histories."