Wendy Rodrigue's Life & Legacy Art Tour Celebrates 100th School During Louisiana Return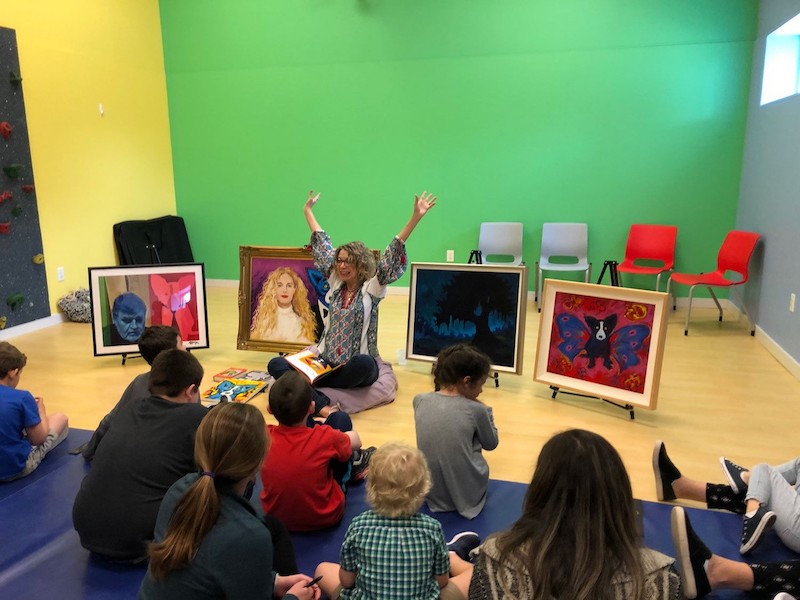 NEW ORLEANS (press release) – The Life & Legacy Foundation, sharing the life and art of George Rodrigue (1944-2013) through exhibitions of original artwork from the artist's private collection returns to Louisiana in November for the first time since the pandemic to visit six local schools. This tour will mark its 100th school visit, impacting more than 40,000 students.
Through her Life & Legacy Foundation, Rodrigue's widow, Wendy, presents artistic, inspirational stories primarily focused on George Rodrigue's life and artistic development. Rodrigue's lifelong self- determination, dedication to his art, and significant accomplishments resulted in one of the greatest stories in American Art. Each presentation is unique, unscripted and fluid and features original, museum-quality Rodrigue paintings from the couple's home.
"This developing, 'unplugged' journey, without computer or PowerPoint, is refreshing in our increasingly digital world," says Wendy. "Whenever possible, I enjoy small groups of fifty or less, allowing for a close study of the artworks, as well as discussions that always surprise me as much as my audience. I have yet to complete a class that students didn't stay afterwards with additional questions and comments about these magnificent paintings. George's art encompasses his spirit and lends towards the personal nature of these tours. I love being able to share him with others and inspire audiences of all ages."
The upcoming tour schedule includes stops at Trinity Episcopal School in New Orleans, Church Point High School in Acadiana, St. Jude the Apostle School in Baton Rouge, North Lewis Elementary School in New Iberia, St. James Place Retirement Community in Baton Rouge and St. Martin Gifted Center in Ocean Springs, Mississippi. To culminate this leg of the Life & Legacy tour, Wendy will make her 100th school presentation at Rodrigue's alma mater, Catholic High School in New Iberia Nov.17 and18.
Now in its fifth year, Life & Legacy includes school visits, museum exhibitions and numerous museum and community partnerships including the Ohr-O'Keefe Museum of Art, the LSU Museum of Art, Louisiana Association of Broadcasters, Chambers of Commerce, Women's Leadership Conferences, literary clubs, continuing education and many more. Additional tours are currently planned for Florida, Oklahoma, Texas, and Alabama.
Wendy, an award-winning public speaker and storyteller, was honored in 2019 as a New Orleans Business Woman of the Year, a New Orleans Person to Watch, and a Women of Fashion Prix d'Elegance Honoree for her tireless commitment to her Life & Legacy Foundation. Her book, The Other Side of the Painting (UL Press), and ongoing blog, Musings of an Artist's Wife, are considered the premiere source for information tracing the history of Rodrigue's life and art. For more information about Wendy or the Life & Legacy Foundation visit legacyarttour.org.