What's New in Louisiana Medicine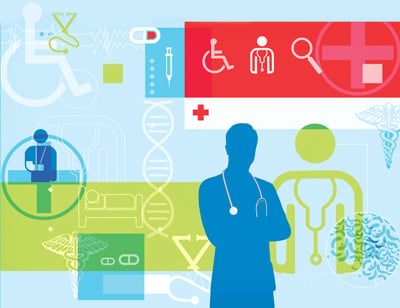 edical care is a constantly evolving field. New technologies and new surgeries become available to patients on a regular basis. Residents in all five regions of Louisiana can look forward to top-notch medical innovations in their area.

BATON ROUGE
Chronic heartburn (aka GERD – gastro esophageal reflux disease) isn't fatal, but it can cause chest pain, difficulty swallowing and trouble breathing. Previously, patients had to take proton pump inhibitors daily to eliminate symptoms. Now, the transoral incisionless fundoplication (TIF) procedure is showing promising results.
While previous surgical interventions were reserved for only the most severe cases, the TIF procedure makes surgery a more viable option for moderate GERD sufferers by largely eliminating the side effects (bloating and difficulty swallowing) of older procedures. Instead of taking a pill daily for decades and risking side effects (such as bone-density loss) from long-term usage, patients can have a safe, effective procedure instead.
According to data the TIF US Registry released this year, 81 percent of patients who underwent the TIF procedure experienced either total elimination or noticeable improvements in their GERD.
"The TIF procedure is a viable option due to the dramatic shift in the risk-reward profile associated with correcting the underlying anatomical failure, and it allows a majority of patients to stop taking daily medication for reflux," says Dr. Aldo Russo of Ochsner Medical Center – Baton Rouge.

CENTRAL LOUISIANA
With trauma patients, the "golden hour" is everything. For the best chance of survival, a patient should go from trauma to surgery in less than an hour. Until recently, trauma patients in central Louisiana needed to be flown into New Orleans. But now, Rapides Regional Medical Center in Alexandria has a Level 2 trauma center.
The center is the first in an initiative to develop a statewide series of trauma centers (outside of New Orleans) that will ensure that all Louisianians will be no more than 50 miles from trauma care. Louisiana is currently one of seven states without a statewide trauma system and features the ninth-highest mortality rates for trauma patients.
Donna Lemoine, trauma center director at Rapides Regional Medical Center, said central Louisiana sees a lot of ATV, horseback riding and industrial accidents requiring urgent trauma care. Rapides has a full staff of surgeons available to treat any traumatic injury. When patients are 10 minutes away from the hospital, doctors are notified so they can be waiting for the patient when he or she arrives, instead of the patient waiting on the doctor. The hospital sees patients from as far away as Natchez, Miss.

LAFAYETTE/ACADIANA
Increasing numbers of people are telecommuting to work every day. Now, it's possible for some Louisiana residents to telecommute to the doctor.
For employees of Stuller, a large jewelry manufacturer and one of Acadiana's biggest employers, leaving work for a doctor's appointment was a tremendous hassle. Because employees handle highly valuable jewelry, security is high entering and leaving the facility.
Lafayette General Medical Center has introduced a telemedicine center within the Stuller premises. A nurse is on-site from 10 a.m.-2 p.m., Monday through Friday, and doctors see patients through video conferencing. A bluetooth otoscope and stethoscope transmit information from the patient to the doctor as if he were in the room with the patient. Video screens show both the patient and the doctor what the otoscope sees.
Geoff Daily, executive director of the Lafayette General Foundation, estimates that the telemedicine clinic can do 75 percent of the services of a walk-up clinic (anything that doesn't require a hands-on examination). Now, patients who put off going to the doctor because it was so time consuming can see one quickly and conveniently.
"We took a process that used to take two or three hours and turned it into a half-hour process," Daily says.

NEW ORLEANS
Each year, 1 out of 1000 American babies is affected by myelomeningocele (MMC), one of the most serious forms of spina bifida. Because of an opening in the spine, the spinal cord is exposed, leaving nerves vulnerable to injury from amniotic fluid. The children can suffer a lifetime of neurological disabilities, difficulty moving lower limbs, sensation impairment and bladder/bowel issues.
Even though MMC is detectable when the fetus is 12-14 weeks old, the defect was traditionally repaired after birth. But, recent studies indicated babies who received a prenatal operation were twice as likely to walk independently at age 2, have better motor function, and were less likely to need a ventricular shunt (a plastic pressure-releasing tube inside the brain). At Ochsner Medical Center, doctors are now able to perform spina bifida repair in utero.
"To be able to intervene early enough so that a child will be able to walk, that's huge," said Dr. Chong Bui, pediatric neurosurgeon with the fetal surgery team at Ochsner Medical Center. "To save a child from a lifelong dependency on a shunt is remarkable. It doesn't only impact the baby, but it impacts the entire family."

NORTHWESTERN LOUISIANA

Cancer treatment in northwestern Louisiana will take a big step forward with the installation of revolutionary proton therapy equipment at Shreveport's Willis-Knighton Cancer Center.
Considered the most advanced cancer treatment, proton therapy accelerates protons to two-thirds the speed of light to kill cancer cells. While chemotherapy kills healthy and cancerous cells alike, proton therapy deposits the majority of radiation within the tumor, sparing healthy tissue from damage. The new treatment is advantageous in treating cancers where options are limited and conventional radiation is risky (eye, brain, pancreas and prostate cancers, among others).
The 11 existing proton therapy centers are in facilities approximately the size of a football field and cost $120-200 million. Willis-Knighton's center will feature the first compact proton therapy system, costing only $40 million. The equipment will be installed and tested in 2013, with treatments to begin in late 2014.
"We cannot wait to see proton therapy become an available option for our patients," says Dr. Lane Rosen, medical director of radiation oncology at the Willis-Knighton Cancer Center. "The addition of proton therapy allows our patients to continue to receive the world's best treatment without the need to travel out of the region."