Where the Trophy Spins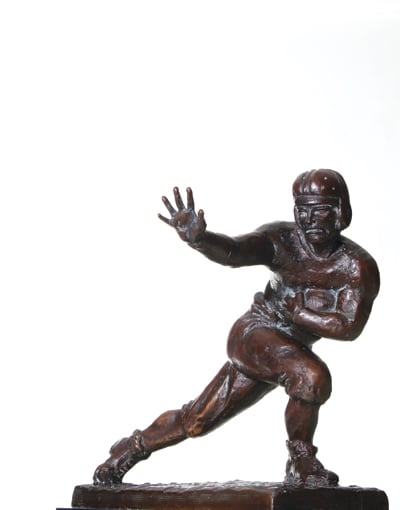 TJ Ribs restaurant likes to claim that it introduced babyback ribs to Baton Rouge. Its slogan even proudly proclaims itself as "The Reason for Ribs." Served as a full rack, the ribs are excellent – tender and tangy. But on the list of things that make the South Acadian Throughway restaurant famous, the ribs are second. First place, as always, goes to the Heisman trophy. Near the entrance in a case on a turning pedestal stands the Heisman that LSU's Billy Cannon won for the 1959 season.
That was the year that the Tigers hoped to repeat after winning the national championship the year before. The real test came on Halloween night when No. 1 ranked LSU played No. 3 Ole Miss in Tiger Stadium. It would provide one of Louisiana sports' most unforgettable moments when Cannon returned a punt 89 yards for what proved to be the winning touchdown of a 7-3 victory.
Hopes crashed the following week when the Tigers, who were probably emotionally exhausted, were upset by Tennessee, 14-13. A rematch of LSU and Ole Miss in the Sugar Bowl was equally disastrous with the Rebels dominating 21-0. Nevertheless, for the first week in November of '59 LSU seemed to rule the world and Cannon sat on the throne. The Heisman was a cinch.
(Those two boats in a display case near Cannon's trophy are a pair of Shaquille O'Neal's basketball shoes beneath one of his tent-like jerseys.)
After a few years in pro ball, Cannon became an orthodontist. Because of bad investments he ran into legal problem, and the big penalty flag was dropped. After 2 ½ years in prison he recovered to have a notable career supervising the health system at Angola. For all the zigzagging in his life, no one can take away that magic moment in '59 as memorialized in the restaurant. Pigskin and pork ribs blend well together – symbols of manhood – tailgating food devoured around a trophy rather than in a parking lot.
Viewers should be reminded, though, that as the trophy spins, it is not necessarily because of the margaritas but because that is how the pedestal was designed. The sweet smell of barbecue triggers the roar of the crowd.