Wingate Jones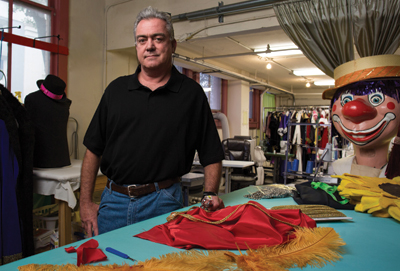 Wingate Jones just so happened to land in the perfect city to open a costume shop. His 9,000-square-foot Southern Costume Company in downtown New Orleans helps outfit Mardi Gras royalty and actors on Hollywood movie sets, but Jones moved to Louisiana from Los Angeles for love. The costumes came later.
Jones' father was president of top Hollywood costumer Western Costume Company for 40 years: "I grew up in Hollywood and in the business and started running around the halls of Western Costume at a very young age," he says.
Jones says his father helped him land his first Hollywood job, working as a motion picture and television costumer at Universal Studios in 1980. During that tenure, Jones created costumes for shows like Magnum, P.I.; BJ & The Bear; Simon & Simon; and movies like Top Gun and Ferris Bueller's Day Off. He retired from that business in 1999 when he moved to New Orleans to marry his wife and start a family.
Jones landed work in the IT department at Entergy Corp., saying he was burned out on costumes and wanted more regular, 9-to-5 work that would allow him to be "on time to pick up the kids before Social Services did" while his wife worked a busy schedule as a Hollywood hair stylist.
But the costume business called him back. "After doing IT for awhile, I got a little tired of that," Jones says. "There were a lot of people coming into town as a direct result of the film tax credit that was passed in 2002 that were old friends and compadres from the business. They were all coming in from L.A."
Jones saw an opportunity and jumped on it, opening Southern Costume Company in early 2011. "We're a smaller version of what can be found out in L.A.," he says. Five years later, Southern Costume Company divides its business in equal parts among costumes for motion pictures and television, providing costume rentals to the public, and filling custom orders for everything from Mardi Gras courts and crews to Halloween costumes and mascots.
Though he's hired a talented team of designers and seamstresses, Jones still does some designing himself. "The occasion arises all the time where we're actually sitting down with somebody and designing a concept," he says. "Other clients come in and they know exactly what they want." Recent projects include locally filmed movies like 21 Jump Street and Abe Lincoln: Vampire Hunter.
Jones says his company works with high-quality materials that "hearken back to some of the old-school stuff that was done at the turn of the century when costume design was probably a little bit more important than it is now. For people that come in and want a costume and don't care what it is, they're in the wrong place. If it's in a bag and it's 50 dollars, and it's made in Malaysia, it's great for one night, but you won't find that here. We like doing things that are kind of challenging and kind of give us a chance to sink our teeth into."