With Completed Campus Transformation, Children's Hospital New Orleans Advances Care for Patients Near & Far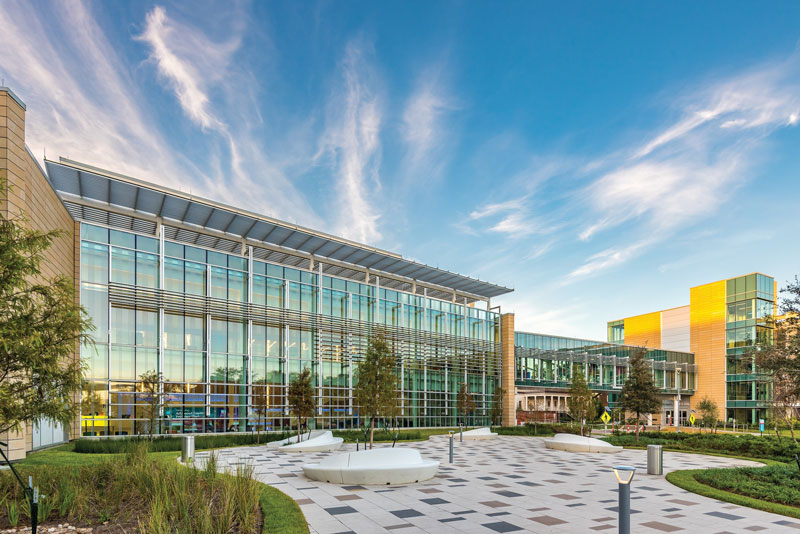 As the first and largest freestanding children's hospital serving Louisiana and the Gulf South, Children's Hospital New Orleans was already the regional child health leader, providing the highest level of care for the area's sickest babies, children, adolescents and young adults. Now, after the recent completion of a four-year, $300 million campus transformation, Children's Hospital New Orleans provides unmatched pediatric expertise with its academic partners at LSU Health New Orleans and Tulane University School of Medicine, state-of-the-art facilities, and a specially designed patient and family experience.
"To continue providing the most advanced care possible, hospital leaders knew it was necessary to expand our facilities and create an innovative environment of healing," says John R. Nickens IV, Children's Hospital New Orleans President and CEO. "The investments we made to our main campus stretch far beyond improving the clinical care provided. Our philosophy of care focuses on the whole family, so updates were also made to improve access and provide comfort to families who come to Children's from across the Gulf South to receive the specialized care their child needs."
While investing in bricks and mortar, Children's Hospital New Orleans focused on expanding specialized programs and recruited some of the best and brightest leaders in pediatric healthcare to build a healthier tomorrow for Louisiana's children. These efforts were validated in June 2022 with Children's Hospital New Orleans ranked among the nation's best children's hospitals by U.S. News and World Report in Urology and Nephrology for the first-time.
Expanded Resources for Regional Patients and Families Children's Hospital
New Orleans serves children from all 64 Louisiana parishes plus neighboring Gulf South states. When regional facilities refer medically complex patients, the Children's Hospital New Orleans Transport Team is dispatched by ambulance, helicopter or fixed-wing aircraft to safely transport critically ill or injured pediatric and neonatal patients. Performing more than 550 transports each year, the team is staffed with specially trained nurses and respiratory therapists who can stabilize even the most critically ill patients during transport.
For families who travel to New Orleans for care, the new campus transformation offers comfort and support in the form of on-campus family housing options—a 12-room Hogs for the Cause Family Center and the soon-to-open 22-room Ronald McDonald House. The new Child Life Center promotes healing while allowing kids to be kids. It features age-appropriate playrooms, a large multipurpose room for activities and special events, a sensory room for children with autism or neurological conditions and a specially trained team of child life professionals.
Patient families can also benefit from the new Family Resource Center that provides computers, information about dining options, social services, insurance enrollment and other family-support needs.
State-of-the-Art Upgrades
Families who receive care at Children's Hospital New Orleans benefit from expansive clinical upgrades, including 230,000 square feet of new clinical care space.
With the addition of a new, 51-bed Behavioral Health Center, Children's Hospital New Orleans proactively addresses mental health for children, a concern many hospitals struggle to adequately address. The center is the only psychiatric program in the Gulf Coast region dedicated to the mental healthcare needs of children and adolescents in crisis, and is among the largest and most comprehensive pediatric programs in the country.
In addition to the latest state-of-the-art operating equipment, the new 57,000-square-foot pediatric Surgery Center integrates each phase of the perioperative experience in one space to alleviate the stress of navigating the hospital throughout the day.
With the largest, most experienced group of pediatric cancer specialists in the region, the new Center for Cancer and Blood Disorders expands the nationally known hematology/oncology program, co-locating all inpatient, outpatient and infusion services into one central location.
"Children's Hospital New Orleans is the only accredited pediatric facility in the state, performing bone marrow transplants and conducting cancer research, providing new, advanced therapies through our robust clinical trials program," says Nickens.
For heart patients, the new 35,000-squarefoot Cardiac ICU optimizes the delivery of care for patients with congenital heart defects and other cardiovascular conditions. The new facility contains 28 private rooms, equipped with the latest technology and sleeping accommodations for families.
Now 50% larger, the Emergency Department offers a secure space for behavioral health patients and 44 rooms including two dedicated to trauma care. An all-new Imaging Center is located adjacent to the Emergency Department, providing access to the latest imaging technology, designed in a kid-friendly environment to relieve the fear and anxiety that often comes with imaging.
"Our goal is to create a total environment of health for our staff, patients, families and community to enjoy," says Nickens. "It is a privilege to deliver care for patients in an environment that now matches the level of expertise that we provide at Children's Hospital
New Orleans."
504.547.7891
200 Henry Clay Avenue
New Orleans, LA 70118