2018 Louisiana Book Festival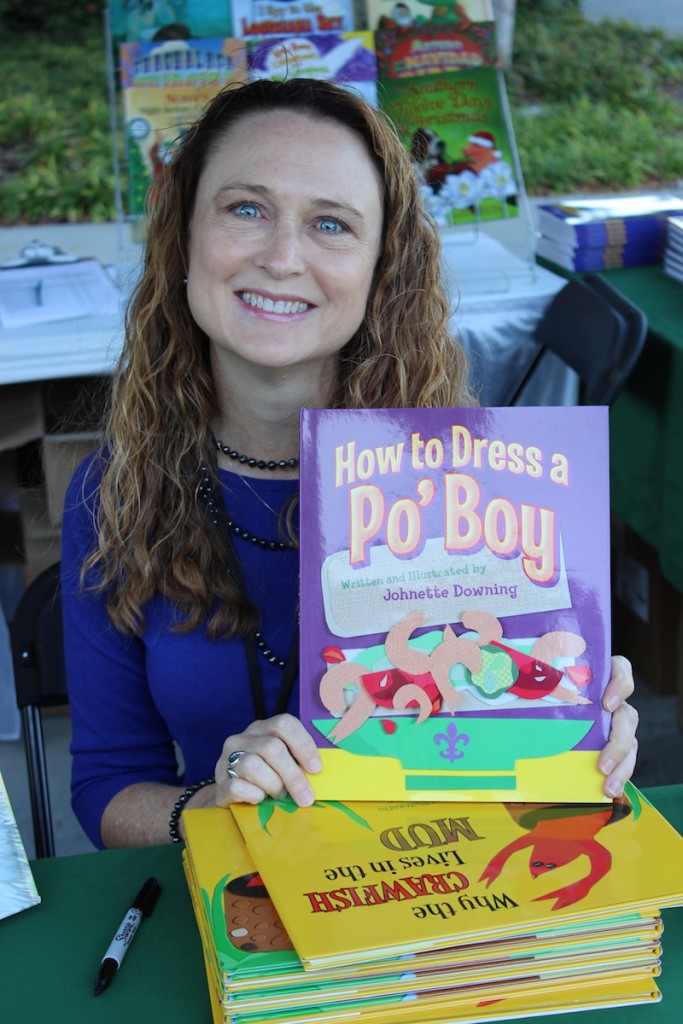 It's been 15 years since the inauguration of the Louisiana Book Festival and I have attended all but two events and can honestly say I've loved every minute. The annual fall festival gathers together dozens and dozens of authors celebrating the written word as well as offering storytelling, children's activities, live music and food. And because it's usually held in November, almost every year has seen spectacular weather. This year proves no different, with lots of sun in the forecast but a nice nip in the air.
The 2018 Louisiana Book Festival will feature more than 250 authors discussing their works in more than 100 programs from 9 a.m. to 4 p.m. Saturday, Nov. 10, inside the Louisiana State Capitol, State Library of Louisiana, Capitol Park Museum, Capitol Park Welcome Center and in tents on neighboring Baton Rouge streets. Book signings will follow programming at the Barnes and Noble tent, where all featured authors' books will be on sale.

(L to R: Johnette Downing, a past Louisiana Writer Award recipient and Cheré Coen and her book "Ghost Town" on the "book wall" at the Louisiana State Library.)
Every year awards are given out. The 2018 Louisiana Writer Award — given annually to recognize outstanding contributions to Louisiana's literary and intellectual life exemplified by a living writer's body of work — goes to poet and essayist Sheryl St. Germain. The Louisiana Young Readers' Choice recipient is bestselling author and artist Svetlana Chamakova, author of the graphic novel "Awkward."
This year's official festival artwork was created by Louisiana native William Joyce, an Academy Award-winning writer, illustrator and filmmaker and features his beloved character Mr. Morris Lessmore floating over the State Capitol with the aid of his fantastic flying books, as seen in Joyce's short film, "The Fantastic Flying Books of Mr. Morris Lessmore."
Now in its 10th year, the One Book, One Festival program invites attendees to read E.P. O'Donnell's 1941 literary and cultural classic novel "The Great Big Doorstep" in advance and then join LSU professor Dr. Katie Henninger in a discussion of the book while at the festival.
Authors attending this year's festival include:
Pulitzer Prize-winner Jack E. Davis, author of "The Making of An American Sea;" inaugural Louisiana Writer Award winner Ernest J. Gaines; New Orleans chef and Top Chef season 13 fan favorite Isaac Toups doing cooking demos from his cookbook "Chasing the Gator: Isaac Toups and the New Cajun Cooking;" and I'll be leading a panel of mystery authors titled "Louisiana Ladies of Mystery."
To learn about additional authors attending the 15th Louisiana Book Festival, visit louisianabookfestival.org.

(L to R: New Orleans author and Historic New Orleans Collection librarian Pamela Arceneaux and her book and author-illustrator Denise Gallagher and her husband, Donny.)
For those aspiring authors, the festival presents half-day WordShops on Friday, Nov. 9, at the Louisiana State Library in Baton Rouge. This year, New York Times bestselling author Jonathan Evison, Barnes & Noble Discover Great New Writers pick Tessa Fontaine and essayist LSU writing professor Joshua Wheeler will discuss writing and authors Suzanne Hudson and Joe Formichella will discuss self-publishing.
For more information, including how to register for WordShops and sign up to volunteer and receive a free Louisiana Book Festival T-shirt, visit LouisianaBookFestival.org.