A Louisiana Life: Doug Thornton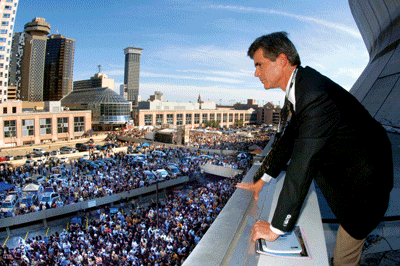 J. Douglas "Doug" Thornton, a former Shreveport oilman and ex-college quarterback at McNeese State in Lake Charles, today continues to lead the come-from-behind rebuilding of the Louisiana Superdome, four years after Hurricane Katrina.
At his Dome office, Thornton, regional vice president of SMG, the private firm that manages the Dome and six other arenas in Louisiana, recounts the four-year reconstruction of the indoor stadium including the 10 people who died as 30,000 other Katrina evacuees waited for rescue –– including Thornton and his wife, Denise; the "soul-searching" decision to return and rebuild; the whirlwind $200 million renovation; the joyous reopening for a Monday Night Football television audience; the return of major events such as the Sugar Bowl; the successful negotiations to keep the Saints in the Dome through 2025; and securing the Super Bowl for 2013. He has won national, state and local awards for spearheading the Dome's revival.
"It has been an exhausting four years," Thornton says.
The strain of his marathon recovery is not apparent. At 5-foot-11 and 176 pounds, Thornton, 50, is trim and athletic.
However, when talk turns to Katrina, there is a yearning in his voice that many New Orleanians would recognize –– a subdued tone, a longing for family, friends and neighbors who moved away or never returned.
As an arena manager, Thornton's wish is a bit unique. The once-harried host of 30,000 Katrina evacuees wants that crowd to come back and visit the improved Dome.
He knows it may not be easy. Many of the evacuees were spirited away by rescuers after days of fear and deprivation inside a dark, hot and storm-damaged arena.
Food, water and medicine were scarce. One man committed suicide. Fights broke out.
Yet 30,000 people survived, he says. "The Dome served the people of the city at the time of greatest need," he says, quick to add the stadium will not be used as a shelter of last resort again. "We're happy they were able to come here with us as opposed to being left on a rooftop somewhere."
He says he understands if some former evacuees feel reluctant to return to the Dome. "For those who have not come back –– who have bad memories –– I would hope they would return here and feel proud," he says, adding, "My wife didn't come back [to the Superdome] for a year."
But the Dome has been transformed into "a symbol of rebirth and recovery," he continues. "We have to look adversity in the eye and overcome it," he says, clutching a fist. "The way to come back is to face that fear."
Born in Houston, Thornton moved with his family to Shreveport when he was 2. He and his younger brother, Don, who died at age 32 in a car crash, grew up "in the shadow" of Woodlawn High. Both boys played on the school football team.
Thornton played quarterback. By age 14, he was spending enviable summers playing touch football with future pro stars such as Terry Bradshaw and Joe Ferguson.
As Woodlawn's quarterback, young Thornton attracted the attention of colleges, offering football scholarships.
However, he tore an anterior cruciate ligament, or ACL, in his knee in a Woodlawn game against Ouachita High. He played the rest of the season, but the injury would return.
Recruited by McNeese State, he played both baseball and football for the Cowboys in his freshman year. However, he re-injured his knee rounding third base in a Cowboy game against former University of Southwestern Louisiana at Lafayette.
Five knee surgeries ended his dreams of career sports, but he learned critical leadership skills.
He graduated from McNeese in 1980 with a degree in business management. He got into the oil business, which was then booming. He started out as a land man for Pennzoil, buying and selling oil and gas leases. Pennzoil sent him to the University of Houston where he earned a master's degree in petroleum land management.
He then took at job with Transco Energy Co., which sent him to New Orleans in 1984, saying, "'You kind of speak the language over there,'" Thornton recalls with a chuckle.
Thornton's oil-to-sports life seems wildly successful. He is the handsome former quarterback from Woodlawn and McNeese State, leading the Superdome to the Super Bowl –– fighting back after the worst disaster in Louisiana history.
Yet the yearning in his voice returns with talk of Katrina.
The newly renovated stadium still has a void that perhaps only 30,000 returning Katrina evacuees can fill. A crowd-pleaser by profession, his work is not finished.
What would he say to those Dome evacuees who have yet to return?
"Give us a chance," Thornton reiterates. "Come back, and see the Dome."