A Louisiana Life: Fighting for Others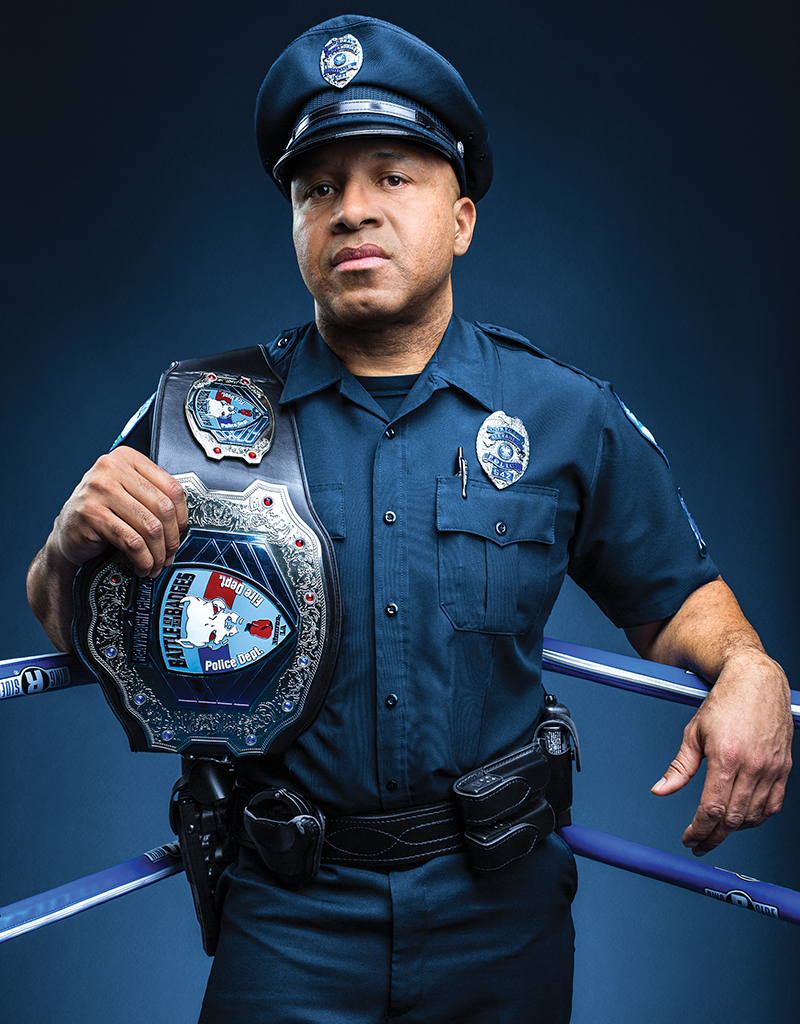 Anthony Deshautelle is proud of his championship boxing belts, but he doesn't keep them all. Instead, two of the prized belts shine from inside of a trophy case at the Alexandria Police Department headquarters, engraved with the names of fallen officers.
Deshautelle, who has competed in numerous charity boxing matches, has, for years, dedicated his fights to local law enforcement killed in the line of duty.
The 51-year-old Marksville native thrives on using his athletic skills to honor and help others, regularly fighting for various charities through events like Battle of the Badges, an annual competition that pits police and firefighters against each other for good causes.
Deshautelle remembers becoming interested in boxing during the 1976 Summer Olympics, caught by the charisma and energy of gold medalist "Sugar" Ray Leonard and, later, the iconic Muhammad Ali.
Boxing was unavailable in Marksville, so Deshautelle played baseball instead, later chasing his dream into the ring when he moved to Los Angeles in 1989. He found some success as an amateur boxer, but a hand injury sidetracked that path.
After nearly 20 years in California, Deshautelle moved back to his hometown in 2006 and began pursuing another lifelong dream: a career in law enforcement.
"I wanted to do something where I could make a difference in my community, where I'm from," he said.
He soon shifted to the larger Alexandria Police Department, where he began representing the department in the ring, while still in field training. He has since earned several state and national belts and racked up donations for charities.
Deshautelle found his niche in the department's Community Policing Division, boosting his ability to combine two of his major passions — boxing and crime prevention. Through his assignment at the Alexandria Youth and Teen Center, he mentors and teaches boxing to youth. Deshautelle also continues to compete, with an eye on honoring a fellow Louisiana officer waging a battle of his own: East Baton Rouge Sheriff's Deputy Nick Tullier, who is still recovering from injuries he sustained in the deadly 2016 Baton Rouge ambush on police.
"I'd like to give a belt or a medal to him," Deshautelle said of Tullier. "He's a true fighter."
---
QUESTION & ANSWER
What is your favorite sport to watch aside from boxing? I enjoy watching LSU football with my sons. Very exciting games and we love when Coach O says, "Geaux Tigers" at the end of every interview.
If you could have dinner with three famous people, who would you pick? Wow, that's a hard one because most of my favorites have passed on. If Redd Foxx were still alive, I'd enjoy neck bones and a bottle of Ripple with him. So let's say we keep it Louisiana: Wynton Marsalis, Ellen DeGeneres, Tyler Perry and Natalie Desselle. I know you asked for three, but that is my Alexandria girl!
Tell us something surprising about Alexandria, Louisiana. Alexandria is a small city with a big heart. You can always count on having a good time at our festivals. There are many charitable organizations here. We enjoy helping others, which is great, especially for a city located in the center of the state. That makes me proud, as a Cenla native.
---