A Louisiana Life: Maggie Mae Renfro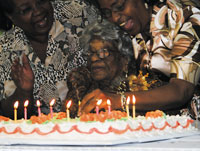 Don't tell Maggie Mae Renfro the times are a-changing –– because, honey, she's seen it all.
In her lifetime she has witnessed the turning of two centuries, the rise of the United States into a world power, two world wars, the Great Depression, the suffrage movement, the rise and fall of communism, the Holocaust, the Cold War, the civil rights era, the space race, the birth of the nuclear age, the Korean and Vietnam conflicts, man setting foot on the moon, and the dawn of the Internet. Grover Cleveland was in his second term as president when she was born, and she's lived through 20 of the nation's 43 presidencies.
Renfro, 113 by her account, says she was born on Nov. 14, 1894, on a farm in Athens, La., in Claiborne Parish, the fourth of 11 children born to Wylie and Dellie Thornton. U.S. census records from 1900 and 1910 claim she was born a year later, in 1895, making her a youthful 112. She doesn't have a birth certificate to authenticate her birth date, but either way, she is Louisiana's oldest citizen, one of the 10 oldest people in the United States and one of the 20 oldest in the world.
Although she has two "younger" sisters in their 100s, Renfro says longevity does not run in the family. Her parents both lived only into their 60s. She says she's never drunk or smoked, which has helped, but she credits her faith for living as long as she has.
"You've got to serve God, treat everybody right and be a good person," Renfro says. "A lot of people don't care about the way they're living. They're not thinking about what they're doing to better themselves or their community. I couldn't just live any way I want to. I've tried to live right and do right. Maybe I'm here for that reason, to let others know that living right will give you a long, wonderful life."
At 19, Renfro left the Thornton family farm to become a cook for a road crew that traveled across the South. She earned enough money to buy her own truck and transported workers to job sites in Arkansas and Oklahoma. She briefly moved to Madisonville, Texas, before settling in Houston, where she met her husband, Rudy, and worked as a commercial and private cook. The two had no children, but she adopted and raised her 9-month-old grandniece, Mattie Ellis. Following Rudy's death in 1971, Renfro moved to Minden to be closer to surviving family members. Today she lives there with Mattie, now 66, and Mattie's husband, Curtis.
Renfro readily admits that she doesn't see, hear or get around as well as she did just a decade ago. Although she uses a wheelchair, she still has her health and enjoys getting out and being on the move like in the days when she was known around town as "Mustang Sally."
"When she moved back to Minden, she didn't have a car," Mattie says. "She found a white Ford Mustang and just fell in love with it. She bought it and loved to ride around town. She wasn't a slow driver, either. She would move. The people around town called her 'Mustang Sally,' and the name stuck."
On occasion, the Ellises take Renfro out for some of her favorite activities –– going to church; enjoying a restaurant in neighboring Bossier City; and visiting with her sisters, Carrie Thornton, 105, who lives in an extended-care hospital in Shreveport, and Rose Warren, 102, who lives with other relatives. The three make quite an impact on people when they are together, Mattie says.
Of all the things the supercentenarian has seen and experienced in her life, she says the civil rights era and the successful fight for equal rights have been most profound.
One experience Renfro never would have imagined happening as a child occurred just before her most recent birthday –– at a time when racial tension was boiling over across North Louisiana from the small town of Jena. David Konur, a 38-year-old white man and chief executive officer of the Cardiovascular Institute of the South in Houma, was giving a presentation on age and learned of Renfro. When he discovered she was a supercentenarian, he became intrigued and called Mattie to see if he could meet Renfro.
"I was amazed by her age and felt I had to meet her," Konur says about his desire to travel six hours to meet Renfro. "Out of 6 billion people on earth, here is someone who has only 20 or so peers."
Before leaving, he asked Mattie if he could throw a party for Renfro's 113th birthday. This past November, he invited 100 of her family members and friends to Jimmy Hall's Party Express Catering in Minden and filled the building with balloons and 120 roses. "He brought 120 roses because he said that's how long she's going to live," Mattie says.
Mattie thinks that's likely: "She looks and acts much younger than she is.
"I know if she does live to 120, the Social Security people are going to be angry with her," she says with a laugh.
Renfro, however, is quick to point out that she's not looking at a certain age, but rather serving others, as her goal.
"If there is anything I could do for somebody, I'm willing to do it if I can," Renfro says. "I'm not able to wait on myself these days, so that's sometimes rough, but I do my best. If you do right, you'll go to heaven. And when He comes for me, I'm ready to go."