A merger worth trying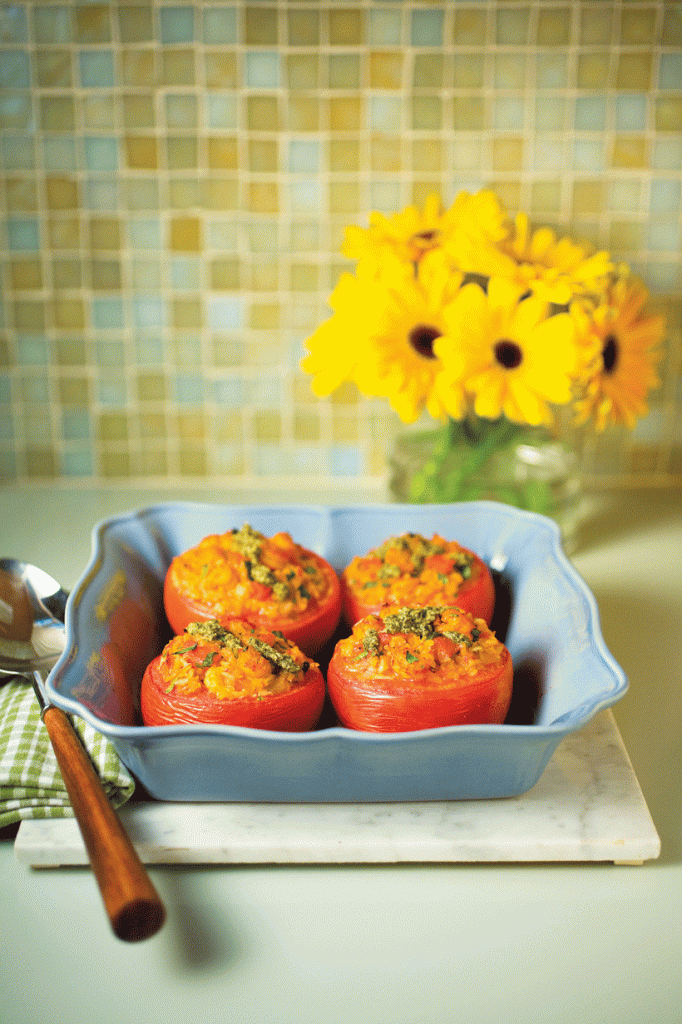 When I lived in colder climates, March was, hands down, the most difficult month of the year. By then everyone was more than ready for an end to winter, but spring was a long time coming. I was reminded of that by the March snowstorm that blanketed the Northeast this year, closing schools and roads and shutting down airports. We had some cold weather at the time, but it was fleeting.
As hard as it is for us to imagine, spring is only now coming to some parts of the country. While others relish their first real taste of mild weather, we are already transitioning into summer. This is a busy time for gardeners and for cooks who want to take advantage of the local bounty. Farmers markets are overflowing with delicious vegetables, and crawfish are in season; these two things coinciding makes for some interesting culinary possibilities.
Of all our local vegetables, none is so anticipated or fussed over as the tomato. Likewise, no fresh- or saltwater species is as beloved and eagerly awaited as the crawfish. Gardeners who started their tomato seeds back in December or January have been hovering over their plants ever since, nurturing them along, feeding and watering, transplanting, pruning. Like the crawfish farmer, whose crustaceans are a favorite of poaching wading birds, the tomato farmer must contend with hungry birds and squirrels, not to mention hordes of destructive insects.
Ah, but the payoff is worth all the work and worry. If you're like me, you can never get enough of tomatoes during their brief season. For those fortunate enough to have an abundance of local tomatoes, either from their own gardens or from a farmers market, there are many ways to use them.
Stuffed tomatoes, for one, offer a world of possibilities, including, as here, a filling of crawfish and rice. The recipe is quick and easy, and it's special enough that you can serve it to guests. A stuffed tomato can be an accompaniment to a dinner entree, but a tomato or two, along with a green salad, will make a fine summer lunch. Personally, I prefer to eat these at room temperature, but they're also good warm or hot.
The crawfish and asparagus omelet, paired with the cherry tomatoes and pesto, makes an excellent brunch or luncheon dish, accompanied by French bread and, perhaps, a green salad or cold soup. The omelet can be served either hot or warm, but, again, I prefer it at room temperature.
Both recipes are served with pesto, the fresh-basil-and-olive-oil concoction that can be used to enhance so many dishes. We are most familiar with pesto as a sauce for pasta, but it is highly versatile and can be used with fish, poultry, meat and vegetables to good effect. To my mind, it is the perfect summer sauce, excellent with grilled foods. The recipe here is for a basic pesto, but it can be changed and adapted to personal taste or to make use of available ingredients. Parsley and/or green onion tops can replace some of the basil; pecans, almonds or other nuts can substitute for the pine nuts; proportions of ingredients can vary. But don't economize on the Parmesan cheese. You can omit the cheese if you wish, but if you use it, make sure it's the real thing —Parmigiano Reggiano. The difference is astounding.
Crawfish-Stuffed Tomatoes with Pesto
Because tomatoes vary greatly in size, you may end up with extra stuffing. If so, either fill more tomatoes or enjoy the stuffing on its own, as a kind of rice dressing. The filling can also be used for peppers, zucchini, mirlitons and other vegetables.
1 medium onion, chopped
4 garlic cloves, minced
1/4 cup olive oil
8 large tomatoes
1 pound crawfish tails with fat
1 tablespoon Creole seasoning
1/2 teaspoon kosher salt
1/4 teaspoon freshly ground black pepper
1 1/4 cups chicken broth
1 cup rice
1 cup grated Parmesan cheese
1/4 cup chopped parsley
1/4 cup chopped green onion tops
Pesto (recipe follows)
In a heavy pot, cook the onions and garlic in olive oil until softened, about 10 minutes, stirring occasionally. Meanwhile, cut off the tops of the tomatoes. Using a spoon, remove and save the tomato pulp, seeds and juice. Place the tomato cases in an oiled baking dish. Remove the stems from the tomato tops, and chop the pulp and tops. You should have 2 cups of chopped tomatoes and juice. (If not, add water to make 2 cups.) Add the chopped tomatoes and juice to the pot containing the cooked onions. Add the crawfish tails with fat, Creole seasoning, salt, pepper and chicken broth to the same pot. Bring the mixture to a boil, add the rice, and bring back it back up to a boil. Reduce the heat, cover, and simmer until the rice is tender and the liquid is absorbed, about 20 minutes. Turn off the heat, and let the rice mixture sit, covered, for 15 minutes. Preheat the oven to 350 degrees.
Add the cheese, parsley and green onion tops to the rice mixture, and stir to combine. Fill the tomatoes with the rice mixture, and bake until the tomatoes are soft, about 20 to 30 minutes. Serve drizzled with pesto. Serves 4.
Pesto
2 cups fresh basil
1/2 cup extra virgin olive oil
2 cloves garlic
1/4 cup pine nuts
1/2 cup grated Parmesan cheese
Salt to taste
In the bowl of a food processor, combine the basil, oil, garlic, pine nuts and cheese. Process until well-blended. Season to taste with salt. Makes about 3/4 cup.
Crawfish-and-Asparagus Omelet with Tomatoes and Pesto
If you like pesto as much as I do, you may want to drizzle it over the omelet in addition to what you add to the tomatoes.
1/2 pound asparagus
8 large eggs
1/4 teaspoon TABASCO
1/4 teaspoon kosher salt
1/4 cup grated Swiss cheese
1 tablespoon butter
1 tablespoon olive oil
1/2 pound crawfish tails
1 pint cherry or grape tomatoes
2 tablespoons pesto (preceding recipe)
Salt and freshly ground black pepper, to taste
Preheat the oven to 350 degrees. Bring a small pot of salted water to a boil. Trim the base of the asparagus, and cut the stalks into 1-inch pieces. Blanch the asparagus briefly in boiling water, drain, and refresh under cold water. Beat the eggs with TABASCO and salt. Add asparagus and cheese to the eggs.
Heat the butter and oil in a 9-inch ovenproof skillet, add the crawfish, and cook for 3 to 5 minutes. Add the egg mixture, and bake in the oven until the omelet is set, about 12 to 15 minutes.
Meanwhile, halve the tomatoes, and toss them with pesto. Season the tomato-pesto mixture to taste with salt and pepper. Cut the omelet in wedges, and serve each wedge with tomatoes and pesto on the side. Serves 4.