A place for children to thrive and find joy, in the hospital
Children's Hospital New Orleans and Kids Join The Fight to Build First-of-its-Kind 'Imaginarium' that Reimagines the Patient Experience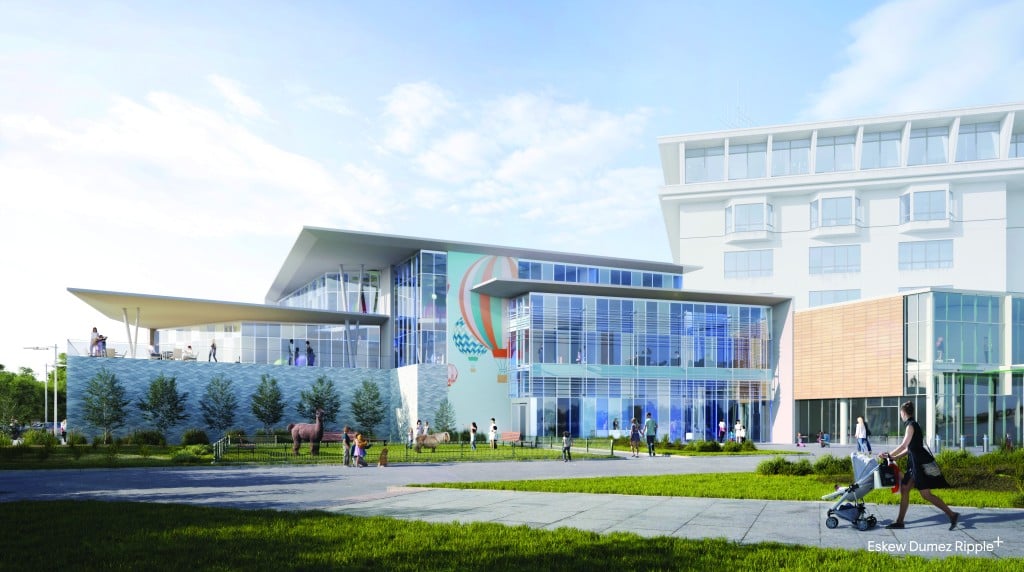 Play time, discovery, learning and just being a child are key components to growing into healthy and thriving children and adolescents, even amid a hospital stay. Through a partnership between nonprofit, Kids Join The Fight and Children's Hospital New Orleans, that's exactly what patients and families will be able to enjoy through an innovative space called 'Walker's Imaginarium'. Children's Hospital New Orleans is already a regional child health leader, providing the highest level of care for the area's sickest babies, children, adolescents and young adults. This partnership allows for the building of a 12,000 square-foot, $10 million center as an extension of Children's Hospital's main campus made possible through generous donations from the shared community of supporters between Children's Hospital and Kids Join The Fight.
"Healthcare providers across the region trust Children's Hospital New Orleans to provide the highest level of care for their patients, with the child at the center. Thanks to this collaboration, our patients and their families will be able to enjoy a therapeutic space to gather, create moments of joy, explore, and discover," says John R. Nickens IV, Children's Hospital New Orleans President and CEO. "Walker's Imaginarium will help each patient and family cope while navigating their healthcare experience. In other words, it allows kids to be kids and families to be families while providing expert care in a family-centered environment."
FROM THE MINDS OF KIDS:
The idea and inspiration behind the new Walker's Imaginarium at Children's Hospital New Orleans was inspired by a young boy with a mission for happiness and joy. At the age of seven, Walker Beery was diagnosed with medulloblastoma, an aggressive brain cancer. For two years, he not only battled his cancer, but also chose to fight for all kids coping with a cancer diagnosis. Walker danced through the hospital with each and every treatment and appointment. He was known for his smile, and he loved to interact with other kids walking similar journeys. One day, Walker got what he called "the nose burn," or the feeling you get when something makes you cry tears of happiness. A little girl gave him the simple gift of a teddy bear and that feeling compelled him to help other kids feel that same happiness. Walker and his little sister, Evelyn started raising money for pediatric cancer research. With their first lemonade stand fundraiser, the siblings raised nearly $3,500 which gave way to the nonprofit, Kids Join the Fight. Continuing Walker's dream, kids did join the fight helping to raise money in all 50 states through a variety of fundraisers including car washes, bake sales and even pet shows, raising $1 million in the first year. Walker received some of his care at Children's Hospital New Orleans, where his family and community of supporters are honoring his memory and legacy to build something extraordinary for kids just like him with the new Imaginarium.
WALKER'S IMAGINARIUM HELPS KIDS FEEL LIKE KIDS IN THE HOSPITAL SETTING:
A hospital setting can be scary for any adult, much less a child. At Children's Hospital New Orleans, children will learn to cope with their illness through play in Walker's Imaginarium, which is in the fundraising and planning phase currently. Child enrichment is proven to lead to improved outcomes and therapeutic family experiences, which goes a long way for families and children battling long-term illnesses like cancer.
"By building Walker's Imaginarium, we will optimize each patient and family's ability to cope," says Nickens. The space will attach from the hospital's main concourse to the quiet gardens on the ground floor. Parents and siblings can sometimes be forgotten amidst the stress and longevity of a long hospital stay. The vision of the Imaginarium allows the whole family to enjoy something as simple as a walk where they can peacefully stroll through a lush walking path, complete with an animal viewing area that will allow for regular animal encounters outside of the 12,000 square foot center.
The Parade Porch will provide a spacious, covered outdoor overlook where children and families can experience Mardi Gras parades and special moments from other visiting groups on campus. A bright rainbow staircase will lead to the main floor, inviting children to experience exhibits inspired by the Mississippi River, an aquarium, reading nooks, a dance floor, a building center and more.
On the mezzanine level, children will discover even more exhibits including a radio station just for kids, an immersive tunnel experience and a multipurpose room for special programming, arts, education, and creative therapies. The expansive and imaginative exhibits will provide respite and renewed energy to help patients and families experience moments of joy during their care journeys.
Learn more about Walker's Imaginarium and giving opportunities at chnola.org/imagine.
504.547.7891
200 Henry Clay Avenue
New Orleans, LA 70118