A Quarterly Compendium of what's hot and what's not in Louisiana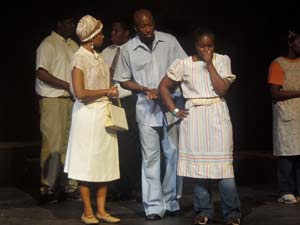 What's Hot
Bus ride. Southern University students Katorri Alexander and Aileen A. Hendricks wrote the play "Our Boycott" about the Baton Rouge bus boycott of 1953. The play recently premiered at Southern.
It was soooo big! Four Louisiana youngsters earned fishing boats in the New Tide division of the Statewide Tournament and Anglers' Rodeo. James Boyce IV, 8, of Gonzales; Mary Bret Thompson, 10, of Boyce; Lance Lafitte, 14, of Woodworth; and Joel Caronna, 15, of Folsom had their names drawn from those who had caught fish in the rodeo.
Wet and wild. Five federally funded projects for Louisiana wetlands may begin as soon as January: the Barataria Basin land bridge to cut erosion in Lafourche Parish; creation of 500 acres of marsh along Lake Mechant in Terrebonne Parish; breakwaters and jetties for Raccoon Island; breakwaters for the Bear Lake inlet and shoreline of White Lake in Vermilion Parish; and culverts to freshen marshes in Cameron and Vermilion parishes.
Best performance by a tree. Author and nature photographer Greg Guirard has turned The Land of Dead Giants – a memoir about growing up amid the giant cypress trees of the Atchafalaya Basin – into a play. Guirard has lived next to the Atchafalaya since he was a child. In a keynote address before the premiere of his work at the Cité Des Arts in Lafayette, Guirard bemoaned the effects of coastal erosion on Louisiana.
The South will sink again! Industrial technology professor Roy Bonnette's computer-aided design class at Southeastern Louisiana University built a full-size replica of the Confederate submarine Pioneer. The class project will be on view at the Lake Pontchartrain Maritime Museum in Madisonville. The original vessel was constructed in New Orleans during the Civil War but sank in Lake Pontchartrain.
Arts at the heart of town. The Acadiana Center for the Arts has given new life to an old bank in downtown Lafayette. Phase I has11,000 square feet of museum-standard exhibition space, offices, classrooms, studios and a small performance area. Phase II, scheduled to open in 2006, will have a gift shop, a café and a theater. The Lafayette Public Finance Authority acquired the building, and the Downtown Development Authority and the arts council together developed and constructed the project.
What's NOT
How sweet it isn't. Hurricanes have put a damper on the Louisiana sugar-cane crop, says St. Charles Parish County Agent Rene Schmit. Dr. Ben Legendre of the LSU AgCenter adds that farmers are seeing lower-quality cane and mills are running slower because of more foreign matter in the crops.
Getting crabby about litter. Vince Guillory, Marine Fisheries Division biologist manager, and the Louisiana Department of Wildlife and Fisheries earned the first-place award in the Waste Reduction Category of the Keep Louisiana Beautiful Program in 2004 for removing abandoned crab traps from Louisiana water bottoms. The two sweeps resulted in the removal of 6,894 abandoned traps by 215 volunteers.
Wily coyotes. In West Monroe, U.S. Department of Agriculture Animal Control Division trapper Steven Hughes bagged a "big, dominant male" coyote. The city of West Monroe is paying Hughes' expenses for trapping the coyotes – 12 so far – which are said to have been responsible for the disappearance and injury of more than 20 pets.