A Stomping Good Time!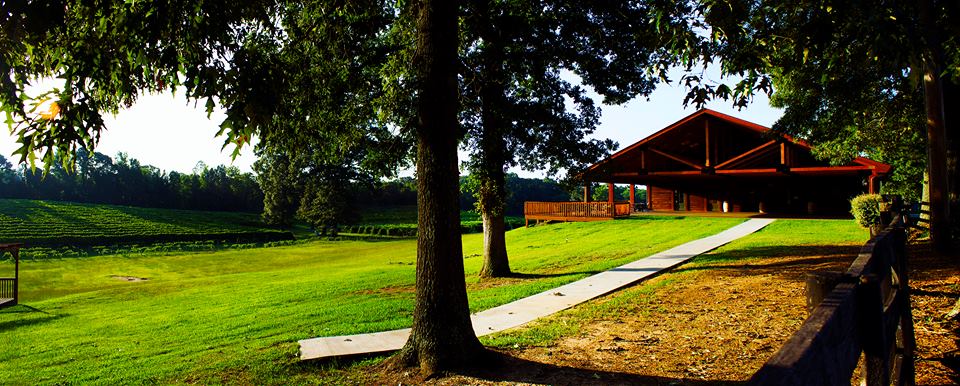 It's your chance to partake in an ancient tradition of grape stomping – only you don't have to travel to Europe to do it. Not many Louisianians get a chance to celebrate this age-old wine-making process (and a grape harvest, for that matter). However, on the gorgeous hilly terrain in West Monroe at Landry Vineyards, you can enjoy this primal act of crushing the juice out of red grapes – and at the same time, do so much more. The Lenoir Red Grape Stomp Festival and Music Concert will be held Saturday, Aug. 26, and it's a celebration you don't want to miss. (Fun Fact: According to historians, grape stomping dates back to the Ancient Romans in 200 B.C. and 500 B.C. The process is believed to have been practiced by the Mesopotamians as far back as 6000 B.C.)
You can stomp the grapes, and then put your wine-soaked footprints on a special Landry Vineyards' T-Shirt as a keepsake. (Tip: It's here you will meet winemakers Jeff and Libby Landry, who will be helping people get in and out of barrels, and then onto a T-shirt.) If you don't want to stomp the millions of Lenoir grapes, which are harvested at the Landry vineyard, you can watch the "I Love Lucy" contest in which participants dress up like Lucille Ball did in the episode "Lucy's Italian Movie." There are first, second and third-place awards to the person who looks – and acts – most like Lucy. (Fact: Stomping grapes with feet as part of the wine making process was banned in the United States at the end of the 20th Century, but is still permitted in Portugal and Spain.) "There's a deep connection that runs in our lives that wants to be a part of the harvest—there's an association of life and wine," says Landry.
There's much more than free grape stomping at this festival. There's endless complimentary wine tastings of all Landry Vineyards wines, including the latest vintage, Louisiana Heat. (Tip: You get to try over 20 Landry Vineyards wines for free and normally there's a ten-dollar tasting fee for this.) Hungry? Cajun cuisine made from scratch is available for purchase including jambalaya, boudin, red beans and rice, and white beans and rice. (Tip: The chicken, sausage and andouille jambalaya is one of the most popular dishes with festival participants.) In addition to all the wine tastings you desire, Landry wines are the only libations available for purchase during the event, including a mouthwatering peach bellini. (No outside alcohol is permitted on the grounds.) (Tip: Jeff Landry's favorite wines are Landry Vineyards' Blanc Du Bois Dry and the newest edition, Louisiana Heat. The number one seller is the Blackberry Merlot, a fruity semi-sweet wine.)
You can bet that if you are not foot-stomping in a barrel of grapes, you will be stomping your feet on the dance floor. That's because, in addition to giving visitors a taste of Landry Vineyards, winemaker Jeff Landry wants festivalgoers to dance the afternoon and evening away. Making sure that happens is why he's hired cover band Flash Back Five and told them he wants only songs that people love, know and encourages folks to do some non-stop dancing (the band plays a wide range from the '60s, '70s, '80s and more). "Bring your dancing shoes, and come out and have a good time," adds Landry.
In addition to free wine tasting, you can also get a close up view of the breathtaking vineyards. Be sure to board the old cotton wagon, which takes festivalgoers through a 15-to-20-minute tour of the vineyards. "We get to showcase our business at this festival so that people can experience it and see our vision," says Landry. "When they leave here they know we are serious about producing quality wines."
(Big Tip: Landry is quick to point out event weekends are quite different from visits to the winery on all other days, both of which are well worth two separate visits.) In addition to regular wine tastings, there are fascinating tours of the winery and vineyard. The winery produces more than 150-thousand bottles of wine a year. "So, you need to come out both for the festival and on a day when there's not a special event; it's too different experiences, but both are awesome," adds Landry.
There are two tours available at the vineyard. One tour lasts an hour and brings visitors from the vineyards all the way to the selling process. You need a reservation for this tour, which is only held on Saturdays. (Tip: This tour is the most extensive and you will leave with a wealth of knowledge and appreciation for Landry Vineyards.) The other tour is a half-hour daily tour of just the winery, and the tasting room is open all week long.
Need lodging? The Hamilton House Inn, which is in the heart of Monroe's Antique Alley, is just twenty minutes away. The Hampton Inn Hotel and the Hilton Garden Inn are both about 15 minutes away from Landry Vineyards.
The festival fun kicks off at 4:00 p.m. and ends at 7:30 p.m., and there's a $10 admission charge. (Tip: Landry says it's easiest to pull up to the unloading area and let one person out while the other parks the car. Don't forget to a bring blanket or folding chairs to sit on, unless you plan on dancing the whole time).
For more information: landryvineyards.com