A World Inside Out
In Mermentou Cove a group preserves the Cajun tradition of Courir de Mardi Gras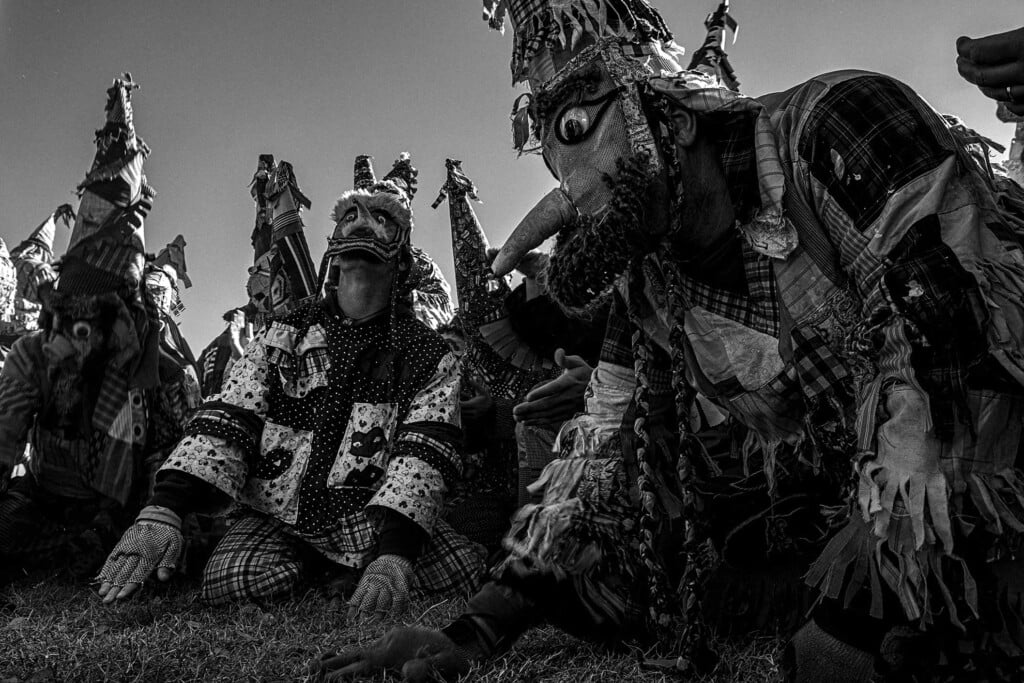 At a Glance
Location Acadia Parish
Flora Grooved flax, small palafoxia, shining indigo-bush
Fauna Sabine map turtle, southern crawfish frog, Teche painted crawfish
Three masked men climb atop a barn and pound their fists against its rusted roof. Below, another steals a rope from one of several black-hatted capitaines whose impossible role today is to control these revelers or, in local patois, these Mardi Gras. One capitaine dismounts his horse and tackles the thief. Dust stirs as the rope strikes buttocks and back, all amid raining laughter.
In high-pitched shrieks, other Mardi Gras beg for money, rice, celery — for anything. Eventually, they beg for the ultimate prize, a live chicken they will chase through soggy fields so they can add it to tonight's communal gumbo. Farther away, one hangs upside down from an oak while others wade knee-deep through a crawfish pond to pilfer a trap. A capitaine raises his rope as his horse shies from the path of a reveler pushing a wobbly wheelbarrow in which a passenger sits, legs crossed, waving like a freshly crowned queen.
All the while, notes rise from an accordion, a fiddle, a 'tit fer, and a guitar. This music accompanies a gravelly voice singing in Cajun French. In costumes, some repurposed from grandmothers' quilts, the Mardi Gras dance. They dance with women and men. They dance with children. They dance, in this kaleidoscopic dreamscape, with one another.
Welcome to the Courir de Mardi Gras — that day of the year when reality upends itself, all roles reverse and anything is possible. "If we threw this party anywhere else in the world, we would all get arrested," says Jesse Bertrand, a capitaine. Moments later, a Mardi Gras knocks off his hat. Bertrand raises his rope but can't conceal his smile. Here, on land where many of these revelers' ancestors partook in the same rituals, Carnival — "the world inside out," as
M.M. Bakhtin deemed it — unfurls at its most authentic.
"Seeing it from the outside, it looks like total chaos," says Chance Henry. "It is, but it's controlled chaos."
"You go out and you act the fool. You put on a show for everybody," says Steven Richard, president of Cadien Toujours, whose mission is to preserve Cajun culture.
"Mardi Gras is a way to keep the tradition alive," says Richard's wife, Lily, the organization's secretary. Cadien Toujours started in 2016 after Henry, Steven Richard and Devon Vincent decided to revive the traditional all-male courir, or run, in Mermentau Cove.
"This is etched into the culture," Henry says. "To be able to run is a rite of passage for a young man in the Cajun community. It provides a true sense of community."
The latter is central to Cadien Toujours' mission. "All of the money we raise from Mardi Gras goes back into the community," Lily says. "We donate what we collect to people in need. This year, we also plan to fix up the historic grave houses in Istre Cemetery."
The group's annual courir begins shortly after dawn with a priest and a prayer. Then the epic procession begins. On foot and horseback, they move through the countryside in vibrant costumes. The band follows in a trailer. At neighbors' houses, the Mardi Gras beg, carouse and dance. On they move, travelling over often-unpaved roads. Before noon, they reach Istre Cemetery, where some of their ancestors are buried. Here, all mischief halts. The Mardi Gras remove their masks. They kneel and pray. Many weep.
Then the procession resumes, and with it the antics, the laughter. The Mardi Gras pilfer items abandoned on the roadside. They fill their wagons with couches, TVs, old tires. They trespass into yards and board riding lawnmowers. They jump on trampolines and children's playsets until capitaines chase them back to the road, where they beg from strangers in cars before continuing to the next stop. There, once again, they sing and dance. They offer thanks. By the end of the day, they traverse 14 miles of Louisiana country and community.
The tradition descends from medieval Europe. It travelled across the Atlantic, carried in the imaginations of those who fled France for the New World. Today, thanks to the imaginations of their descendants, it thrives in places such as
Basile, Church Point, Elton, Mamou and Mermentau Cove.
"In some places the pulse beats stronger than in others," said Henri Cartier-Bresson. Somewhere in his own imagination, he might have had these Louisiana towns in mind. They are places of passion and wonder.
Did you know?
Cadien Toujours hosts an annual boucherie, which helps to fund the organization's traditional courir. The all-day event is open to the public and is on Jan. 7, 2023. It starts at 7 a.m. with a blessing and "goes until it's over." An entry fee of $10 covers "all the food you can eat, including gumbo, backbone stew, fresh sausage, fresh boudin and cracklins." Alcohol is available for purchase. For more information, contact Cadien Toujours: cadientoujours@gmail.com.
"For an entire day, a considerable number of adults willingly suspend reality for the sake of the celebration, the very nature of which demands unquestioning submission to the authority of a chosen leader who acts as an intermediary between the ritual madness of the procession and the people they will visit," write Barry Jean Ancelet, Jay Edwards and Glen Pitre in the book "Cajun Country."
As Carolyn E. Ware writes in her article "Cajun Women and Mardi Gras: Reading the Rules Backward," "Historically, most Cajun Mardi Gras runs included only male riders … Women traditionally play supportive parts which are more or less extensions of their domestic roles: they sew the Mardi Gras costumes, cook the gumbo served at the end of the run, applaud and dance with the maskers. Their contributions to the event have generally received less attention than those of men; nevertheless many Cajun women say that they have always felt deeply invested in the custom."