Acadiana Park Nature Station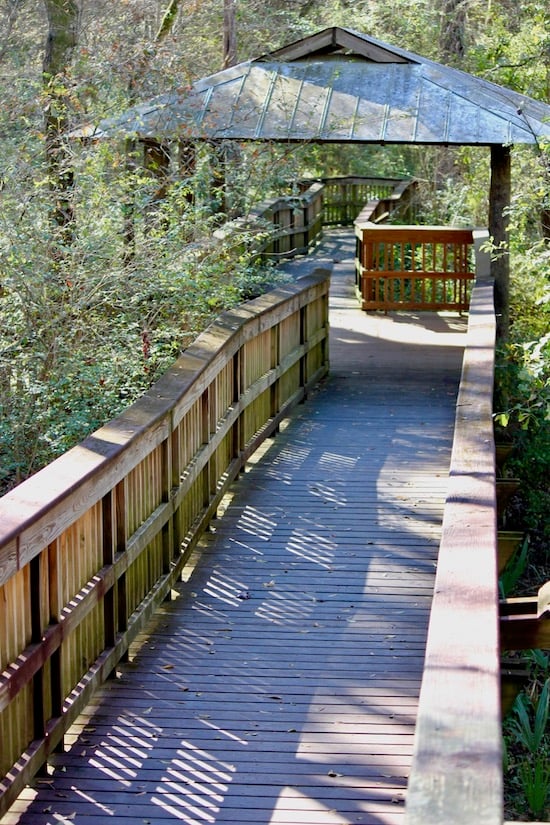 It's estimated that people gain five pounds between Thanksgiving and Christmas, and if you're feeling rather stuffed about now, consider getting outside for a hike.
Don't give me that look. Here's a perfect way to walk off the turkey, breath some fresh air and have fun at the same time. And you know it's Louisiana, so there's never much fear of an incline.
The Acadiana Park Nature Station within the city limits of Lafayette offers a 110-acre tract within Acadiana Park that's left to its natural state for all to enjoy. Within this forest complex are several trails that offer a peaceful walk in the woods. And before you can give me another harsh stare, let me add that it's a fascinating education as well.
The approximately six miles of nature trails exist between the Gulf Coastal Tallgrass Prairie and the Mississippi River Floodplain, a result of the melting Ice Age which pushed waters of an ancient Mississippi River through southwest Louisiana. When the glacial meltwaters subsided and the river moved back to the path it leads today alongside Baton Rouge and New Orleans, it left behind a prairie terrace. The Nature Station building is located some 45 to 50 feet above the adjacent floodplain but visitors can view the old western bank of the Mississippi River as well.
Hikers can enjoy three major habitats, including a bottomland hardwood forest on the Mississippi River floodplain, a transitional oak-hickory forest on the escarpment and the remnants of the tallgrass prairie. There are about two and a half miles of trails on the main property, with a boardwalk that's wheelchair accessible. Dirt trails branch off through the forest and along the Dan Deballion Canal, plus the North Property offers three and a half miles of trails with access from a parking area located on Shadow Bluff (click here for maps of the trails).
The trails are open daily from dawn until dusk and admission is free, although the visitors center will likely be closed during the holidays. Special events include a monthly night hike on the last Saturday of the month (fee charged) and weekend nature talks and trail tours. There are also two Young Naturalist Clubs, for ages 7-9 and for 10- to 13-year-olds.
The Nature Station hours are from 8 a.m. to 5 p.m. Monday through Friday and 11 a.m. to 3 p.m. weekends.