adrian deckbar: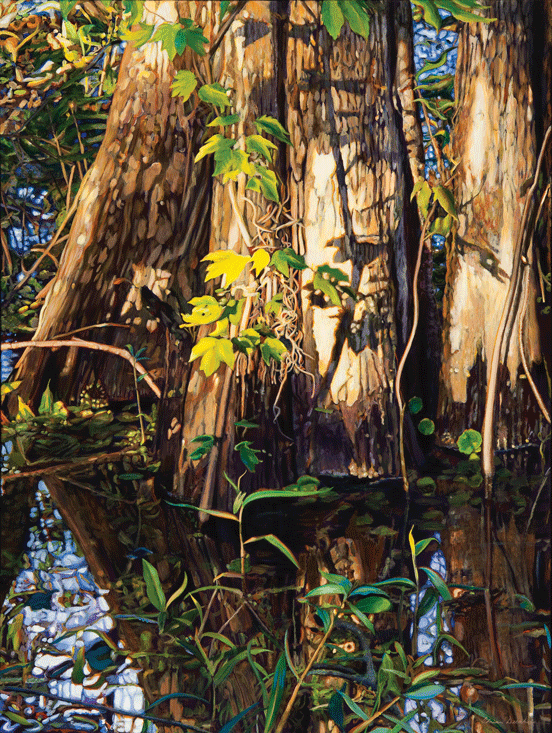 Adrian Deckbar is a New Orleans painter who has found grace, beauty and expression in dark shadows and filtered light deep in South Louisiana's wild Honey Island Swamp and in remote hollows of the Ozarks in northern Arkansas. Deckbar moves easily among acrylics, pastels and oils to create large compositions of what she describes as "the natural world, increasingly in danger of extinction."
The natural landscape is a relatively new source of inspiration for Deckbar, who has taught art at Tulane University and the New Orleans Academy of Fine Arts. For 35 years, she painted highly contrasted room interiors with models illuminated by soft, warm light. These hyperrealistic and romantic paintings, such as Disconnected, often resembled still images from a movie set, caught between dramatic moments. Actually, this was Deckbar's intent. Like a stage director, she set up her scenes and lighting, positioned her models and created the actor's motivation to capture a desired mood. She then photographed the setting, projected the image on a large canvas and sketched in the composition. "I was not only attempting to paint their forms," she explains, "but something about their being, their existence." But in the end, Deckbar says she took figure painting as far as she could. "I felt it was becoming formulaic, and I didn't feel passionate about it anymore."
Her moody room scenes began to change in the mid-1990s during a trip to the Amalfi Coast of Italy where she photographed visual elements in the Italian landscape as props for later paintings. Back in her New Orleans studio, she moved her models closer to windows that looked out into the natural world. She also photographed models that she superimposed over the Italian landscape. In 1999, she took that European influence a bit further by photographing models in old New Orleans cafés and coffee shops. A couple of years later, she traveled to France to photograph people sitting in outdoor cafés. "It didn't gel artistically," she says. "It was unsatisfying to me. I decided I didn't need to travel to Europe to find subject matter. I didn't want my paintings to be clichés, and that's where it was going."
Then in 2003, Deckbar, who studied painting with the late Southwest Louisiana landscape painter Elemore Morgan Jr., moved beyond the windows, dark rooms and cafés to the natural landscape that surrounds New Orleans and the Ozark Mountains, where she and her photographer husband, Mike Smith, have a small cabin on 60 acres of land.
They also took their small boat along the coastal marshes near the city and in the thick, unspoiled Honey Island Swamp that forms the border between South Louisiana and Mississippi or went by foot to Jean Lafitte National Park with their cameras. "I had an epiphany," she once wrote. "One day while painting, I began to recognize that my use of the figure as a vehicle for what I wanted to say about my experience was simply not enough. I began to feel compelled by what was outside the window, wanting to go as far away from the people, buildings and windows as possible. The natural world in its primordial state always intrigued me. I decided to paint nature. It is increasingly in danger of extinction."
In the Honey Island Swamp, she found an unspoiled wilderness. "We were looking for something different than the Jean Lafitte National Park," she says. "We decided the Honey Island Swamp might be a good place to find something untouched. We found low-lying places where the water was low, and we were able to walk around a gigantic old cypress. It is so untouched, so primal. There are no boarded sidewalks, no roads, no houses. The light shifts and moves. It's so magical."
In paintings such as Lake Borgne, Deckbar has eliminated the figure and anything man-made to "go deep into nature" and to find "nature in its purest form." That "purest form," however, took on dreadful meaning in August 2005 when New Orleans flooded in the aftermath of Hurricane Katrina. Deckbar's studio marinated in more than 5 feet of putrid and toxic floodwaters for two weeks. "I always thought of water as fun," she explains, reflecting back on those terrifying times during and after the hurricane struck. "'Water is my friend,' I thought. I can't tell you how much my mind has changed. Water now has dual meaning. It's not just a pretty place to watch a sunset. It's also hurricanes and danger."
Unlike some naturalist painters who paint plein-air, Deckbar prefers the controlled atmosphere of her studio.
"Plein-air painting has an uncomfortable quality to it," she says. "The light changes, wind blows the easel, but the primary thing is the light. All cast shadows are different, and I can't deal with that when painting on location."
Instead, she uses a camera to collect images for later use in the studio. Although she often photographs and paints broad vistas, she usually breaks down elements in the landscape to dramatize the play of direct sunlight on forms and shapes. The images are often more interpretative than literal. "The link between the figure and landscape is the high contrast between light and dark," she explains. "I look for the direct light that hits objects and casts shadows that create dramatic effects. It's always the light and not necessarily the object. That's the connecting element that has kept my work consistent. Losing the figure caused me to pay more attention to the composition because the figure has so much weight as the focal point, and it demands that you look at it. When the figure is gone, the painting becomes more abstract and challenging."
Photography is an important step in Deckbar's process. Unlike her figure paintings where she staged scenes, her landscapes are often photo-composites. This gives her greater flexibility to add or subtract elements. "I tried to see what would happen when I didn't use photographs as an anchor," she says. "It was all over the place. Photographs help me compose, but I don't copy as much as I once did. I now use them as a structural device to give me something to work with that will be close to what I want. I'm free to edit the composition and take liberties.
Water's Edge III, for instance, is a composite of three photographs. In figure painting, it's hard to take liberties because of the anatomy." Deckbar now uses digital photography to collect images, but she converts them to 35-millimeter transparency film before projecting them. "The light in digital photographs is too cool and bluish," she says. "I much prefer the warm glow from a 35-millimeter slide projector."
Knowing when a painting is finished is the question all painters face. "Sometimes you know they're done right away," Deckbar says, "but more often, I wait a couple of months, and then I see if the painting needs anything. I give it breathing room to see if it requires something I may have missed. I also move it away from my easel and hang it on a wall to view it. If something glares at me, I find out why and fix it."
Deckbar recently reflected upon her most recent work and how viewers might respond to her paintings. "I want them to experience the point of view I have when I come upon a subject that stops me in my tracks," she says. "At a distance, the paintings and pastels look very much like photographs, but up close they are often nonidentifiable marks and shapes. Somewhere in between, they vibrate between realism and abstraction. I want the viewer to see them very close and then back up and have an unexpected experience."


mike smith photograph