Along the Way: The Parade of Life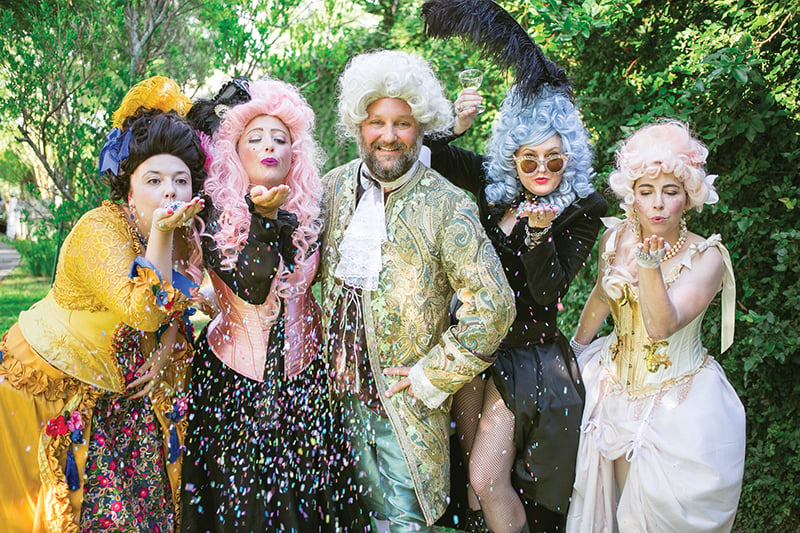 By the time you read this, Mardi Gras celebrations will be wrapping up all over the state, but one of the krewes I'm in will have just started its year's worth of events. While I love watching parades, I used to think krewes and costumes looked a lot like a big hassle and an even bigger commitment. My husband Mark and I live on the Mardi Gras route, just a few steps off of St. Charles, so we see every parade that comes through Uptown during Carnival. We've also attended most of the French Quarter parades. By our second Carnival season, we'd become familiar with all of the marching, dancing and parading krewes — or so we thought. During one parade, a group of women and a couple of men dressed in a sassy and flashy version of the 18th-century French court attire made popular by the tragic Queen Marie Antoinette sauntered by and I immediately snapped to attention. I grabbed Mark's arm and yelled, "Who are they? They are fabulous!" As a Francophile and lover of French and Louisiana history, especially the 1700s, my interest was peaked. They were gone in a flash like a lacy, corseted, powered phantasm.
Over the next year, I asked anyone that might know, "Who were those wigged women and men?" But, my sources were not coming through for me. The following Carnival season, we went to the French Quarter to watch Krewe de Vieux, a naughty and raucous satire parade, and krewedelusion, a smaller, artsy parade. After KdV and its astonishing amount of genitalia-related floats passed, krewedelusion started. At the beginning of the parade, there they were — what looked like about 100 wigged, floofed and flouncy marchers sashaying their way through the Quarter, fanning themselves coquettishly and tossing brioche to the masses. The banner read, The Merry Antoinettes, "Let Them Throw Cake!" Finally, I had a name.
Not long after, I learned I knew someone in the krewe all along, but wasn't aware of it. She encouraged me to apply and within a few days, I was a Merry. Since then, I've marched in three parades, helped build floats, crafted dozens of glittery throws, costumed year round as a volunteer at charity events, including the Bastille Day Fête at the New Orleans Museum of Art — be still my Francophile heart. Whereas before, I had no interest in parading or costuming, now I own about eight wigs and look for any excuse to wear one. Most importantly however, I've met some of the kindest, most generous and fun-loving people I've ever known and they are so attuned to my interests and personality, I sometimes think I conjured them up.
For some, joining a krewe can lead to addiction. Before you know it, you find yourself joining multiple parading organizations just to get that euphoric buzz that only the sound of cheering crowds can fix. I'm one of those people.
To date, I'm in three krewes. One is a small, rogue group of friends who go by Krewe du Zoo, dress up like animals and jump into the St. Anne's parade on Mardi Gras day. The most recent for me is Krewe of Iris. Founded in 1917, it is the oldest, largest female krewe in New Orleans.
Thanks to that old Mardi Gras magic, not only do I get to relish living on the parade route with a front row seat to the action, but also, I am part of the grand Carnival tradition — and it doesn't stop after Fat Tuesday. But, it all started with those merry Merrys. Much like the first time I visited New Orleans, it was love at first sight.
---