An Eagle flying overhead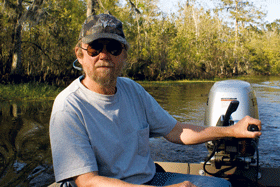 It's late morning when we leave the boat launch south of Belle River. There's still a chill in the air that's gradually warming in the October sunshine. Days like this are the reward we get for surviving another steamy summer in South Louisiana. It's perfect weather to experience the beauty of the Atchafalaya Basin with nature photographer C.C.
Lockwood. For years I've admired Lockwood's photographs of Louisiana's swamp treasures, the cypress-studded bayous, elegant egrets and menacing alligators. Several of Lockwood's books reside on my coffee table and have stirred my interest in photography. Now, I'm in an aluminum bass boat with several other amateur and professional photographers, hoping to get some picture-taking tips from one of the masters.
The boat slows as we drift toward a patch of blooming hyacinths near the bayou bank in Stephenville. In spite of the hyacinths' bad reputation for clogging Louisiana waterways, the floating plant has a beautiful flower. One of my fellow photographers announces that she's already got the picture. "Let me show you how I'd get it," says Lockwood, as he leans toward the hyacinths, his lens only inches from the flowers. "The only shot was getting up close," Lockwood explains in his soft, easygoing voice. "There was kind of an ugly bank behind it, so it wasn't a landscape shot."
Lockwood recalls: "One of my favorite shots ever is a lake just totally full, just a carpet of those flowers. But the background, middle ground and foreground were all beautiful."
A short time later in a bayou near Grassy Lake, we are told, "There's a vertical picture," as Lockwood points to a mossy cypress tree and an old dock. Our boat idles while Lockwood gives us time to compose our photographs. I ask Lockwood how he would frame the shot. Where in the picture would he place the shoreline? Lockwood explains that in this case, "The water is boring." Because a stiff breeze has stirred up the water's surface and there is no interesting reflection, he would show as little of the water as possible.
C.C. Lockwood has spent the past 36 years exploring and photographing the bayous, lakes and swamps of the mighty Atchafalaya Basin, the nation's largest river swamp. At nearly 1 million acres in size, the basin covers one-fourth of the landmass of Louisiana. Atchafalaya is a Choctaw word meaning "long river." The river begins near Simmesport in East-Central Louisiana and flows 140 miles to the Gulf of Mexico. The Atchafalaya is the main tributary of the Mississippi River, receiving 30 percent of its flow, an amount that's regulated by a control structure.
That structure near Simmesport prevents the Mississippi from changing its course to the Atchafalaya, a route that's half the distance to the Gulf. Unlike most of coastal Louisiana, where land is being lost at an alarming rate, the Atchafalaya Basin boasts the fastest-growing delta in the lower 48 states. The U.S. Army Corps of Engineers, which manages the Atchafalaya floodway, calls the basin one of the nation's last great wildernesses.
As a young nature photographer, Lockwood had overlooked the Atchafalaya, which was only a 20-minute drive from his Baton Rouge home. He joined a filmmaker friend roaming the Rocky Mountains, photographing big horn sheep, moose, elk and bears. There were endless letters to magazines and stock photo agencies as Lockwood tried to convert his passion for photography into a paying job. It was in late 1973 that Lockwood remembers getting a call from Time Life about a wilderness series. "They were getting ready to do one on the swamps and bayous," he says.
"He calls up and says, 'Time Life needs some pictures of the Atchafalaya around Bayou Pigeon.' Because I had an address in Baton Rouge, he thought I might have some. I said: 'No. I drive across it all the time. It's a big old place, but I don't know much about it.'"
Lockwood says he offered to rush out and take some photos, but there wasn't enough time to get the pictures developed and sent to New York to meet the publisher's deadline. But that call piqued Lockwood's interest: "I got up the next morning and drove the entire levee. It took three days." He couldn't find a place to walk in because of the borrow pit that surrounds the swamp, so he retrieved an aluminum canoe from his family's home in Arkansas. "I tied it on the side of my station wagon and came back and started paddling and paddled and paddled every bayou out there," he says.
Lockwood says he was captivated by the wilderness and the peacefulness of the Atchafalaya Basin. He began visiting the swamp five days at a time. "I'd load my canoe down with five cans of tuna fish, a jar of peanut butter, a box of crackers, four or five apples and a $19 canvas pup tent," he recalls. The camera and film would go into an old metal Coleman ice chest sectioned off with cardboard and duct tape. "And I would just take off and do one section, up this bayou and down this one, up that one and just camp wherever I ended up. It got to be so peaceful. And then I'd come into town and process my film, go up to Cahoots [bar] and listen to one of the country-and-western bands, have a good fun night or two and head back out."
Paddling Down a Bayou
Part of Lockwood's fascination with the Atchafalaya was his exploration of the maze of bayous and canals that are miles away from highways and humans. "In the third grade my heroes were Lewis and Clark, and I just dreamed of being on the expedition," he says. "And to go out there when I was 23 years old in my canoe and just paddle down a bayou 'til I got to the end, come back and take the next fork and the next fork – that's just unbeatable."
The big break came when Lockwood asked if he could exhibit his Atchafalaya prints in the lobby of One American Place, a new office building having its grand opening in Baton Rouge. "I finally started selling prints," he says. "And I started going to hunters and fishermen and showing 'em."
Then Lockwood says he cashed in on the booming economy in Houston by selling prints of deer and ducks. "I'd go over for three or four days and sell a bunch of prints and then come back and just disappear in the swamp for two months until that money ran out."
Lockwood says he got involved in the environmental movement when he learned about Corps of Engineers' plans to channelize the Atchafalaya Basin. With the help of a friend, Lockwood made an educational film on the Atchafalaya that he says premiered to an overflow crowd at an LSU theater. That film was continually rented out over the next couple of years. Lockwood says an editor at National Geographic saw one of the film's promotional brochures and invited him to the society's headquarters in Washington, D.C. "I was just scared to death to go up to the 10th-floor dining room," he says.
Lockwood's visit followed three years of rejection letters from National Geographic's chief of photography. But now there was lunch with a half-dozen editors, "linen, china and French white wine," Lockwood recalls. "I bring a couple of pictures – and 'You're hired. Why don't you do a story?'" Lockwood's National Geographic story on the Atchafalaya hit the newsstands in 1979, and he says the magazine's readers' poll made it the second-most-appreciated story that year.
By this point, Lockwood had amassed a huge collection of swamp photographs. He got Beauregard Press to publish his first book, Atchafalaya, America's Largest River Basin Swamp. He began taking wildlife-management courses as he became more interested in swamps and wetlands. There were books on the Gulf Coast, the Yucatan, alligators, a children's nature guide and photographic journeys through the Grand Canyon and down the Mississippi River. In 2005, Lockwood published Marsh Mission, an effort to bring attention to the perilous loss of wetlands along the Gulf Coast. And most recently, Lockwood marked the 25th anniversary of his first book by returning to the Atchafalaya and documenting its changes in CC Lockwood's Atchafalaya.
As we travel the bayous near Lake Verret, Lockwood steers our photography cruise with one hand on the outboard motor while his other hand cradles his digital camera with an 18-200-millimeter zoom lens. He tries to be ready for what he calls the lucky shots – "when you're on the move and everything comes together." Lockwood says he learned over the years to be ready to photograph something that he may never see again. The camera, he says, "is always set on the most likely shutter speed and aperture combination … just in case a big alligator jumps off a log or an egret grabs a fish or an eagle or osprey swoops down. You gotta be a step ahead in nature because it's not gonna wait for you."
That's a lesson I quickly learn when we spot several alligators. As our boat moves in for photographs, alligators disappear in a split second. Lockwood advises us to set our camera's shutter speed to one-five-hundredth of a second, fast enough to freeze the action. "You want the shot of them splashing into the water."
We are also cautioned against relying too much on our zoom lenses, something that is a common feature of many digital cameras: "One thing it'll do for you is make you stay in one spot where you shouldn't." Lockwood explains that sometimes, "It's really better if you move up closer or further back or left or right. In art class you see the perspective of the telephone poles getting smaller and smaller. That all affects your picture whether you're up close with a wide angle or back with a telephoto lens shooting the same shot." He continues: "Every shot is different, and that's where experience and practice comes in … learning to choose the right lens and not being too lazy to change your lens if you need to."
Seeing the Composition
A photographer such as C. C. Lockwood has a different way of seeing things than most of us. His eyes see the composition of a landscape, a spectacular sky, the subtle reflection of color or the intimate details of a small flower.
"Over the years I've learned it's the light," he explains. "When I was young, I would work harder in one way because I would go to an area that's nice and spend the whole day getting it from every angle. And it took me a while to figure out the best picture came when the light was right. And so now I can look at an area and say, 'That's a great picture but not right now' and just pass by." Lockwood says that usually means going early or staying late in the day – "and tak[ing] a nap at noon."
We veer away from the main bayou to explore one of the seldom-seen smaller inner waterways. Here, the Spanish moss forms canopies above waterlogged cypress knees. We spot the delicate white flowers of swamp lilies growing along the water's edge. We experience the "peacefulness" of the Atchafalaya. I ask Lockwood if he's ever gotten lost on his journeys into the basin. "My definition of 'lost' is 'never coming back,'" he replies. "But I have been turned around a few times."
The Spanish moss is making a comeback compared to what Lockwood remembers seeing during his early explorations of the Atchafalaya. "The moss wasn't out here in the late '60s or the '70s," Lockwood says. It's a condition he attributes to the Cajun swamp- dwellers who would collect the Spanish moss and use it for stuffing furniture. As that practice died off, the moss has returned. Lockwood has noticed another significant change in the landscape of the swamp: In the early years, cypress trees were the predominant feature of the deep banks along the basin waterways. But years of high water and flooding left behind tons of new sediment and shallow banks that are now overgrown with willow trees. "In a lot of places, you can't see the swampy cypress look from the bayous," he says. You have to get back in the lakes to find the kind of scenery that people expect to see in the Atchafalaya, he says.
"Cypress is my favorite part, the true swampy-looking part," he says. The larger cypress trees are all second-growth. But their trunks are still dwarfed by the giant cypress stumps that remain from the original virgin forest that was consumed by the lumber industry at the turn of the 20th century. Lockwood recalls a conversation he had 30 years ago with a Cajun named Johnny Johnson. "He said, 'If I die, I don't know if I'd rather go to heaven or come back here pre-1910 to see the big cypress.' And I just said right then, 'Johnny, I think I'd want to come back and see the cypress with you.'"
Today, Lockwood says the new cypress forest is threatened by the garden mulch industry. "If they cut the little ones for mulch, they never have a chance to be a big one."
Lockwood explains the importance of having cypress trees for protection from hurricanes like Katrina. "They say 3 miles of marsh will knock down a storm surge by 1 foot. So the 30 miles of marsh that we've lost between New Orleans and the Chandeleur Islands would have knocked down that surge by 10 feet. But a one-fourth-acre-wide strip of cypress will knock it totally down." To further make the point, Lockwood describes a picture he took in New Orleans, "right by the canal levee that broke in Lakeview, and they're just starting to get a few people back." He says: "Here's a house all landscaped, and there's an empty bald cypress mulch bag, and I got a picture of it with the levee that broke right behind it. And I said, 'It's just amazing how ignorant we are.'"
Since he began photographing and studying Louisiana's coastal environments, Lockwood has been an early crusader for wetlands preservation. And it's not just the land but also the people and cultures that Lockwood believes are threatened. "A lot of the people that are the Cajun culture – the fishermen, the trappers, the musicians and the cooks – are gonna have to move to the cities. It's a shame to lose that whole lifestyle." Lockwood admits he's not as optimistic as he used to be: "I'm pretty sure we're just gonna have to retreat because we've been working on this for years, and they're endlessly just postponing and not doing it. If only we had the guts and the fortitude to just go out and do it."
Lockwood says many of the obstacles to preserving the wetlands haven't changed: "It's money, and there are different opinions on what do to first, and then there are easements and legalities and pleasing every landowner you affect. We've got to be a little less selfish. It takes a while to do it, and in the meantime we've lost about as much land as that project will gain."

A Growing Ecosystem
But the Atchafalaya Basin, Lockwood's favorite place, isn't part of that land loss. It's uniquely positioned in a growing delta. "The Atchafalaya is definitely a vibrant growing ecosystem," he says. Lockwood says he now sees more people using that basin than he did 30 years ago. "The wildlife is more and easier to approach. The egrets, eagles and alligators are just thick compared to what they were."
During our photo tour, we spot an eagle flying overhead. Lockwood says it's an adolescent because it doesn't yet have a head of white feathers. "I feel sure that I could see an eagle any day in most parts of the Atchafalaya," he says.
"If I go to Terrebonne Parish, I could see 10 to 20. I think the animals that can are adapting to living with us."
After three decades of photographing the Atchafalaya, there is still one picture that Lockwood hopes he's able to snap one day: "An ivory-billed woodpecker. I gave up on it about 20 years ago. But I kind of think it might be out there."
Some experts believe the elusive large bird is extinct. It's been decades since any have been conclusively photographed. But Lockwood says: "There are enough people I know that say they've seen it that they can't all be blind or lying. There's a good chance it's out there, and I'd like to have a good shot."
As the sun begins to sink behind the treetops and the daylight turns a golden color, we head for a grove of large cypress trees growing in the shallow water at the edge of Lake Verret. This is the spot Lockwood has picked for us to photograph an Atchafalaya sunset. As we tie the boat's line to cypress knees, Lockwood cautions: "You got about two minutes to get your shot. The sun sets fast. You want to catch that last piece of the sun on the horizon."
We adjust apertures and shutter speeds as we kneel in the aluminum boat, trying to get the perfect angle of setting sun and the silhouette of the moss-draped branches of the cypress. I'm leaning out of the boat holding my camera a few inches above the water, trying to keep the horizon level as the boat gently rocks from our shifting weight. Click … click…. The cameras capture dozens of frames of images of this iconic Atchafalaya scene of bald cypress, setting sun, a sky lightly streaked with clouds against a background that's somewhere between pink and orange and a golden reflection that floats on the dark rippled water. The picture-taking continues long after the sun has dropped out of sight. The colors and the sounds change as the day comes to an end. As our light disappears in the darkness, the clicking stops, and we stow our cameras for the ride back to the boat launch. I can only hope that I've been able to preserve an image that conveys the wilderness, the beauty and the peacefulness that we've just experienced in the Atchafalaya.