Annie Strack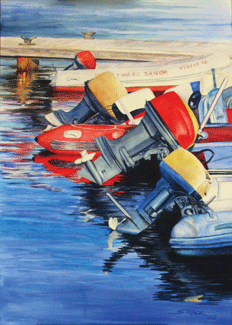 Annie Strack is organized –– not only in her art but also in the business of art. Posted on her studio wall is a large chart, planning every step of her art career for the next 10 years. Below each year is a list of goals and benchmarks.
For example: Year 1 – juried in national shows. Year 3 – galleries in other cities. Year 5 – national product endorsements. Year 10 – coffee table book.
"You have to plan and have goals," she says, "and not just do what other artists are doing. They may have other goals. My plan is to be wealthy, selling my art."
Strack, who lives with her husband, Brian, in a wooded area of Lacombe in St. Tammany Parish on the north shore of Lake Pontchartrain, seems to be on schedule. She has received scores of national and regional awards, and her work has appeared in dozens of solo and group art shows from Louisiana to California. Strack's maritime paintings also can be found in museum and corporate collections throughout the nation, including collections owned by the Coast Guard, Navy, U.S. Senate and Pentagon. In addition, in 2000 the U.S. Coast Guard chose her to be one of its 100 official Coast Guard artists.
Strack is a talented maritime painter who sees the Louisiana coastline differently than most other artists who explore coastal marshes in the early morning or late afternoon when the sun approaches the horizon and the hazy light is soft and warm. You will not find the tea-colored brooding water of Louisiana's coastal marshes or bayous and rivers in her paintings. Instead, her seascapes are as blue as cloudless skies. They are as blue as the Gulf of Mexico and the Atlantic and Pacific oceans where horizons dissolve between blue skies and the sea. "I don't paint that hazy light," she explains. "I create an ideal composition based on memory of other places. I need something strong in my paintings. I don't fade out my trees on the horizon. I like clear water and clear skies. I change the color of the water and concentrate on the reflection of boats and the transparency of water so that you can see through it. I don't paint still water unless there is an implied movement of a boat or something. I love to look at the stillness of swamp water, but I have no desire to paint them. I love boats."
Boats and their reflections upon deep blue water are subjects that Strack has explored successfully for many years.
For those who have lived near the sea, paintings such as the one with an old skiff with a vintage Evinrude outboard motor fastened to the back are like flashback memories.
"Living in coastal communities has influenced my painting style and inspired me to specialize and develop an expertise in maritime subjects," says Strack in her artist statement. "I try to entice the viewer to step into my paintings, to feel the sand between their toes as they walk on my sun-warmed beaches, to dive into my paintings and swim in my oceans, to cruise through my paintings on the decks of my boats. I love the ocean. I love to swim in it, sail on it and listen to the waves. All of my life I have felt a need to be near the sea, and when I'm away from it for too long, I can feel the tides tugging at me, pulling me back to the sandy shores. To me, water is beautiful. It is ever-changing, always moving, and the world is reflected on its surface. I try to take the viewer with me, into my paintings. When you look at my work, I want you to not just see a painting but to feel the ocean's wind in your hair, taste the salt spray on your lips and hear the sea gulls calling to you."
The sound of the gulls comes naturally to Strack, who was born in Naples on the southwest tip of Florida. Over the years, she and Brian, who works for the National Park Service, have lived in and traveled to places such as the Outer Banks of North Carolina, the Big Cypress National Preserve in Florida, the Island of Guam, the Black Hills of North Dakota, Bali, Thailand, California's Pinnacles National Monument, St. Croix in the Virgin Islands and across the Pacific Rim –– places that are only dreams for most people. All the while, Strack continued to paint part-time and sell her art.
Then in 1998, her life and direction in art changed. During their California assignment, Strack had a job selling jewelry when an armed robber walked in, held a gun to her head, tied her up and locked her in a vault. "It took a crazed felon holding a gun to my head to inspire me to give up the corporate life and become a full-time professional artist," she says in her artist statement. "In those moments facing death I had an epiphany; life is too short to waste even a moment on anything that we do not love, anything that does not bring passion and joy into our lives."
While in California, Strack also began to focus more on painting boats and the sea. Everyone, she says, was painting the Spanish missions, El Capitan in Yosemite National Park and the vineyards, and they sold well. "But I saw an opportunity to paint something no one else was doing," she explains. "I love the water. I grew up on the water in Florida, and I've always been near water –– except for our stay in the Black Hills. I have it memorized, and it's easy for me to paint."
In 2000, her husband received a promotion and reassignment to the Lafitte National Park in New Orleans. For a few months they lived in the city's Warehouse District, which they enjoyed, but they began looking around for a house to buy. After a few months, they decided upon Lacombe, which she finds convenient for her work. "Everything I need is within a half-hour," she says. "I have the Mississippi River with tankers and ships; the Gulf Coast and Biloxi with the sea, beaches and shrimp boats; the Mandeville yacht club; and West End [New Orleans lakefront] with sailboats –– all within a half-hour."
That same year, Strack got a major career break. While reading her newsletter from the International Society of Maritime Painters, she saw a notice that the Coast Guard was looking for artists to create paintings that demonstrated, in patriotic ways, the Coast Guard's various missions and work. She sent slides of her paintings to jurors at the famed Salmagundi Club in New York, who selected her to be one of 100 volunteer artists nationwide for the Coast Guard Art Program.
According to the program's Web site, Coast Guard artists tell "the story of the service's missions, heroes and history to the American public" and depict the "daily missions the 41,500 men and women on active duty in the Coast Guard perform, including homeland security, search and rescue, marine environmental protection, drug interdiction, military readiness and natural resource management." The paintings are displayed in museums and libraries and at patriotic events, in Congressional and executive branch offices and at military and Coast Guard locations throughout the nation. To date, Strack has received two painting assignments from the Coast Guard –– inter-federal agency counterterrorism training operations in Lake Charles and, the second, a Coast Guard crew working on the solar-powered navigation light on the old lighthouse at the mouth of the Tchefuncte River and Lake Pontchartrain.
Each year, the Coast Guard sends out general assignments to its volunteer artists.
To capture the color, emotion and vibrancy she seeks in each painting, Strack prefers to use watercolors. "The translucency of the medium allows me to create my paintings using multiple layers of washes and glazes," she explains. "These layers of color are built up slowly, each one adding depth to the painting. I travel extensively to seek out reference material for my subjects, taking photographs and painting on location to capture the light and mood of the moment. . . . Each completed painting is a captured memory, a visual history of a moment of time, place and emotion that I record through art."
She likes the "wet" feeling watercolor creates. "If it makes you thirsty," she says with a laugh, "then I know it's a good painting."
When Strack is not painting or giving painting workshops and demonstrations, she works in the business of art. She writes regularly for art business magazines, giving artists tips on how to sell their work. She also has produced a DVD, Painting Seascapes in Watercolor, and a booklet on art business and marketing, with 23 chapters on topics ranging from creating a market plan to negotiating gallery contracts.
Strack's plan may be to get rich selling her art, and she may have an effective 10-year plan, but beneath it all, she says: "I cannot imagine a day without painting. It beats flippin' burgers."
Interiors and Imports in Mandeville and Negrotto's Gallery in Biloxi represent her locally. Strack's paintings can be seen at www.AnnieStrackArt.com.
Annie Strack
"I travel extensively to seek out reference material for my subjects, taking photographs and painting on location to capture the light and mood of the moment. . . . Each completed painting is a captured memory, a visual history of a moment of time, place and emotion that I record through art."