Around Louisiana: Greater New Orleans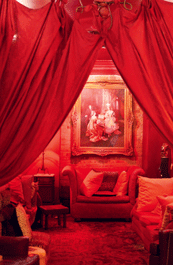 FORK IN THE ROAD
Here comes Mr. Jourdan
On a balmy evening late in spring, I attended a dinner party at Muriel's, a restaurant charmingly placed catty-corner from Jackson Square. I don't know if it was the fan-shaped window hanging from the ceiling, the old brick, the similar light fixtures in the downstairs dining room or the wonderful camaraderie among the people at our table, but the evening reminded me of family dinner back in our cottage in New Orleans when I was a little girl.
I started the meal with an excellently prepared mojito –– minty, tangy with citrus, perfect for the warm weather –– followed by a salad composed of butter lettuce, sweet peppers and a slightly sweet dressing. For an entrée, I chose the double-cut pork chop, heaven on a plate, grilled and then topped with a Louisiana sugar cane-apple glaze, sweet and tangy flavors that complemented a pork chop that was almost filet mignon tender. Most of my fellow guests chose the Pain Perdu Bread Pudding for dessert, and it arrived at our table resting in rum sauce and adorned with candied pecans. The air around me suddenly smelled like Aunt Sally's when the pralines are coming to a boil. I chose the Black Cherry Charlotte Royal, a chocolate shell filled with Bavarian cream and doused with crème anglaise that was very delicious, yet I regretted not ordering the bread pudding.
Tucked into a dim corner at the foot of the winding stairs that lead to the second-floor private party rooms and séance lounges is a table that's set for the resident primary haint, Monsieur Pierre Antoine Lepardi Jourdan. Muriel's was his former home. The sound of Gregorian chant guides you up the staircase beneath the gaze of a picture of the Sacred Heart of Jesus. The main party room upstairs is a deep raspberry color, filled with mirrors and crystal chandeliers –– it is like being inside a Waterford crystal goblet filled with merlot. The inner séance lounge, where Mr. Jourdan is said to chill, is a deep sumptuous red, filled with medieval hangings, jazz prints and Egyptian sarcophagi.
After the fire of 1788 that destroyed New Orleans, Jourdan built his exquisite home. By 1814, a compulsive gambler, he lost the house in a poker game. Knowing that the man who beat him at cards would never put a widow and her children out into the street, Jourdan went home the same night and committed suicide, thus keeping a roof over his family.
It has often been witnessed and reported that glasses suddenly fly from behind the bar to shatter against a brick wall 12 feet away. It is believed that Jourdan himself pitches these glasses to release pent-up angst. Clairvoyants who have visited Muriel's likewise report several troubled spirits linger in the 1700s-era carriageway, where the servants of the house once slept at night.
Muriel's, 801 Chartres St., New Orleans, (504) 568-1885.
PROFILE
Bloody good!
When I climbed the high steps of her raised Mid-City house to meet ordained voodoo priestess Bloody Mary, I was ushered into a fascinating room filled with statues of St. Michael, as well as voodoo symbols and an altar made of items close to her childhood home and from departed family members. Descended from the royal bloodline of English queen Bloody Mary, as well as Robert the Bruce of Scotland, this fair-haired voodoo priestess was christened Mary Millan at birth.
She instructed me to stand in the middle of the room and began a "psychic X-ray." Mary saw "steel spikes" sticking in different areas of my body –– the amazing thing was that she was telling me their locations exactly at points that had actually been causing me discomfort. Some of the very specific things she told me about myself were known only by my closest family members and me.
OK, she's jaw-droppingly good. After my reading and her interview, I joined her in the French Quarter for one of her famous walking ghost tours that have won her international acclaim. Bloody Mary's tours have been featured on A&E, as well as the History and Travel channels. The moon was full and fat with a red veil over it, and when the group paused behind St. Louis Cathedral upon which a giant shadow of Jesus loomed, Mary leaned down to draw a "veve" of protection. The red veil disappeared from the moon. Mary kept up a fascinating running narrative, accompanied by gestures that were balletic and noncontrived. The entertaining tour began at Lafitte's Blacksmith Shop and eventually took us to the LaLaurie House now owned by Nicolas Cage. Additionally, she shared her eerie collection of photographs of ghosts caught on film.
Although she provides sheer fascination, Bloody Mary is much more than a showman for New Orleans tourists. She is on a mission to heal what she calls the monumental spiritual damage that has been done to the soul of New Orleans by Hurricane Katrina. Her belief in her religion, as well as her love of the Crescent City, is genuine and reverent.
"My job is to keep the spirit alive though translating our customs, honoring the ancestors who built this town and feeding the spirit of place who is the glue that keeps us together," she claims. "So ghost tours definitely are a way to get that teaching across –– whether you believe in ghosts or not –– but the belief in the spirit world has existed throughout the entire history of our town (and world) and has caused certain decisions to be made that created our history and are still creating our history."
For more information, visit www.bloodymarystours.com.