Around Louisiana: Northern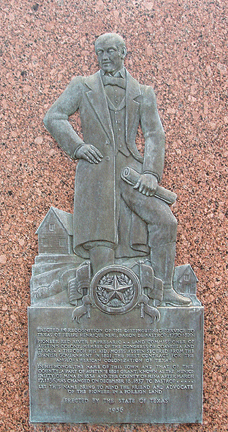 ON THE ROAD
BASTROP RETROSPECTIVE
Bastrop is the seat of Paroisse de Morehouse (Morehouse Parish), which rises high to touch the state border between Louisiana and Arkansas. Although it is now mainly a retirement community due to the closure of several mills that once fueled its economy, Bastrop is part of an old settlement with an interesting history founded by a charming rogue of sorts when the Spanish had possession of Louisiana. The rogue in question was one Felipe Enrique Neri, Baron de Bastrop, only in reality he wasn't named Enrique, nor was he a baron. Born Philip Hendrik Nering Bögel in Dutch Guiana, he moved to Holland with his parents, joined the cavalry and married; eventually he became the father of five and a tax collector in Friesland. When Bögel's extracurricular embezzling activities came to light, he and his family fled to Louisiana in 1793 before his case could go to trial; once here, he introduced himself as a Dutch noblemen, the Baron of Bastrop. He had the Spanish government and Louisianians completely hoodwinked. The Spanish government and citizens included him in a number of land deals that amassed a fortune for the bogus baron. Spain granted him permission to found a colony in the splendid and fertile valley of the Ouachita River; Spanish Gov. Francisco Luis Héctor de Carondelet arranged the procurement of 850,000 acres on the Ouachita River for the settlement's location. Lack of government funds prevented the project from reaching fruition, and fewer than 100 colonists actually settled in the area. The Baron de Bastrop lost his fortune; moved to what became San Antonio, Texas, when France sold Louisiana to the Americans (something he strongly opposed); and served as second alcalde, or mayor, of the Spanish town.
By 1820, the baron had joined forces with Stephen and Moses Austin to bring American colonists to Tejas. The grants they obtained brought the first American settlers, called the Old Three Hundred, to Texas. The baron, who by this time used the surname Neri, became the commissioner of colonization for Austin and later became a legislative member of the Coahuila y Tejas. At the time of his death in 1827 at age 67, he was penniless, and as there was no money in his estate to pay for his burial, his fellow legislators footed the bill. Years after his death, his true identity was discovered, but his important role in the colonization of Texas was already carved in history: If the Dutch embezzler had not fled Holland for North America to assume a false title, Anglo- American settlers might never have made it to what eventually became the Lone Star State. There is a county in Texas that bears his baronial "title" of Bastrop.
But back in Louisiana, a town bearing his titular moniker had also sprung up and was incorporated in 1857 – its most notable characteristic was that it was the western border of the great North Louisiana swamp. In pre-Civil War days, a rail line connected Bastrop with Monroe farther to the southwest. It remained in the iron grip of the Confederacy until January 1865 when 3,000 members of the Third U.S. Colored Cavalry led by Col. E.D. Osband galloped in from Memphis, Tenn., foraging for supplies. Rumors that Confederate Col. A.J. McNeill was bivouacked in nearby Oak Ridge with 800 rebels preparing to fight sent Osband and his cavalry on a wild goose chase; instead of hundreds of troops, they found fewer than 50 Johnny Rebs who had escaped into the swamps, leaving behind their horses and mules.
Victims of the Great Mississippi Flood of 1927 found sanctuary in Bastrop's refugee camps, while German prisoners-of-war later camped out there during World War II.