"Art and Shadows" on the Bayou Teche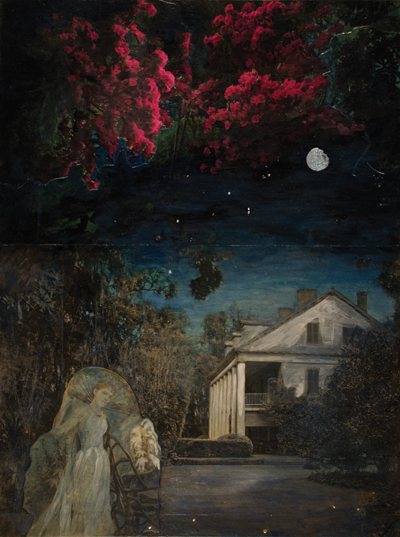 Over the last 12 months, Frese has created an impressive body of images that draw upon the history and people who inhabited the plantation for almost two centuries. Faces of long dead members of the Weeks family who owned the Shadows, their clothing, household objects, personal letters, and the belongings of slaves who worked the land move in and out of her collages like specters in a dream. Each hand-tinted collage is an impression of time, place, and the tragic and complex relationships between the people who once lived and worked in this elegant historical home on Bayou Teche. They are silent stories left to the imagination of viewers.
The project, titled "Art and Shadows," funded in June 2014 by the National Trust for Historic Preservation and the National Endowment for the Arts, has enabled Frese to spend an entire year as an artist-in-residence at the Shadows where she has set up a small studio overlooking lovely gardens and massive live oaks. With keys to the entire house, she moves freely from room to room where stern portraits of long ago family members gaze at her intrusion. She often climbs the steep narrow steps into the attic to spend time among centuries-old books, Weeks family archives, clothing, furniture and household objects. Alone and in complete silence, she thumbs through long, loving and beautifully written letters between husbands, who were away for weeks at a time tending to business, and wives who remained at home to run the plantation. In these letters and archives, she finds expressions and objects that she later works into her visual stories.
Like so many other artists who come to South Louisiana from other places in the country, Frese has taken to the state's Acadian culture with the ferocity of a Cajun fiddle player at a Saturday night dance. Born in Florida, raised in Rhode Island and educated in California, she arrived in Louisiana in 1986 to teach fine art photography at the University of Louisiana at Lafayette. "I thought I'd be here a short time and then move on," says Frese, who now holds an endowed chair at the university. "But Louisiana got me, and I stayed. I like the climate here. The weather is so dramatic with the storms and wetness. I also love the music and the Francophone culture and language. There's a certain kind of worldliness about Louisiana that appeals to me. It certainly has influenced my work. There's also a kind of pagan lust of living on and off the land here. The fierce and staunch pride Cajuns have for their culture is appealing, and so is their joie de vivre of having fun." Frese, fluent in French, lives in the heart of that culture in Breaux Bridge just a few blocks from Bayou Teche.
At first, Frese was not clear on how to approach the art-in-residence project at the Shadows. Initially, she thought she would concentrate on slavery, the darker side of the plantation's history. But as she read more and more family letters and records from before and after the Civil War, she realized the history of the slave-owning planters and slavery was a difficult story. "There are so many stories about the family and plantation culture," she explains. "The story of slavery in Louisiana is so painful. I kept circling back to slavery and the broad picture of how that could have happened. I wanted to make pictures about enslaved families and the white planter families. They lived so closely together. I thought about how families interacted with each other or didn't. It is a story of bonding and how people took care of each other. It wasn't all terrible. It was a very complex relationship."

In the attic Frese also found clothing such as wedding dresses, baptismal gowns and pre-Civil War children's clothing. With that, Frese decided to tell her stories through the eyes of the children, black and white, on the plantation. "I thought that would make the images less intimidating and inviting to people," she says. But not all of her collages are about children. Some depict slave cabins and life around the plantation. In the "moonlight and magnolia" imagery of her collage "Night Shadows," for example, Frese thought she was making a statement about the false notion people today have about plantation life. "It's so funny," she says. "I thought I was making a propaganda piece, but it turned out to be the one people respond to most. That's their image of plantation life. Many Americans don't want to think about plantation life being so contentious."
Creating contemporary stories about lives and a culture drawn from the past is difficult. To do so, Frese prefers the flexibility of the photo-collage process rather than traditional documentary-styled photographs of the plantation. Instead of images of empty rooms or moody reflections of how the plantation looks today, Frese is able to bring life to her compositions. Like painting, a collage is more about the artist's imagination than what lies before the camera lens. "I've always been a mixed-media artist," she says, describing her days as a graduate student at the University of California, Davis. "The scenes in my head are not available in straight photography. In collages, I can place images that don't necessarily belong together to create a powerful narrative."

To create her collages, Frese often uses photographs of the plantation taken in the 1940s and '50s by the writer and artist William Weeks Hall, the last of the Weeks family to live on the property. "He saved everything," she says. With elements cut from her own photographs of the plantation, clothing and other objects and Hall's vintage photographs, she juxtaposes images to create her stories. She then hand-tints each composition with egg tempera, an ancient form of paint consisting of color pigments mixed with egg yolks. The eggs are from New Iberia. Using local eggs is critical to the work, she explains. "It becomes a connection with the local bio-region," she says, glancing out a window into the garden. "When I work, I think about the land. I think about the sugarcane and the plantation that came out of that crop. I have spent days here in solitude and silence. I appreciate being present in the place where all this has happened."
As Faulkner wrote – "The past is never dead. It's not even past." It remains in the Shadows and in Lynda Frese's images.
"Art and Shadows" will be on view at the Shadows visitor center from May 9 through Labor Day. For additional information about Frese and her work, visit lyndafrese.com.