Art: Holding On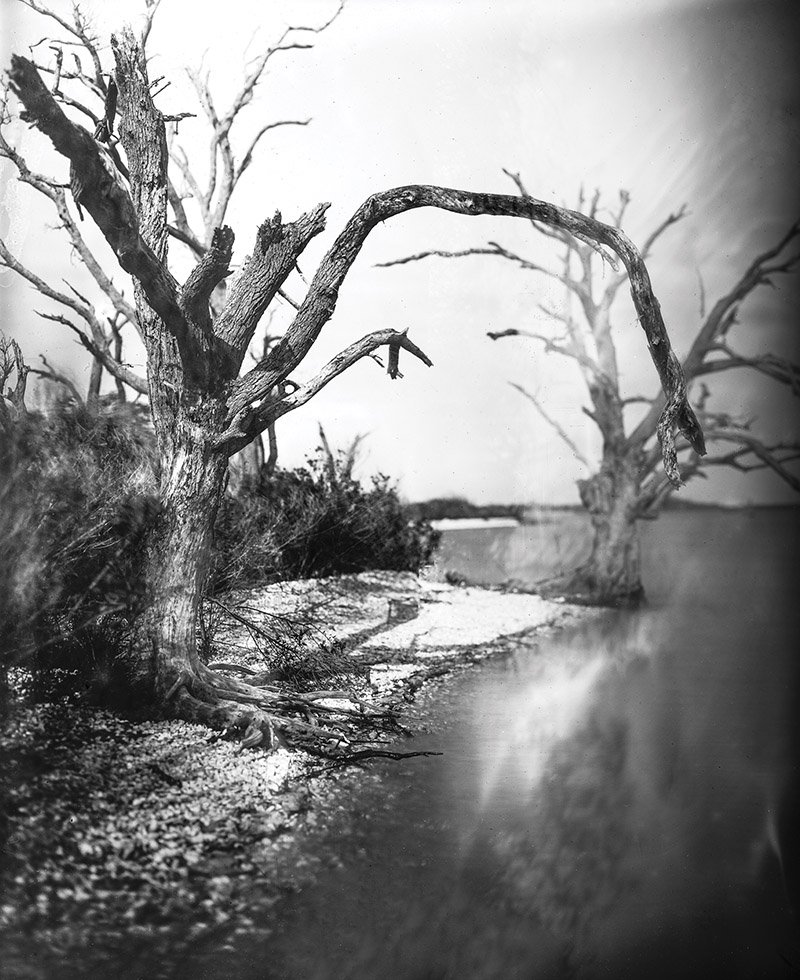 ---
Louisiana photographer Cate Colvin Sampson, inspired by the writings of Southern novelist Flannery O'Connor, joins a growing chorus of artists and photographers raising warnings about South Louisiana's endangered wetlands and a way of life for the people who have lived there for centuries.
Sampson draws attention to the vanishing marshes and swamps "outside the levee system" in her ongoing black-and-white photography series "All the Place You've Got," a line she borrowed from O'Connor's 1952 novel "Wise Blood." Here the gospel-haunted protagonist Hazel Motes tells readers, "In yourself right now is all the place you've got." To Sampson, Louisiana's wetlands are all "we've got" and they are disappearing.
To better understand the plight facing people who live and work in the wetlands, Sampson attends their church services and visits with the subsistence fishing families and others to hear their stories.
"We only have one home," Sampson says. "Louisiana already claims some of the world's first climate refugees out of Isle de Jean Charles. Learning about and participating in efforts to preserve our wetlands benefits all of us — industries which invest in and extract from those environments, fishermen who support themselves and their families from the bounty of our waterways, to the burgeoning ecotourism industry around New Orleans, and the creative community that draws inspiration from this special, vulnerable place."
Sampson is referring to the rapidly disappearing Isle de Jean Charles in Terrebonne Parish inhabited by the Jean Charles Band of Biloxi-Chitimacha-Choctaw Indians.
Like the Jean Charles Band and other wetlands residents, Sampson is sensitive to the land. The 31-year-old New Orleans resident was born in Virginia but raised in Central Louisiana's Rapides Parish. For generations, the Colvin family on her mother's side farmed the land in North Louisiana near Dubach in Lincoln Parish — that is, until natural gas and oil were discovered on the family property in the 1930s. Gradually, gas wells and pine trees replaced crops and cattle.
"Just about everywhere you look," she says, "you can identify the presence of the petrochemical industry — from its physical occupation of and contribution to our damaged wetlands, to its effects on the accessibility of our natural landscape, to its ubiquitous influence in our society in terms of what this industry supports, what it minimizes and who it marginalizes. I feel like my family's connection to the natural resources of our home state is at odds with the environmental sustainability for which my photographs advocate, but conversely it reminds me how deeply tied folks' livelihoods are to the natural resources of this place, how much pride people have in their work. It's a complicated issue and I think drawing a hard line isn't a realistic way to win people's hearts to the plight of coastal restoration. It's going to take stakeholders from the oil and gas industry as much as folks from conservation backgrounds."
Sampson, a 2012 LSU graduate and photography archivist at the Historic New Orleans Collection, first became interested in Louisiana's wetlands back in 2013 after reading about coastal erosion, wetlands dredging, saltwater intrusion, land subsidence and the political and social problems surrounding them. She soon learned that exploring those wetlands is difficult.
"Industry is everywhere," she says, "and I found it to be pretty efficient at discouraging us from looking very closely at it, the space it occupies and its relationships to those natural spaces over time. I think these obstacles to accessing the natural landscape of South Louisiana tend to make the work of conversation more difficult in one sense because a lot of folks still see the swamp as an uninspired throwaway rather than an incredibly productive and diverse ecosystem worth caring for."
In 2014, Sampson co-curated the Louisiana Culture Exhibition at an international photography exhibition in Moscow, Russia, and the following year she received the New Orleans Photo Alliance's Michael P. Smith Documentary Photography Grant. In 2016, she served as an artist-in-residence at the National Park Service, and the next year, her work appeared in New Orleans at a satellite show during the city's international art triennial, Prospect 3.
In addition, Sampson developed a method that is unique among today's ubiquitous digital cameras and computers. She uses 4-by-8-inch and 8-by-10-inch Graflex cameras made in the 1930s and mid-1940s. As to negatives, she makes her own light-sensitive silver gelatin, glass plate black-and-white negatives, a popular late 19th-century process she learned while attending a workshop at the George Eastman House Museum of Photography in Rochester, New York.
"Through my camera lens I have witnessed the various players of a complex issue," she says. "I just listen to stories. Stories, of course, are the motivation of any photograph in this series, but there is generally no expectation or formula that I adhere to when getting out to make a photograph. You just have to pay attention."
---
CAJUN
"Notes from the Schoolyard."
An art exhibition organized with the Talented Visual Art program in the Lafayette Parish School System, through June 3. Paul and Lulu Hilliard University Art Museum, Lafayette. hilliardmuseum.org
CENTRAL
"Childhood Classics: 100 Years of Children's Book Illustration."
Children's books from the turn of the century to popular works today, through June 20. Alexandria Museum of Art. themuseum.org
PLANTATION
"Frank Hayden: Lift Every Voice."
Features work by influential Louisiana sculptor reflecting humanistic concerns shaped by Catholic faith and Civil Rights Movement, through Oct. 25. Louisiana Art & Science Museum, Baton Rouge. lasm.org
NOLA
"Melvin Edwards: Crossroads."
Exhibit examines relationships between Edwards's artwork and that produced by African artists, through July 5. Ogden Museum of Southern Art. ogdenmuseum.org
NORTH
"The Art of Architect Mike McSwain."
Drawings of popular Shreveport restaurants, historic buildings and event spaces, June 18 through Sept. 5. artspace, Shreveport. artspaceshreveport.com
*Be sure to call ahead for COVID-19 closures.