Audubon Hideaway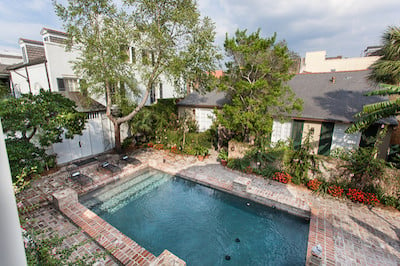 Behind an 18th-century brick wall and amid lush tropical gardens in the heart of the French Quarter stands an historic and secluded oasis unlike any other. The Audubon Cottages will surely transport you to another place and time, and this secluded hideaway is a stone's throw away from all the action. It's hard to believe this hidden gem and "Five Star Alliance" accommodation is just one block from Bourbon Street.
There are seven cottages from which to choose, most with private courtyards, and all surround what is believed to be the French Quarter's oldest in-ground swimming pool (heated), set in original brick. Audubon Cottages are named after famed painter and naturalist John James Audubon and rightfully so; he lived in cottage number one back in 1821, and finished part of his legendary "Birds of America Series" in cottage number seven. Modern-day celebrities have discovered this distinctive getaway, too: Elizabeth Taylor made cottage number three her home away from home (she stayed there 27 times), and "Saturday Night Live" legend Dan Aykroyd sleeps there on a regular basis.

*Audubon Cottages – New Orleans Hotel Collection.
It's no surprise that it's one of the most sought-after places to stay in New Orleans. There are butlers assigned to each cottage, and complimentary cheeses, fruit, sweets and champagne are among the treats waiting for you. If that's not enough, chef Alfred Edwards aims to please and will whip up anything you desire for breakfast. Speaking of breakfast, how about a New Orleans-style buffet featuring fresh fruits, homemade yogurt, fresh pastries, sausage, bacon, eggs, mimosas and, of course, New Orleans-style coffee? It's included in your stay and served with true Crescent City passion.
It's hard to choose which cottage to reserve. Each has modern amenities, but is decorated with antiques and reproduction pieces that reflect the charm of old New Orleans. All buildings have exposed historic brick, original wooden beams and beautiful wooden floors. Most cottages include a living and dining room, an original fireplace, one or two bedrooms and a private courtyard. Number Four is a two-story cottage with a balcony and spacious lush courtyard.
One of the best ways to experience the French Quarter and other iconic areas of New Orleans is by carriage. Some of these mule-led carriages have been in operation for nearly a century, and the "buggy ride," as many locals call it, is popular with both locals and tourists. Drivers are well versed in Crescent City lore, and do excellent jobs of taking visitors back in time with the stories behind the stories.
Be sure to board one of New Orleans' Royal Carriages which offers six unforgettable journeys including the French Quarter's Vieux Carre' tour, a trip to the Garden District (where you'll see the homes of movie stars) or one to legendary oak-lined St. Charles Avenue with its breath-taking mansions. Plus, your city-licensed guide will hop off and give you a tour of the legendary St. Louis #1 Cemetery, the oldest above-ground cemetery in North America. (Tip: Take a morning private ride and request Rebeka Chattelier or Matt Byrd for any tour).
Another way to experience this rich city is by taking a cruise along the mighty Mississippi River aboard the historic Steamboat Natchez. The Natchez is one of the last, authentic, steam-powered paddle wheelers on the river, and you will get spectacular views you cannot see anywhere else. You can also tempt your taste buds with a sumptuous New Orleans-style lunch or dinner, all as you listen to live Dixieland jazz. Be sure to head to Natchez's third-level bar where you can wet your whistle with the steamer's famous savory Bloody Mary.
Breakfast, lunch or dinner at Brennan's Restaurant on Royal Street is a must. This eatery has been a tradition since 1946. Sumptuous dishes such as Eggs Hussarde (a Brennan's original), seafood filé gumbo, Brennan's oyster soup and New Orleans' classic grouper almondine are just a few items that will tempt your taste buds. Do not leave without finishing your meal with the famous Banana's Foster.
New Orleans has a variety of museums extending from the French Quarter to downtown and midtown. The Presbytere, located next to the historic St. Louis Cathedral, has an elaborate collection of Mardi Gras artifacts and memorabilia, and offers an interactive exhibit that will give you a realistic Mardi Gras experience.

*
Steamboat Natchez and Louisiana State Museum
(For more information on (a) Audubon Cottages, visit www.auduboncottages.com; (b) Royal Carriages, www.neworleanscarriages.com; (c) Steamboat Natchez, www.steamboatnatchez.com; (d) The Presbytere, www.louisianastatemuseum.org)