author interview: "the Talented Ribkins"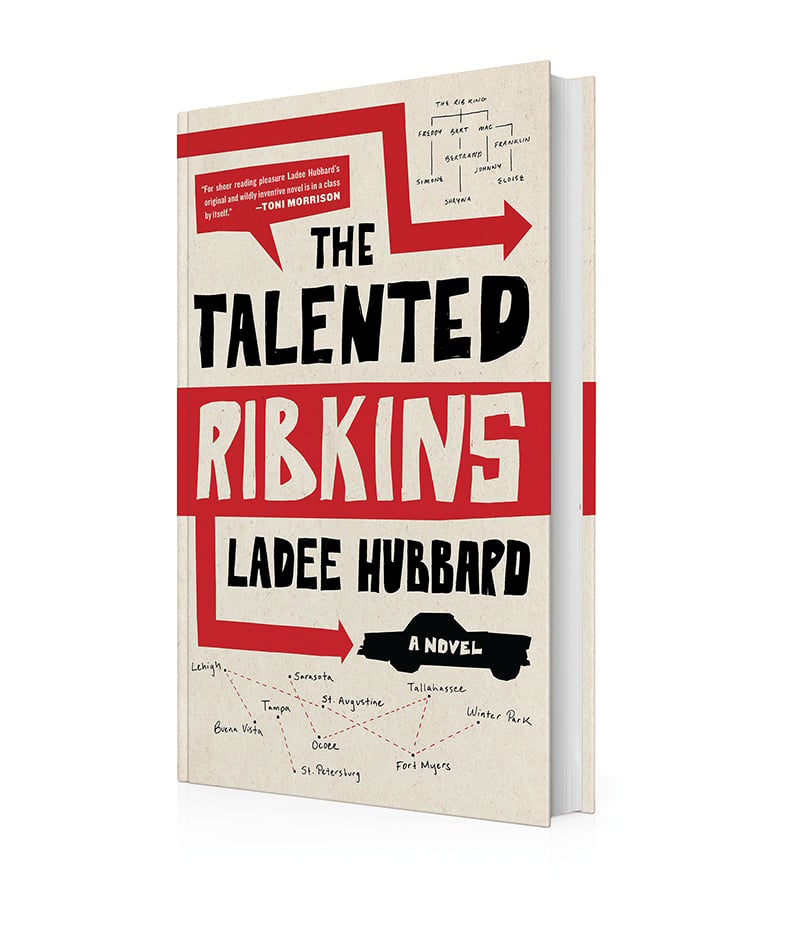 Johnny Ribkins is in the race of his life: he's got one week to pony up $100,000 to repay a mob boss. Seventy-two year old Johnny hails from a family of quasi-comic-book superheroes. Their talents aren't exactly what you'd wish for if given the choice, but maybe there's a use for them?
Johnny can create perfect maps of anywhere — even if he's never been there (a talent he uses to track down hidden loot when the mob boss comes knocking); his father could see colors that weren't visible to anyone else; his brother could scale walls (OK, that's venturing into Spider-Man territory, I'll admit); his cousins have talents ranging from fire breathing, otherworldly speed and one limb that looks like a hammer.
Much like the Justice League, the Ribkins family combined their talents during the 1960s civil rights movement to support and protect their own brethren, as well as black activists and leaders. Their group's name was the Justice Committee and they had high ideals and lofty goals. Eventually though, the group drifted apart and Johnny and his brother Franklin began to use their talents on things like stealing jewelry and cash.
The novel takes place in present-day Florida with Johnny and Eloise, his typically moody teen niece, road-tripping in his antique Thunderbird to track down treasures he and his brother hid years before.
The novel's author, Ladee Hubbard, is based in New Orleans and is an adjunct lecturer at Tulane University where she teaches Afro-Futurism: Science Fiction and Surrealism in African American Literature and Culture.
"The Talented Ribkins" is her first novel and she has received extraordinary praise via both pop culture and literary circles. The release of the novel brought her to the small screen as a guest on NBC's "Late Night with Seth Meyers" in October and on stage in January to receive the prestigious Ernest J. Gaines Award for Literary Excellence.
The novel resonates with a wide audience because Hubbard knows how to respect a reader's desire for pacing while balancing it with scene setting. She writes in a particularly cinematic way.
Hubbard answered a few questions exclusively for Louisiana Life readers.

Q: Can you talk about your inspiration for "The Talented Ribkins"?
A: The title of the book and many of its themes were inspired by a consideration of the enduring cultural impact of the work of W.E.B. Dubois, in particular his essay "The Talented Tenth." The book was also inspired by my relationship to my grandfather who was an enormous source of love and inspiration for me in general.

Q: How did the elements of magical realism help you to tell the story rather than just straight realism?
A: These elements developed pretty organically with my conceptualization of the book and were present when I started writing it. Giving the characters abilities that transcend the parameters of realism was, for me, a way of talking about the idea of talent in general, without presenting it as an abstraction.
Each character's talent, on a certain level, becomes a metaphor for how they negotiate the world and their role as African-American men and women within it. Their talents, in this sense, represent different strategies for survival.
On another level, it is made clear in the book that many of the characters don't know exactly what to do with the talent they have because there is a difference between talent and vision. In the real world many people have talents and abilities that are misrepresented, misunderstood (even by themselves) or that they are not given credit for having. The book tries to talk about this as well— the need to respect and value those qualities that make us unique, even when other people may not seem to.

Q: How was it to appear on Seth Meyers' show?
A: It was a great experience. He is a very charismatic host and I felt very comfortable talking to him.

Q: If you could meet someone you admire, dead or alive, who would it be and why?
A: There are many people I would like to meet from history. At the moment I would have to say Harriet Tubman, because she has been a great inspiration for the book I am currently working on.

Q: What are you working on right now and what can you tell us about it?
A: It is a historical novel. One of the main characters is the grandfather of Johnny Ribkins, the protagonist of the Talented Ribkins. In 1913 he invents what becomes a nationally popular meat sauce and tours the country giving cooking demonstrations. He takes to calling himself The Rib King, which is the origin of the Ribkins' family name.
EXCERPT
He hadn't seen her since his brother's funeral but he had to admit she looked less crazy than he remembered. The lace top, miniskirt, and thigh-high boots were gone, replaced by a T-shirt, sweatpants, and white flip-flops. Her once-gaunt cheekbones were now fleshy and jowly, and her hair, deprived of the bright red wig she'd worn to the wake, was gray and cut short. He figured she must have been in her forties, about the same age his brother Franklin had been when he died.
Johnny smiled. "They old tools, see? Like for turning screws so old they don't even make them anymore. Truth is I all but forgot about them until a couple weeks ago, when I got a delivery of antique watches at the shop."
He pulled a handkerchief from the pocket of his shirt and scratched at a line of sweat tickling his left ear. It was hot out there and he could hear how lazy and exhausted his lies sounded. Luckily the woman was none too bright.
"They valuable?"
"Only if you a broken watch."
A hearty "amen" and the sound of applause came from the TV inside the house.
"Tools aren't valuable. The watches are, but only if they're fixed. And really it's more a matter of the fact that they don't make them anymore. Now I've looked everywhere, even tried contacting the original manufacturer to see if I could get ahold of the designs to have copies made. And—"
Where was this going? Why was he wasting time trying to explain himself to some raggedy piece of interloping woman who didn't even have sense enough to invite him inside and out of the heat, which would have been simple courtesy? He didn't have time for this. He needed to find that money, get back to St. Augustine. And—
"So what, Johnny, you some kind of junkman now?"
* * * * *
"The Talented Ribkins" By Ladee Hubbard Melville House, $25.99