Avery Island's 'Red' Gold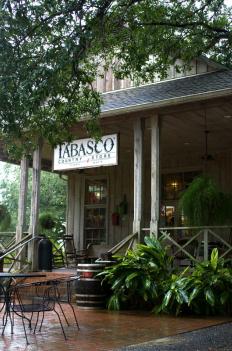 The mysterious and beautiful Avery Island is a geological oddity, as it sits on top of a salt dome rising above Louisiana's flat coastal terrain. In fact, while driving towards the island you can see the odd elevated dome or hill in the distance, covered with native plant life. While visitors are busy exploring the exotic island, which is surrounded by wetlands on the surface, a salt mine extends more than a thousand feet below. (Fun Fact: Avery Island is the home of the first rock salt mine in North America. Miners struck solid salt at only a 16-foot depth while expanding the brine springs on the island to produce salt for the confederacy.) (Fact: The salt dome was formed more than 200 million years ago.)
Avery Island is also the famed birthplace of Tabasco (a red pepper sauce), and it's located just three-miles from Vermilion Bay, an inlet to the Gulf of Mexico. The first batch of Tabasco (the original sauce) was produced in the 1860s, but this concoction was actually enjoyed years before its first production at this site. That prized sauce was made of just three ingredients: aged red peppers, natural vinegar and a dash of Avery Island-mined salt. (Tip: You can try more than a dozen complimentary Tabasco sauces and mouth-watering products including Tabasco Raspberry Chipotle Ice Cream, Tabasco Soda Pop, and pepper jellies at the Country Store next to the Visitor Center).
The founder and creator of that red gold was Edmund McIlhenny, who was born in 1815 in Hagerstown, Maryland. McIlhenny, a merchant, banker and politician who landed in Louisiana, was given the special pepper seeds, which he was told had "an especially fine flavor".
There are conflicting stories as to who actually gave him the coveted seeds. According to 'family tradition origins,' it came from a Mexican-American War veteran; however, a rival story states the seeds came from a Confederate soldier who visited Mexico. Nevertheless, McIlhenny continued to grow the peppers because he and his family enjoyed the great flavor and loved highly-seasoned foods.
While visiting Avery Island, head straight to the Tabasco Museum and Visitor Center. The museum is full of fascinating personal and business artifacts, and family photographs that date back to the mid-1800s. It is here you will also learn all about the McIlhenny Company, and the multi-generations who've created and carried out the global Tabasco empire. (Fact: More than five generations of the McIlhenny family have lived and worked on Avery Island along with island employees.)
The eclectic museum not only tells the Tabasco sauce story, including its marketing venture, but also holds unexpected relics and fascinating conversation pieces such as rock musician Michael Anthony's Tabasco guitar. (Tip: Be sure to carve out enough time to really enjoy this gallery of treasures. There are also short documentary videos for visitor viewing in the gallery.)
The Visitor Center is where you will also receive a self-guided tour brochure and map of the property and Tabasco factory. Upon leaving the museum, the next stop is the Tabasco Green House where you will find a variety of pepper plants and the story behind the pepper seeds origins. As you exit the green house, you may begin to notice the delicious scent of red peppers coming from the Barrel Warehouse, where you can view hundreds of barrels aging with pepper mash.
Next, it's off to the factory where you can watch the blending (the final step before bottling) and the bottling process. (Fact: The pepper mash is aged for three years in white oak barrels before it is mixed with Avery Island mined-salt and distilled cane vinegar.) All members of the Tabasco family of flavors (eight sauces) are bottled in this facility and shipped across the globe.
Want more fun? You can also sign up for a Tabasco Culinary Tour, an historic-guided Tabasco Tour, a cooking class, or a wildlife tour while here. Whatever you do, be sure to visit the Tabasco Country Store and have lunch at the Tabasco Restaurant 1868. Among the most popular mouth-watering dishes (all made with Tabasco products) are the Cajun Pirogue Sampler (crawfish etouffee, red beans and rice, and gumbo) and the Messy Mac Pulled Pork sandwich. For dessert, tempt your taste buds with a slice of cheesecake with a raspberry chipotle chocolate sauce or the scrumptious pecan pie. (Fun Fact: All eight flavors of Tabasco sauces are on every table in this restaurant.) (Tip: Among the most popular sauce flavors are the Sweet and Spicy, Garlic Pepper Sauce, Siracha, and the two newest editions, Roasted Garlic and Scorpion.)
While visiting Avery Island, you cannot miss the 170-acre Jungle Gardens and Bird City. We'll explore this unparalleled historic botanical gem in another blog.
For more information go to: tabasco.com/visit-avery-island