Barometer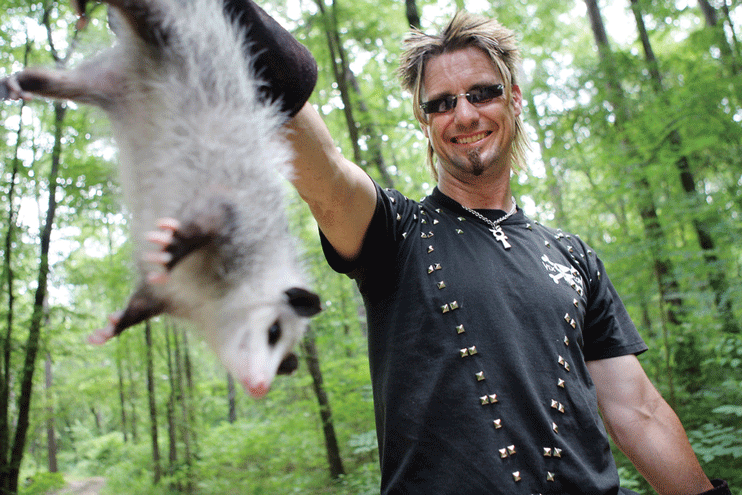 The Exterminator Returns
"We're going to have some real surprises this season," Billy Bretherton confided to the Shreveport Times about his series Billy the Exterminator, airing on A&E. This year Bretherton and his team try to capture a beaver wreaking havoc at a summer camp and a rattlesnake making its presence known at a funeral home. A former military man turned entomologist, Bretherton has operated Vexcon Inc., a pest control company in Benton, with his family for the past 15 years.
Tarzan: Still Swinging
Al Bohl of Bossier City is still at work on a documentary titled Tarzan: Lord of the Louisiana Jungle about the 1918 film Tarzan of the Apes, partially filmed in Morgan City. Were apes used in the movie and let loose in the swamp? Was a lion really killed? So far Bohl has found a spear and a boat used in the film and, according to the Morgan City Daily Review, is hoping for more interviews, especially with any still-living participants. Contact him at al@albohl.com.
Bubba Does Art
Frank McDonald of Iowa, La., calls himself a "bubba," as he was raised in coastal Georgia. After 30 years in the maritime industry, he changed course and began making art in metal: repoussé — copper embossed with three-dimensional figures of turtles, birds and fish. His perfected process includes inking, other treatments using sea salts and finally a lacquer for preservation. McDonald's quest for perfection continues. "I always see something else I should have done," he told the Lake Charles American Press.
Jumpin' into Fame
"I never thought I would be on TV with some of my best friends doing what I love to do," Haughton native Billy Jackson told the Bossier Press-Tribune. Haughton is part of the dance crew Saltare, featured on the MTV show America's Best Dance Crew. His six-member crew set itself apart from other competitors by mixing dance and jump ropes. Jackson, who has moved to Boise, Idaho, to pursue jumping rope professionally, said, "It's something we dedicated our lives to in order to become as skillful as we are, and we're very passionate about what we do."
Buckle Up and Boogie
Denham Springs police have begun using iTunes cards to help improve seat belt use, according to the Baton Rouge Advocate. The department checked 290 vehicles leaving Denham Springs High School at the beginning of one week and found 11.8 percent with occupants not wearing seat belts, police Lt. Steve Kistler said. In the middle of the week, officers checked again and gave out 374 cards for free music downloads to people wearing seat belts and 18 warning tickets to those who weren't, Kistler said.
Back in the Saddle Again
Ferriday native and country music legend Mickey Gilley is 74 years old and told the Concordia Sentinel he counts himself very fortunate to celebrate that landmark. A fall in his condo in Branson, Mo., last July injured his neck, bruised his spinal cord and left him using a walker. Gilley plans a quick return to the stage in Branson, "even if I have to sit on a stool." This year also marks the 30th anniversary of the movie Urban Cowboy, which made Gilley and his Pasadena, Texas, bar famous. Gilley said he intends to play in Ferriday again: "I always look forward to coming back home."
More than Their Bark is Big . . . .
A new state park in West Monroe will feature two huge trees: a 46-foot-tall hornbeam and a 65-foot-high holly tree. The 95-acre site south of Interstate 20 near the Cheniere exit will have walking trails in the woods, a picnic area and a new home for a district office of the Office of State Parks, reported the Monroe News-Star.
Sorry, Charlie!
A Baton Rouge man and woman found guilty of violations stemming from the illegal sale of recreationally caught fish received six months probation, a 90-day suspended jail sentence, $1,750 in fines plus court costs and $1,179.93 in restitution as a condition of probation and were barred from fishing in Louisiana for one year, as reported in the Zachary Plainsman News. John A. Moccabee and Lolita M. Ralston were found to be in possession of 629 fish, 12 pounds of shrimp and 29 pounds of blue crab. n