Barometer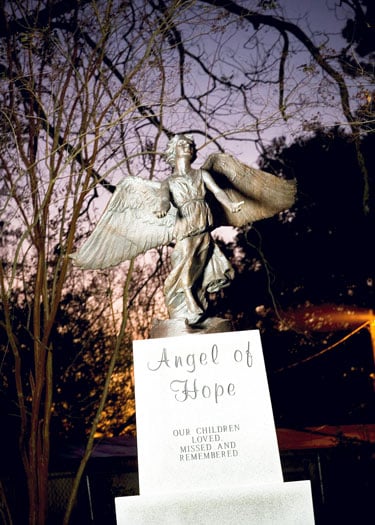 Angel of hope. Through the efforts of Pam and Bob Schroeder of Alexandria, an "Angel of Hope" statue stands on a granite base in a patio of memorial bricks in the Mount Olivet Cemetery in Pineville. The statue is part of a national movement stemming from author Richard Paul Evans, whose book The Christmas Box chronicled the story of a child who died and whose mother mourned her loss by a statue of an angel holding the word "hope." The Schroeders, who also lost a child, their 5-day-old daughter, Ellie, worked to get a similar statue in Louisiana, and Evans attended the dedication ceremonies.
Cougars on the prowl. Louisiana hunters who glimpsed a large cat slipping through the woods or heard one screaming after dark had their hunches proved right when the Louisiana Department of Wildlife and Fisheries confirmed two cougar appearances in the wild in Natchitoches Parish and about 100 miles away in Allen Parish. LDWF Large Carnivore Program Manager Maria Davidson says that "given the time lapse between the two pictures, it is certainly possible" that only one animal was involved. The last documented cougar sighting was in 2002 at Lake Fausse Pointe State Park.
Creepy-Crowley. The LaGrange Grocery in Crowley was a science fiction movie location recently, according to store manager Charles Broussard. Scenes from the film Chrome Angels were shot inside and around the store. Members of the crew describe the film plot as "Thelma and Louise meet the Terminator." The story concerns a group of women bikers who ride into a town occupied by robots. Extra Babette Moreau, playing a cashier, says, "This is my second time being an extra in one of these locally shot films –– in the first one I played a vampire."
Trooping together. An estimated 1,200 Girl Scouts gathered at Lamar-Dixon Expo Center in Gonzalez to visit a planetarium; investigate firefighting equipment; and celebrate the start of Girl Scouts Louisiana East, the 23-parish merger of the Baton Rouge and Southeast Louisiana Girl Scout councils, part of a council consolidation plan. "Nationally, we are down from 300 councils to about 109 councils," says GSLE's Cathy Pottschmidt. "The high-capacity councils reduce overhead and increase program opportunities."
Don't 4-get 4-H. The Louisiana 4-H Foundation is hunting for memorabilia to display in the Louisiana 4-H Museum in Mansura. Any items that show the history of 4-H in the state can be used, said Rose Anne St. Romain, the museum coordinator. There are prizes for the best items submitted. Details can be found at the LSU AgCenter Web site: Go to lsuagcenter.com, and put "scavenger hunt" in the search box.
Louisiana saints-to-be. Six martyrs from the 1930s Spanish Civil War were honored with the dedication of a monument in the Dominican Friars' Cemetery at Rosaryville in Tangipahoa Parish. Beatification ceremonies had been held for them in Rome in 2007. The friars –– Father Pedro Ibáñez Alonso, Father Jesus Villaverde Andres, Father José Maria Lopez Carrillo, Father Antonio Varona Ortega, Father Buenaventura Garcia Paredes, and Father Leoncio Arce Urrutía –– served at Rosaryville prior to going to the Philippines for mission work and then back to Spain. Father Vicente Peña, 96, of the Province of Spain, a classmate of some of the friars in Louisiana, attended the ceremony.
Special heroine. Misty tells people, "I was born with Down syndrome, but I'm an 'up syndrome' person," says her mother, Gena Adams of Bogalusa. A blue ribbon Special Olympian, Misty, 32, knew how to dial 911 and do CPR. When her mother fell and became unconscious, Misty went into action. "If not for that girl, her mother could have died right then and there," says Dr. Roger Casama. "That child is God-given."
Bolling alone. The 2008 Louisiana cotton harvest was much lower than expected, and some 30 percent of the acreage was a total loss. Most of the cotton was in a vulnerable stage when hurricanes Gustav and Ike hit, says Sandy Stewart, LSU AgCenter cotton specialist.
Stewart expects cotton acreage to fall even lower in 2009. QUOTABLE
"Dean's dad … took us from downtown Albany to the Natalbany River crossing on U.S. 190. Can you imagine in today's world dropping off three 12-year-old boys two miles from home with shotguns? We had a successful hunt, killing eight squirrels. We walked from the bridge in Baptist down U.S. 190 with our squirrels tied to our belts so everyone passing would be able to see our harvest. Several people stopped to offer us a ride, but we wanted to walk and carry our guns and squirrels. Dean's mom came home to take pictures and tell us what great hunters we were."
"Remembering Some Pretty Fair Hunting," Russ Hutchinson, Hammond Daily Star