Barometer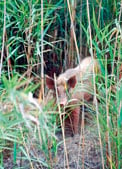 Swine On! Louisiana's feral hogs –– once- tame pigs that have found their way into the state's forests, fields, swamps and marshes –– are threatening food resources of the resident game animals such as deer, rabbits and squirrels, according to the Louisiana Department of Wildlife and Fisheries. Feral hogs as heavy as 700 pounds have been taken by Louisiana hunters in the past three years. Although it is legal to take unmarked hogs year-round on private land, an increase in the days dogs can be used to hunt hogs in wildlife-management areas is under consideration.
Crude, fat and bagasse. Crude oil replacement fuels are big business in Louisiana. Massachusetts-based Verenium Corp. has a pilot plant in Jennings that uses the sugar cane byproduct bagasse to produce cellulosic ethanol for blending with gasoline. The company is considering Louisiana as a site for a commercial-scale plant. Arkansas-based Tyson Foods Inc. is building a $138 million refinery in Geismar to make synthetic diesel fuel from tallow, the fat and grease from chicken, beef and pork.
Jazzing it up. The Louisiana State University AgCenter has approved a new variety of aromatic rice to compete with foreign imports. The variety, named Jazzman, will be an alternative to jasmine rice imported from Thailand.
Who's Who doc. Dr. Walter Campbell Jr. was among 18 practitioners named to Who's Who in Infection Prevention for 2008 by health care journal Infection Control Today. Campbell directs the Lallie Kemp Regional Medical Center infection control program, where he primarily treats patients with HIV, AIDS and hepatitis C and has been instrumental in offering the new OraQuick rapid HIV testing protocol to all emergency room patients.
Keep those home slots turning. Louisiana State Police have seized more than 2,000 video poker and slot machines from private homes over a two-year period. According to Sgt. Sam Funderburk, the guilty homeowners didn't know it was illegal to have a functioning gambling machine without a gambling license. "The only time a person can have a gambling machine is if it's nonfunctioning and is older than 25 years old, which classifies it as an antique," Funderburk says.
Communities go global. Two schools in the Louisiana Community and Technical College System –– Louisiana Delta Community College in Monroe and the SOWELA Technical Community College in Lake Charles –– have received grants from the AT&T Community College Global Leadership Program, one of the first of its kind for U.S. community colleges, to help create a globally informed student base through the development of student and faculty exchange programs, study abroad programs and the creation of international partnerships.
Sibley to Winnfield. The former Louisiana and Arkansas Railroad line from Sibley to Winnfield is being transformed into a multi-recreational trail offering 65 miles of unique pathways through Webster, Bienville, Natchitoches and Winn parishes for hikers, bicyclists and horseback riders. The only portion of the trail in use at this time is the stretch from Goldonna up to Jamestown. Information on membership in the nonprofit Louisiana Trails organization is available at www.louisianatrails.org.
Year-round Carnival. A talking Gumbeaux Gator greets visitors to the renovated Mardi Gras Museum in the Central School Arts and Humanities Center in Lake Charles. Exhibits include floats and costumes, details on costume construction, tributes to the pioneers and founders of the local Mardi Gras and a gallery of Cajun Mardi Gras exhibits that includes talking chickens.
Zoo on the Blue. Ashley Rogers and her father, Marty, regularly clean up the residents of their Bayou Blue farm, load them into a cattle trailer and head out to festivals and birthday parties. The Rogers Petting Zoo currently includes chickens, ducks, geese, pigs, pygmy goats, rabbits and a miniature horse named Lucky. The additional income helps keep the Rogers' farm running and helps Ashley pay entry fees for barrel-racing competitions and horse shows.
Boring boring boring. The Mexican rice borer has been detected in the western part of the state. During its larval stage, the severe pest bores quickly into rice and sugar cane plants. LSU AgCenter entomologist Gene Reagan estimates the annual yield losses from the pest could approach $200 million for sugar cane producers and $45 million for rice producers.
QUOTABLE "You hear things in coffee shops you once heard only in bars. People my age don't go to bars much, or if they do, they don't stay all day and all night the way they used to."
"New Year, Old Friends and Coffee," Ed Cullen's Attic Salt, the Baton Rouge Advocate