Barometer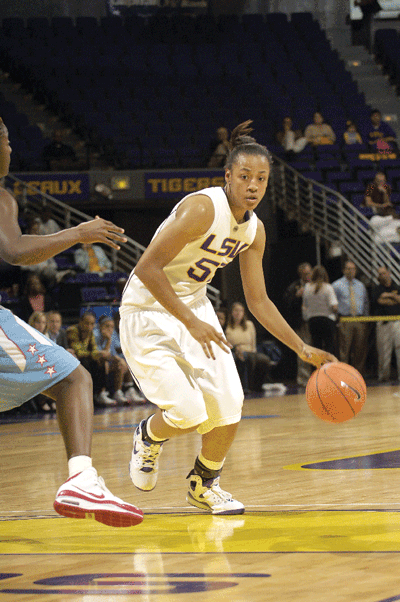 Tigers Take the World Louisiana State University women's basketball player LaSondra Barrett is one of 12 student-athletes from across the nation named to the 2009 USA Basketball U19 World Championship Team. Former LSU All-American hurdlers Isa Phillips and Nickiesha Wilson will represent Jamaica in the International Association of Athletics Federations World Championships in Athletics. Phillips ranks No. 2 and Wilson ranks No. 10 in the world this outdoor season.
Docs In/Steak Out The Ruth's Chris Steak House building on North Broad Street at Orleans Avenue in New Orleans has been given to Tulane University for the creation of the Ruth U. Fertel/Tulane Community Health Center. The late Ruth Fertel, founder of the steakhouse chain, had worked as a lab technician at Tulane University School of Medicine before her restaurant career. Tulane doctors will be able to accommodate some 1,200 patients at the site and offer expanded adult and pediatric services to treat entire families.

Keep on Trackin' The Museum of World Mechanical History in Greensburg is home to a steam locomotive, built in June 1942 in Schenectady, N.Y. The engine will be refurbished and painted with the insignia "Greensburg LA Scenic R.R." The only full-gauge scenic railroad in the state will have a 1-mile track around museum property. Plans for the souvenir shop include the sale of numbered golden railroad spikes.
Missing Link A nonprofit program, A Child Is Missing, is being put into operation in several South Louisiana towns and parishes. When a disappearance is reported, the program automatically sends messages to listed telephone numbers describing the missing person and giving details about the disappearance. "Within minutes of being notified that a child is missing, a law enforcement agency can make contact with this organization, and within 60 seconds, a thousand phone calls can be made," Lafayette Police Chief Jim Craft told Jason Brown of the Baton Rouge Advocate's Acadiana bureau. The program also can be used for Alzheimer's patients or any missing person. Cell phones and unlisted numbers can be added to the alert list at achildismissing.org.
Park and Bark Shreveport Public Assembly and Recreation, or SPAR, is considering building an off-leash dog park near the former Veterans Park amphitheater. In an article in the Shreveport Times, Cynthia Keith, who terms herself "unofficial head dog" of the loosely organized Shreveport Dog Park Alliance, said, "I think the city needs to get a little more pet-friendly." A "basic" park would run about $118,000, while the "better" version would cost about $200,000, according to SPAR designs.
Shriners Stays Shriners Hospital in Shreveport will remain open but was one of six hospitals that faced closure because of decreased endowment for the hospital system. "Our staff and families have been able to breathe a welcome sigh of relief," said Christian Berg, a hospital spokesman, in an article in the Shreveport Times.
Representatives of the Shreveport hospital are discussing a possible partnership with LSU Health Sciences Center-Shreveport.
Rocky Road "We left a day late, broke down and couldn't [complete] the race, but we had a great time," Vincent "Cy" Tortorich of Donaldsonville told Darlene Denstorff, the Advocate Ascension section editor. He and his wife, Marie, competed in the 200-mile Hemmings Challenge in a 1934 Ford they borrowed from an Arkansas friend after their 1936 Ford had engine trouble. The cloverleaf-style open road rally is designed to test driving and navigation skills of rally teams. Racers travel in antique or vintage cars. Marie served as navigator, following detailed directions and using only a stopwatch, pencil and paper. The couple has raced together for 12 years and donates any winnings to the Autism Society of America. "We'll be back, maybe in the fall when they race again," Cy said. "I've already started working on the '36 Ford, so it will be ready to roll."

Mercury Rising EnerVest Operating LLC of Houston, a major operator of natural gas wells in the Monroe Gas Field, has agreed to remove all mercury meters and to clean up mercury-contaminated wetlands and other soils at gas production sites in Ouachita, Morehouse and Union parishes. The agreement was reached in U.S. District Court in Monroe between the company and a coalition of environmental groups. The Louisiana Department of Environmental Quality estimates that there are more than 20,000 mercury meters in use or abandoned across the state.