Basking in Bastrop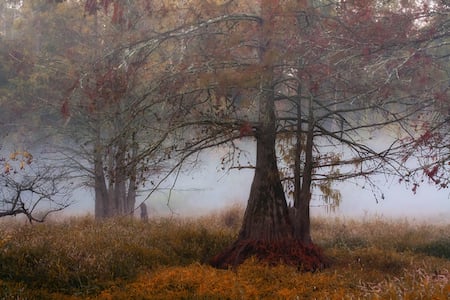 It could be the closest thing to viewing the exploding fall color foliage of New England, only it's in Bastrop, Louisiana.
This time of year, the northeastern corner of our state – specifically, the area around Bayou Bartholomew – can offer an autumn feast for the eyes as the hickory and gum trees alone produce stunning gold, crimson, light yellow and purple leaves. (Tip: Check with Chemin-A-Haut State Park Rangers for a fall foliage report, which is always weather-dependent.)
At 364 miles, Bayou Bartholomew is the longest bayou in the world, and with 115 aquatic species it's the second most diverse stream in North America. The bayou begins above Pine Bluff, Arkansas, and its bewildering path flows southward through the scenic farm lands of Louisiana's Morehouse Parish.
At water's edge, there are also pine, bald cypress and oak trees, plus native species of wildlife – you may also spot woodpeckers, falcons, wild turkeys, and possibly a black bear.
If you can, board a kayak and dip your paddle through this glass-like water. You will want to paddle inside the hollow of a giant 1000-year-old cypress tree (nicknamed "The Castle") in the connecting Chemin-A-Haut Creek. This tree is approximately 20-feet in diameter, and experts say was already centuries-old when Europeans first stepped foot on American soil. (Fascinating fact: Chemin-A-Haut Creek is dotted with some of the oldest and largest cypress trees in Louisiana, one of the reasons being it was bypassed by the timber industry in the 19th century.)
While you can rent a kayak at the Chemin-A-Haut State Park for $7-an-hour (or for $35 dollars per day), it is strictly seasonal and unavailable in the fall and winter months. However, you can contact the Friends of Black Bayou in neighboring Monroe, and they will outfit you and your group with kayaks for the Chemin-A-Haut and Bayou Bartholomew paddle. (Tip: Christopher Kelley, the president of Friends of Black Bayou, is an avid paddler of these parts, and will do all he can to accommodate visitors so that they can enjoy Louisiana's beautiful waterways.)
You can also bask in all this natural beauty on two feet by taking one of several hiking trails in and around Chemin-A-Haut State Park; much of the park's 503-acres sits on a high bluff overlooking the tranquil and meandering Bayou Bartholomew. (Fun fact: Chemin-à-Haut means 'high road' in French.)
The Bobcat Trail is one of the most stunning as it skirts the banks of Bayou Slough Lake, which connects to Bayou Bartholomew. This trail is just a little over a mile long and with its canopy of trees will whisk you away with all its lushness, or you can opt for the much shorter quarter mile Boy Scout Trail.
Need more activity? Saddle-up! Chemin-A-Haut is also one of the best-kept secrets for horseback riders. It is home to an eight-mile Equestrian Trail, which horseback riders say is one of the most scenic journeys in the state. There's even a rally available so you can camp with your horse. (Tip: There's a $3 per day horse trail fee, and overnight campsites can be rented for $22-a night. Certification of a clean Coggins test is required for all horses brought to the park.)
After all, this is North America's most diverse stream, so why not sink your line in these fresh waters from the banks of Chemin-A-Haut State Park? This is a great place to fish off the gorgeous banks of Bayou Slough Lake or connecting Bayou Bartholomew. (Fishing Tip: Barbless, filed or mashed down hooks are required for lake fishing.) (Fact: Chemin-A-Haut State Park has plans to expand after the state's Nature Conservancy acquired a 247-acre tract located in a large bend of Bayou Bartholomew. This will increase the park's size to 750 acres.)
Hungry? A picnic in this lush setting is a must! There are several picnic tables with grills and three shelters; if you don't want to pack a picnic, make a quick stop at local Bastrop hotspot Granny's Family Restaurant and order something to go.
If you want to experience the comraderie of the locals, grab a table at Granny's and soak up all the down-home ambiance. Granny's is known for its buffet-style dishes including fried chicken, beef tips, country fried steak, and fried catfish. And yes, there is a salad bar and a dessert station with homemade ice cream and mouthwatering pies and cobbler. (Tip: On Friday night, Granny's serves several seafood dishes.)
Need more dining options? Bastrop has a new Italian restaurant, Roma's Italian Bistro, located on the square in Bastrop on South Washington Street. Here they serve classic Italian dishes and some of the best pizza around.
After all this activity and delicious home cooking, you will be ready for a good night's rest, you can do so by camping under the stars, or by reserving the much cozier accommodations of a park cabin. While the deluxe cabins are highly recommended, they are currently closed and awaiting refurbishment, so grab a standard cabin.
These one-bedroom cabins sleep up to six, and include two double beds, plus a sleeper sofa, a full kitchen and screened in porch. (Tip: Cabins #2, #3 and #6 are 327-square feet, and cabins #4 and #5 are 548-square feet. Cabin #2 is back a little further than its neighboring cabin, and slightly closer to the woods, which gives it a little more secluded feel. All standard cabins are $50-a night on weekdays and $60-a night on weekends.) (Tip: Before heading to the park, check the events schedule because the park is a popular spot for weekenders.)
If that doesn't fill your lodging needs, there are a handful of cozy bed and breakfasts located in nearby West Monroe and in Farmville.
For more information:
crt.state.la.us/louisiana-state-parks/parks/chemin-a-haut-state-park/index
facebook.com/pages/Grannys-Family-Restaurant/160403647310810