Baton Rouge/Plantation Country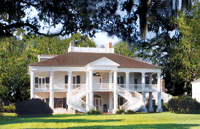 WORTH WATCHING
Deep Boughs
On mornings early in December, while it's still dark, I sit with my coffee in a room lit only by the white starry lights of a Christmas tree that reflect against two long upper windows. Just beyond the window panes, I am eye level with oak branches that seem to wear my Christmas lights, wrapped in those still December fogs that mantle Louisiana. The foghorn sounds on the Mississippi in rhythmic cadence. Nearly 40 miles upriver from me on the German Coast, no doubt wrapped in the same secrecy of fog and peace, lies Evergreen Plantation, one of the best-kept secrets to be found on the River Road. It is a chronicle of 250 years of family endeavors on the west bank of the Mississippi.
In late autumn and early winter, when the light on the River Road is at its most exquisite shade of rose-gold filtering through trees, Evergreen seems filled with color that belongs inside of a church. The beautiful house is fronted by two flowing staircases that curve to the upper gallery like a pas de deux between lovers. Enshrined by oaks trees and greenery, sculptured gardens and serenity, and guarded by white picket fences, the plantation is magnificently preserved and provides ample opportunities for a personal odyssey.
First constructed as a Creole house in 1790, the plantation began its transformation in the 1830s. Filled with Persian rugs, curved sofas and beautiful fan-shaped windows above doors, it seems to be a testimony of gratitude to the sugar cane crops that kept it alive. It remains a working sugar cane plantation to this day. The kitchen building is charming and inviting; Evergreen is proud to announce that every year it sets its table for the Christmas brunch with the same delicious menu.
Tours are given at 11:30 a.m. and 2 p.m. Evergreen also offers banquet and catering services. Most special about this exquisite plantation is its availability for retreats and workshops. Evergreen offers retreats or workshops – of either the social, spiritual, academic or corporate nature – in the most halcyon of settings. The plantation will provide you with facilities and a lunch to be enjoyed at the table or eaten beneath its 200-year-old live oaks. If the day progresses into evening, a light evening supper will be served, and the possibility of a Louisiana bonfire party will light up the end of your day of reflection.
Evergreen Plantation: (985) 497-3837, or contact evergreenplantation@gmail.com.
PROFILE (IN MEMORIAM)
Fire Chief Kirk Landry
Kirk Landry died last August at the age of 51. I first became acquainted with Kirk Landry, former fire chief of Donaldsonville, after he sent me a book he published that showed his historic postcards of old Donaldsonville, his beloved birthplace. I found I had met a man who was a historical purist, a writer, musician, actor and heroic humanitarian.
I also discovered that under the aegis of then-state Attorney General Charles Foti's office, Kirk had been arrested and convicted of insurance fraud by allegedly filing false claims to lower Donaldsonville's insurance rating. I journeyed to Donaldsonville to hear his story and met with him, another fire chief, a local hospital administrator and a former mayor, all of whom were his staunch supporters. The story told to me, later confirmed by multiple sources, was a most disturbing one. Landry had filed the information under the guidance of a consultant hired by Donaldsonville to the Property Insurance Association of Louisiana, or PIAL, an organization described after Landry's trial to the state Legislature by then-attorney general prosecutor Stephen Street (elemental in convicting Landry), as only regulatory.
PIAL is not an insurance agency, and by definition of Louisiana state law, insurance fraud can only be committed when false information is given to an insurance agency.
Nevertheless Landry was arrested for "breaking" this law and convicted by a jury that declared itself hung three times. The consultant had advised Landry he could report any personnel dispatched to and working a fire from another location, in addition to equipment, as manpower to PIAL. Even if an engine was dispatched to the scene but did not remain, it was appropriate to file it. Personnel working the fire at the station, such as dispatchers, could also be reported. In March of 2004, Landry was arrested after two firemen, one of whom he had disciplined for alleged insubordination and the other whom he allegedly was pressuring to account for a missing $30,000 in funds, sneaked records out of the firehouse and handed them into the newly formed Insurance Fraud Unit of the state police. Landry never received any kickbacks for following the city-hired consultant's advice.
After Landry's conviction for breaking a law that by its own definition exonerated him, he lost his job, his finances and his happiness. Landry lapsed into a deep depression and began experiencing symptoms of heart disease for which he lacked resources to obtain care. He died at his home. His funeral was packed with people who remembered the contributions he brought to Donaldsonville. His work was so exemplary that other fire district chiefs emulated him. Remembered also was his infectious humor; he was one of the founders of the Morons of the Shemp Festival, which held the largest pie fight in the Southeast. Landry wanted to honor Shemp, whom he called the forgotten of the Three Stooges. Landry, a songwriter, also helped form the band called the Dick Nixons.