Baton Rouge/Plantation Country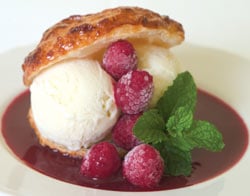 FORK IN THE ROAD
Happy as a clam
Sitting amidst the ladder-backed chairs and white Priscilla curtains of Maison Lacour, a charming French restaurant in Baton Rouge, you won't be surprised to see menu selections such as soupe Jacqueline, a veloute of Brie cheese, jumbo lump crab and asparagus, or "Faisan" – deboned pheasant marinated in port, then stuffed with veal, pork and wild mushrooms, wading in raspberry sauce. This enchanted cottage serves homemade French bread and a house dressing many patrons take home with them. Beef, game, lamb and seafood are prepared in coddled fashion; they melt on the tongue and leave behind subtle bouquets of flavor.
Dessert drinks cast new light on the variation of the old-time soda. Like chocolate-covered cherries at Christmas, "Very Berry" is a creation of Kirschwasser, Chambord and chocolate ice cream. Their dessert specialty, "the Clam," a fresh puff pastry shaped like a clam and sitting in raspberry sauce, filled with vanilla ice cream and raspberries, will help send you on a holiday high tide.
Maison LaCour, 11025 N. Harrell's Ferry Road, Baton Rouge, (225) 275-3755.
PROFILE
Banked with memories
One Christmas season in 1987, I wandered into the jewelry department of Maison Blanche on Canal Street in New Orleans. Sitting at a simple card table displayed with beautiful and distinctive jewelry was a pleasant young woman named Susan Davis. She explained she had crafted the jewelry from her grandmother's antique buttons and was just launching her own line of bijoux appropriately named "Grandmother's Buttons." From that simple card table at Maison Blanche, this St. Francisville native's jewelry is now sold at more than 1,000 boutiques, department stores and museum shops across the country. Grandmother's Buttons has been featured in many national publications and offered in high-end catalogs.
Consider Davis' story: "Grandmother's Buttons" began in 1985 when she and her 95-year-old grandmother sifted through boxes and tins of jet-glass, carved-pearl, and brass storybook buttons. That quiet afternoon has had a ripple effect. Davis eventually returned to St. Francisville and renovated a 1905 bank building, where she once had her first savings account, into a stunning Romanesque structure. Located on the corner of Royal and Prosperity streets in the historic district, the old bank is an enclave for her "Grandmother's Buttons" boutique, filled with mosaic tile floors, 16-foot-high ceilings, original oak paneling, and gorgeous antique buttons, jewelry and reproductions. People linger there for hours savoring the inventory. Davis also set up a button museum in the old bank vault. The museum displays buttons from the 1760s through the 1930s. Of special note is the rare Washington inaugural button, and one made of seaweed and shells under glass from the 18th century.
The bank's second floor houses the busy artisans who create reproductions. Davis' business employs 28 people among the 2,000-strong population of St. Francisville, and helped re-energize the town's historic district. Today, Davis' teenage daughter is learning the jewelry-making craft from her mother.
Grandmother would have been proud.
Grandmother's Buttons, corner of Royal and Prosperity, St. Francisville, (225) 635-4107, (800) 580-6941.
Grandmother's Buttons
LOUISIANA GROWN
Scent of a lady
In Gone With The Wind, the fragrance of lemon verbena (Aloysia triphylla) clung to Miss Ellen's rustling hoopskirts as she drifted through Tara – Scarlett forever associated the scent with her composed mother. In Plantation Country kitchen gardens, later winter is a perfect time to add this herb to the garden of your own personal Tara. Lemon verbena is a woody shrub during the winter. The white flowers eventually appear as spikes, and the triphyllus, or array of three leaves, unfurls at each node on the stem. The term Aloysia is a tribute to the wife of King Carlos IV of Spain, Maria Luisa Teresa de Parma – who lived when Louisiana was under Spanish rule and had been rebaptized "Luisiana." The Spanish called this the "herb of Luisa," while the Deutschlanders who settled along Louisiana's German Coast called it Zitronenverbene.
Lemon verbena originated in Chile and Peru. It enhances any dish that goes well with lemon, such as fish and chicken. Planting this citrus-scented greenery in raised soil beds with good drainage, in full sun, with spare usage of water and fertilizer, will add genteel tang to any herb garden when Louisiana rains fall.
The leaves of lemon verbena make an aromatic tea filled with pure fruity and lemony notes. The tea has been used as a nerve tonic, relaxant and antidepressant; it also has tamed colic – little wonder the combination of the fragrance and placid quality of her mother had such a halcyon effect on the tempestuous Miss O'Hara.
Lemon Verbena
WORTH WATCHING
Dollhouse
There are times when a little girl has to throw aside her soccer ensemble, take a break from fighting with her older brothers and just enjoy being a girl who loves dolls. The Enchanted Mansion Doll Museum in Baton Rouge is a perfect escape for those who still love to play dress-up. Looking like Santa himself created them, hundreds of exquisite bisque-faced dolls of the bridal, Victorian and angelic persuasion await viewing. Arrayed in satin, velvet or plain cotton, the dolls fill the museum with the vibrant beauty and color of childhood. Teas, birthday parties, interactive crafts and dress-up parties await any child lucky enough to visit, while doll collectors secretly admit they're glad they never really grew up.
The Enchanted Museum,190 Lee Drive, Baton Rouge, (225) 766-0005.
NEWSBRIEF
Paw pad
The LSU faithful may notice a renewed vigor in Mike the Tiger's roar during next year's football season. LSU's board of supervisors recently approved a plan to build Mike a new home in which any discriminating Tiger would love to crash, especially after a long barn-burner of a game. Set between the Pete Maravich Assembly Center and Bernie Moore Track, Mike's 15,000-square-foot place will include a 60-foot tower. Zen-like sound effects include a trickling waterfall and a live oak tree. Until he can luxuriate in his plush and new surroundings, Mike will camp out at the Baton Rouge Zoo.
Construction of the new habitat, along with work to replace Tiger Stadium's west upper deck and press box, will occur simultaneously, with completion dates slated for the early September. Funded by a campaign that began in 2001, 90 percent of the needed $2.6 million for Mike's new pad has already been raised. Future donors are encouraged to purchase bricks for $100 each and artists' print renditions of Mike V for $500 to hang alongside the family portraits.
Approximately 100,000 visitors leave calling cards at Mike's house each year. Along with Mike, they will be able to experience the luxuriant and verdant vegetation, waterfall and stream while soaking up research, educational and recreational activities at his new home.
Designed to keep him a cool cat, the habitat will allow Mike's guests to watch him swim underwater when he goes for a dip. All of these amenities are destined to place this deluxe domicile among the top tiger habitats in the country.