Bayou Dreaming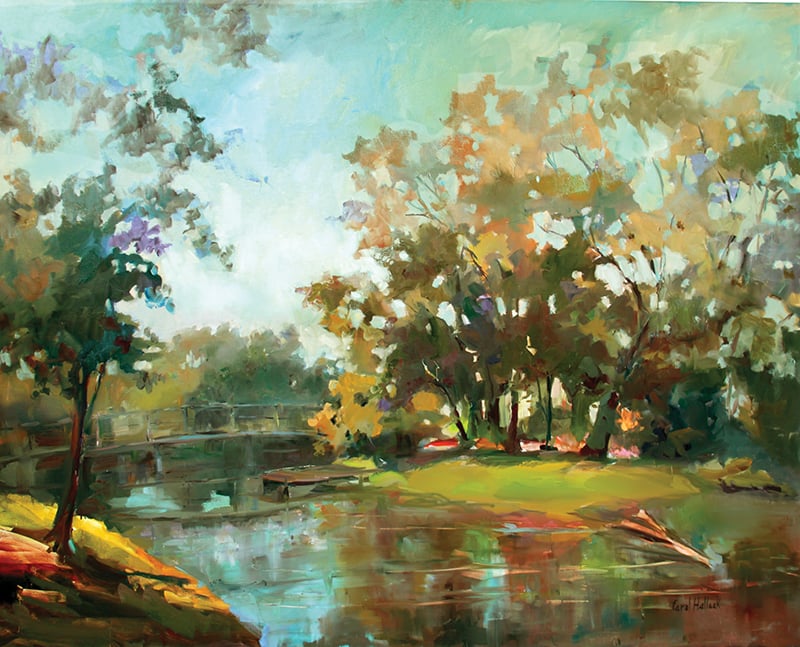 St. Tammany Parish artist Carol Hallock doesn't have to look far for inspiration. Bayou Lacombe, with its dark forested palmetto swamps and primordial beauty, flows just outside her front door.
Her brightly colored, energetic and highly impressionistic landscapes call to mind Edgar Degas's thoughts about art. "Art is not what you see," he said, "but what you make others see." Degas, whose mother was a New Orleanian, visited the city in the mid 1870s and was impressed by what he saw there.
So was Hallock. After returning to Louisiana and settling in Lacombe in 2002, the Baton Rouge native has explored by car, foot and kayak the bayous that lead from the pine forests of northern St. Tammany to the coastal marshes of Lake Pontchartrain. With her brushes and paints, she records on canvas her impressions of changing seasons, light and the natural landscape.
"I did not realize how beautiful and unique it was here until I had moved back after many years," she says. "I love the moods of Louisiana, the banana leaves which give me a warm tropical feel, the shape of the oaks trees with moss and limbs laying on the ground, the peacefulness of the water, the bright days of summer, the birds. I look for a subject that catches my attention. I then decipher what I like about it. Does it make me feel an emotion? Is it the light, the color, the mood? Once I decide these questions, they become the focus of my paintings."
Though Hallock occasionally paints street scenes in New Orleans and other places, she constantly returns to the bayou.
"I live on the bayou and can drop my kayak in the water and paint," she says. "I also live just a few minutes from Lake Road which has marsh on both sides and then ends at Lake Pontchartrain. This is my favorite. The marsh changes from the seasons and the time of day. If the marsh is not pretty that day, I look for something else. There is always something to paint."
Since the days of the French Impressionists, many artists believe landscapes should only be painted outdoors on location, or so called "en plein air." Only then, they claim, can a painter experience the atmosphere, air, sunlight and scents that truly capture the feel of a place. Hallock agrees. While painting on location, she opens all her senses to the scene while floating along in her kayak or while standing with her easel and paints alongside a narrow gravel road that follows the bayou through marshes to the lake.
"I enjoy painting outdoors, listening to the sounds of nature and seeing nature," she says. "It is actually easier to make a more three-dimensional painting because you are looking at the real thing not at a flat two-dimensional photo. A photo does not see what we see. You can feel the wind, smell the salt of the water, and listen to the waves. It is a very fine day if I come out with a painting I am pleased with."
Hallock is not a purest, however. She keeps a camera by her side when driving around just in case she comes upon a scene for a possible painting back in her studio. Because she spends so much time painting on location, she remembers some of the things she saw and felt.
And then there is the question of the best time of day to paint outdoors — in the harsh midday light or in the burnishing warm light and long shadows just before and after sunrise or sunset.
"I prefer afternoons, as the light and color are so much prettier and inspirational," she says. "Morning light is beautiful, but I'm not an early riser. I did learn that to paint at sunrise, the greatest colors in the sky are actually before sunrise, so you have to get out there early. Sometimes, I like to paint on a cloudy day because the light is more consistent and there is more time to paint before everything changes. It can be more relaxing."
Hallock's journey as professional artist has been long but determined. She has painted most of her life and minored in art at LSU. She is mostly self-taught though over the years she attended workshops and experimented with various artistic styles. At first, her life went in a different direction. After graduating from college in 1977, marriage and jobs took her and her husband, Jim, first to Florida, back to Baton Rouge, then to northwest Louisiana where Jim worked for FedEx. His company later transferred him to Oklahoma. Both commuted to nearby Fort Smith, Arkansas, where she worked in a post office.
By 1998, Hallock had developed tendonitis in her arms and hands, making it difficult to work. She quit her job to follow her dreams — making a living as an artist and returning to Louisiana to be near her parents. She thought her paintings would sell right away, but they didn't. She soon learned that success comes with hard work, sound self-marketing and by developing painting skills that would enable her to express herself through her art.
"There are no higher highs than an art career, and in the early days no lower lows," says Hallock. "But successes build upon themselves and gradually the successes grow and add confidence to move forward."
Hallock, who now gives workshops, has come a long way since launching her art career. In addition to various grants, awards and commissions, her paintings have appeared in regional and national magazines, on public TV as well as in the 2014 film "The Best of Me" and short-lived Amazon TV series "One Mississippi." She also has published three books about her work, all titled "Bayou Impressions," and how-to videos called "Loose Painting" that she says airs on TV stations across the United States and in South Africa.
Aside from her skilled marketing efforts, Hallock paints because it is the most visible way to express her emotions and respond to the world around her.
"I try to create a mood that I hope viewers feel," she says. "I try to paint what grabs your heart. When I finish a painting and it hits that 'awe' button in me, I hope people feel the same. I want people to say, 'Oh, my God' when they see my paintings, but I'm not there yet."
For more information about Hallock, visit carolhallock.com.
Exhibitions and Events
Through July 28
Lafayette
"Spotlight on Francis Pavy" Examines the work of nationally acclaimed Lafayette artist Francis X. Pavy and his unique symbolic narratives and mythologies inspired by Louisiana's Cajun culture. Paul and Lulu Hilliard University Art Museum. 710 East St. Mary Blvd., 337-482-0811, hilliardmuseum.org
july 12 – Aug. 11
Shreveport
"A Distance Nearer Home by Melanie Parent" features Caddo Parish photographer Melanie Parent's nostalgic and longing images of the landscape and "old homeplaces" of rural Louisiana. artspace. 710 Texas St., 318-673-6535, artspaceshreveport.com
Through Aug. 19
New Orleans
"A Precise Vision: The Architectural Archival Watercolors of Jim Blanchard" brings together an extensive number of Blanchard's exquisite watercolor paintings of South Louisiana historic architecture. Ogden Museum of Southern Art. 925 Camp St., 504-539-9650, ogdenmuseum.org
Through Sept. 1
Alexandria
"Connected Visions: Louisiana's Artistic Lineage" spotlights development of Louisiana art through connections between artists and educators. Alexandria Museum of Art. 933 Second St., 318-443-3458, themuseum.org
Through Sept. 2
New Orleans
"Salazar: Portraits of Influence in Spanish New Orleans, 1785-1802." Features the work of Spanish colonial New Orleans's best-known portrait artist, Josef Francisco Xavier de Salazar y Mendoza. Ogden Museum of Southern Art.
july 12 – Oct. 13
Monroe
"55th Annual Juried Competition." Juried exhibition features the artwork of contemporary artists from across the U.S., working in a variety of media. Masur Museum of Art. 1400 South Grand St., 318-329-2237, masurmuseum.org
Through Sept. 16
Baton Rouge
"Capitol City Contemporary 4: Food, Glorious Food" Exhibit honors local and regional artists who are contributing to the vitality of the city and state's current art scene. CCC4 focuses on the growing aesthetic surrounding food photography. The Louisiana Art & Science Museum. 100 River Road South, 225-344-5272, lasm.org
Through Dec. 29
Lafayette
"A. Hays Town and The Architectural Image of Louisiana." The exhibit focuses on the noted Louisiana architect A. Hays Towns' residential designs and showcases the evolution of Town's work from the Modernist designs to his later iconic residences inspired by the historic architecture of the American South. Paul and Lulu Hilliard University Art Museum.
Through Dec. 31
New Orleans
"Orientalism: Taking and Making." Artworks taken from NOMA's collection explores oppression, racism and superficial cultural concepts as portrayed in 19th century Orientalist paintings, photographs and decorative arts. New Orleans Museum of Art. One Collins C. Diboll Circle, 504-658-4100, noma.org