Beach Bound
Festivals are back and there's more to do than ever before at Gulf Shores and Orange Beach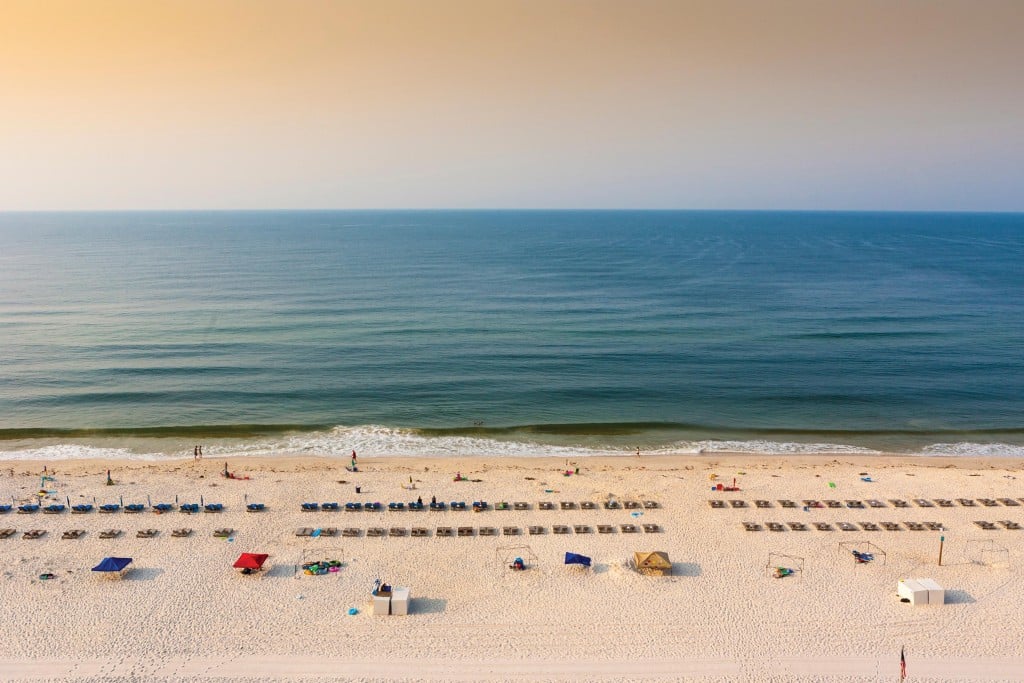 Festivals are coming back in a big way to Alabama beaches, including the enormously popular Hangout Music Festival May 20-22, which combines music, food and activities such as roller disco and beach volleyball. Speaking of volleyball, the National Collegiate Women's Beach Volleyball Championship takes over Gulf Shores beaches May 6-8. For the loftiest among us, there's the Gulf Coast Hot Air Balloon Festival May 12-14 in Downtown OWA and the Park at OWA in nearby Foley.
Heading east to Gulf Shores and Orange Beach sounds more fun than ever.
Get Outside
Miles and miles of sparkling white beaches and emerald-colored waters greet visitors to Gulf Shores and Orange Beach, with accommodations ranging from high-rise condos and elegant home rentals facing the water to cabins and RV hook-ups at the expansive Gulf Shores State Park. For those who wish for a less-crowded experience, Dauphin Island lies southwest of Mobile, the barrier island facing the Gulf of Mexico with Mobile Bay at its back. In addition to exploring dunes, beaches and marshlands, visitors may climb ancient cannons and watch blacksmiths at work at the 19th-century Fort Gaines or get up close and personal with sea life at Alabama Aquarium at the Dauphin Island Sea Lab (formerly called the Estuarium). Learn more by following marine scientists and researchers into native habitats with the Aquarium's Excursion program.
One more reason to choose Alabama beaches is its expanded beach access.
"Orange Beach, Gulf Shores and Dauphin Island all have beach access for the disabled," said Andi Martin, public relations manager at Alabama Tourism Department, although she added, "But no dogs on the beach except at Dauphin Island."
For something unique on the water, Anonyme Cruises has leisurely tours out of the Orange Beach Marina aboard a luxury electric boat. There are a variety of options at Sea View Tours, but the night glow tours in clear kayaks is something special to experience.
Get Learned
Visit Gulf Shores State Park for its extensive paved nature trails and boardwalks but don't miss the opportunity to learn more about Alabama's wildlife and flora and fauna. The Learning Campus recently opened in the park, offering "a little of everything," said Chandra Wright, director of environmental and educational initiatives. Visitors may choose a guided walk, learn about the pirates of Perdido Bay, catch a glimpse of the 300 bird species that call the park home or visit during migratory season. For groups — family reunions, corporate retreats, Scout outings and the like — there's special programming and two bunk houses that sleep 32 each.
For individuals looking for a nature walk, lecture or class, check the website calendar regularly at learningcampusgsp.com.
"The events show up on a live Google calendar every month, along with all the other events of the park," Wright said. "Just keep checking."
New Eats
New restaurants have been popping up all over Gulf Shores and Orange Beach, said Kay Maghan, public relations manager for Gulf Shores & Orange Beach Tourism, but there's one trend that's particularly exciting. Several entrepreneurs have established businesses that offer ready-to-cook meals or will deliver groceries to visitors.
"That's half the battle down here — grocery shopping," Maghan said, adding that traffic to stores can get hectic in the height of the season.
Sarah's Homemade delivers ready-to-cook meals and Beach Moms concierge service deliverers groceries, makes dinner reservations and plans outings for the family. The Beach Moms arrange elegant picnics with a view, right on the beach.
For takeout, Maghan suggests the drive-through at Efes Greek Kitchen that's quick and easy but not fast food. "Their fries are amazing," she said. Murder Point at The Wharf sells fresh Gulf oysters to go, as well.
"But if you must dine out, avoid peak times or call ahead to check for waits or to reserve a table," Maghan advised.
Just Be Safe
There were 400 water rescues last summer, Maghan said. She impresses upon visitors to swim in areas with lifeguards or with adult supervision and to be aware of weather and hazards. Check beach flags for water conditions and obey them.