Between the Rivers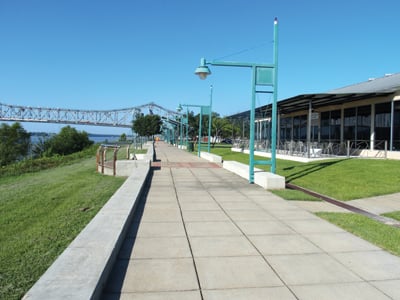 Strung together, four of our northeastern parishes — clustered between the Ouachita and Mississippi rivers — offer a joyride through a wide-and-wild variety of attractions, curiosities and topography, with every town adorned and lighted in Christmas reds and greens.
Such a romp would start on the Mississippi in Concordia Parish, specifically at the Louisiana Welcome Center on the grand Riverwalk in Vidalia (Suite A of the Vidalia Convention Center, 112 Front St., 318-336-7008), where Zelma Murray and staff share their vast knowledge of those parishes and highlights of their own two-mile park. Begun in 1999 on land vacated during the city's forced retreat from the river in 1939, its greenspaces and Riverwalk stretch from the upriver Comfort Suites Hotel (318-336-1655, choicehotels.com/louisiana/vidalia/comfort-suites-hotels) down to the Riverview RV Park (318-336-1400, riverviewrvpark.com), passing the convention center, two medical centers, lavish spa, gazebo, amphitheater and fountains along the way.
The 1939 relocation required a new courthouse, of course, and that Art Deco beauty now serves as the Concordia Parish Library (408 Texas St., a block off U.S. 84).
Old 84 leads west to Ferriday (on Lake Concordia, a year-round hotspot for big bass), where a 1939 Post Office at 218 Louisiana Ave.
(its 1941 Works Progress Administration Post Office mural still on site) now houses the Delta Music Museum (318-757-9999, deltamusicmuseum.com, open Wed. through Fri.). Its Hall of Fame includes, of course, Ferriday's infamous first cousins, Jerry Lee Lewis, Mickey Gilley and Jimmy Swaggart, and the old Arcade Theater next door often features related films.
Seven miles west on 84, Frogmore Plantation is uniquely equipped, with its vintage buildings and equipment as well as cutting-edge computerized gins, to present tours on every aspect of cotton farming and plantation life through the centuries (318-757-3333, frogmoreplantation.com).
Continue west to Jonesville, built on Troyville-era Indian mounds and ridges (see DO) at the confluence of the Ouachita and Little Rivers.
Hwy. 124 follows the Ouachita north to the 1924 Classical Revival Catahoula Courthouse in Harrisonburg (with its displays of Native American artifacts), and old Fort Beauregard offers an observation deck, war memorials and picnic facilities atop its bluff where artillery once guarded the town and river.
East from the Ouachita, Hwy. 8 leads to the south entrance of the Gilbert Wildlife Management Area (wlf.louisiana.gov/wma/2762), where lucky and fairly fit explorers can navigate ridgetop roads and tricky paths to waterfalls like the 18-footer on the Rock Falls Trail.
Best bet? Enlist the guide services of Shawn Lillethun at the Missions of America Flea Market (406-647-2545 or 318-389-5001) at the south entrance.
U.S. 425 leads north from nearby Sicily Island to Wisner, famed for its flea markets and swap shops, and on to Winnsboro in Franklin Parish, a pretty city justifiably proud of its 1907 Princess Theater at 714 Prairie St. (318-435-6299, princesstheatreinc.com) and Old Post Office Museum at 513 Prairie (318-435-3781, oldpostofficemuseum.com, open Mon. through Fri.). The theater features the "Grand Ole Franklin (Parish) Opry" every third Saturday, plus six concerts a year by visiting performers; and the old Post Office preserves its original WPA mural ("Logging in the Louisiana Swamps" by Datus Myers) presents changing exhibits like the current "Oh Christmas Tree" display of over-the-top — and competitive — decorations by local businesses.
Highway 4 leads east, through the pastures, fields and forests of Tensas River country, to Newellton on an oxbow named Lake St. Joseph. The town is ringed by prehistoric mound sites (see DO) and is now home of Louisiana Delta Adventures, promoters of the region's paddle trails (brochure/maps available at louisianadeltaadventures.com).
It's six miles down the lake via Highway 608 to rambling Winter Quarters plantation, a state historic site whose grounds are accessible although the house museum is closed due to tornado damage. It was spared during Union occupation (as 14 other homes around the lake were burned) due to the Union sympathies of its owner, Dr. Haller Nutt, whose famous octagonal mansion in Natchez, Mississippi, called Longwood is open for tours.
Next comes almost circular Lake Bruin, where Hwy. 604 follows its outer bank to beautiful Lake Bruin State Park (318-766-3530, crt.state.la.us/louisiana-state-parks), and Netterville Landing offers pontoon and boat rentals on the inner bank (1248 Hwy. 606, nettervillelanding.com, 318-766-4585).
South of the lake, the river town of St. Joseph takes pride in its 1905 Tensas Parish Courthouse (original courtroom furnishings intact), the gothic 1872 Christ Episcopal Church (splendid stained-glass windows, 120 Hancock St.), and the Tensas Parish Library/Museum housed in an 1858 Greek Revival home (135 Plank, 318-766-3781, closed weekends).
Side trip: to see the precious 1850 Wesley Methodist Chapel, well kept and open for one service each spring and fall. Drive west from St. Joe and 6.5 miles west from U.S. 65 via Hwys. 568 and 892.
And then, south via U.S. 65, comes Waterproof, setting of the 2001 drama titled "Waterproof" with Burt Reynolds and April Grace. It's OK to smile when you learn that a town so named has been moved back from the river three times due to flooding.
A bit farther south, turn left on Hwy. 568 to curve around Lake St. John's oxbow to the Spokane Fishing Resort (318-757-4303, spokanefishingresort.com) with its cabins, general store and boat launch adjacent to Duck's Nest Restaurant. The quick drive back to Vidalia completes our little circle.

(Left) Rock Falls (Right) Lake Bruin State Park
---
DINING BY THE DOCKS
What is it about water? Those negative ions? It makes you happy. Peppy even. And definitely hungry. The good news is The Riverfront Restaurant and Lounge in Vidalia's Comfort Suites Hotel (100 Front St., 318-336-1655) offers indoor and open-air dining on the very bank of the Mississippi, with goodies like shrimp and catfish baskets and Friday night ribeyes.
Due west, Jackie's Riverside Steak and Seafood in Jonesville (1530 4th St., facebook.com/jackiesriverside/, 318-339-4304) offers seafood and steaks beside the levee of Little River, near its junction with the Ouachita.
On the "oxbow" lakes above Vidalia, the grill at Netterville Landing on Lake Bruin (1248 Hwy 606, nettervillelanding.com, 318-766-4585, open Thurs. through Sun.) dishes out Bruin Burgers, steak quesadillas and Fried Bruin Catfish plates; a dandy lighthouse on Lake St. John beckons hungry drivers and boaters to the Duck's Nest II for platters of seafood, frog legs and catfish (4273 State Route 568).
---
DO
Northeast Louisiana is rich in prehistoric earthworks, with more than 20 sites (including some clusters) in Concordia, Catahoula, Franklin and Tensas alone.
The trick is finding them, but don't despair. The invaluable "Indian Mounds of Northeast Louisiana," a driving guide compiled by the Division of Archaeology (then headed by the late State Archaeologist Thomas Eubanks), is long out of print but remains available in printable format at crt.state.la.us/dataprojects/archaeology/moundsguide.
---