Beyond a Sportsman's Paradise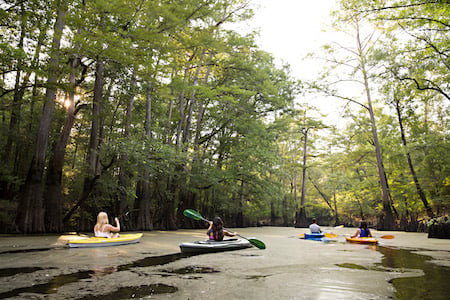 For a journey unlike any other in the state, head to Union Parish in north central Louisiana where you will be swept away by all it has to offer. It's a journey that will please even the most discerning of travelers.
Getting close to its natural splendor, including its piney hills and majestic waterways, should top your must-do list. There's a huge 'wow' factor, and you'll get a different perspective of Mother Nature's glory if your viewing-stand is from the water itself.
The descent through Corny Creek is reminiscent of a paddle through an enchanted forest, almost fairy-tale like. This windy creek, located 20 miles from Ruston, Louisiana near the Arkansas state line, is a true whimsical journey, and every bend has a new discovery. It's part of the Kisatchie National Forest, the only national forest in Louisiana, and as you begin your journey, you will float under breathtaking tree tunnels, enveloping canopies that look like trees are holding hands.
The stillness of the bronze-colored water makes a near-perfect mirror of the skies and trees above. As you glide through the duckweed, you will pass beaver lodges and a scenic hardwood forest of bald cypress, water tupelo, and pine trees; among the crescendo of wildlife sounds are hoot owls, woodpeckers, osprey, and the great blue heron. (Tip: Be sure to contact Stephanie Herrmann, an avid kayaker who knows these parts like the palm of her hand. Herrmann can not only supply you with a rented kayak, but also offers guided trips on Corny Creek and beyond. She can be reached at darbonnekayak@gmail).
That's not all you'll discover here; the 655-acre Lake D'Arbonne State Park has three nature trails through the piney forests, which boasts towering pines and rolling hills that are frequently enjoyed by cyclists. You can also rent canoes and flat-bottomed boats for more fun!
On land, you can delve deep into the fascinating history of Union Parish. Begin this quest at the Union Museum of History and Art in Farmerville, Louisiana where roaming exhibits give visitors a close look into the people and culture of north central Louisiana.
Next, head for the hills – but not just any hill – instead, travel to the ancient hills found at Scott's Place Indian Mounds in Farmerville. Explore some of the Northern parish's prehistoric mounds located above Corney Bayou and Bayou D'Arbonne. There are five mounds, once used for ceremonial or burial purposes, spanning the area, and these archeological wonders of different heights and sizes date back to 1200 A.D.
After getting your fill of history lessons, make a beeline to downtown Farmerville where you will find everything from a country general store oozing with atmosphere, to several antique shops and clothing and jewelry boutiques.
A visit to the Bayou General Store on North Main Street on the Square is a must-experience unto itself. In this 1800s historic building, you will get a true feel of the warm and friendly people of Farmerville. They sell items from local vendors, items that include a large variety of gifts items. Smell fresh fried pies? Well, it must be Friday morning, because that's when they receive locally homemade mouthwatering fried pies, delicacies that come in chocolate, apple, blueberry, and many more flavors. (Fact: The Bayou General store will sell anywhere from 50 to 125 pies on a Friday). Among many other sweet indulgences here is the old-fashioned salt water taffy that comes in 16 different flavors.
This is the kind of place you will find it hard to pull yourself away from, not only because of the eclectic array of merchandise, but also because of its laid-back, cozy feel. Adding to its charm are the locals who sit back and watch the day pass and some play checkers on an old wooden board. Be sure to "sit in the window" as they say here and sip a cup of delicious coffee as you people watch while sitting on a bar stool. (Tip: Kelly Easterwood, who works here almost every day, will be glad to give you a complimentary cup of coffee after you pick from an array of flavors such as caramel truffles and mint. Easterwood is a walking encyclopedia of Farmerville and will be glad to give you all the tips you need during your visit!).
Be sure to check out a few architectural details added to the old place, like the floor covered in paper bags dipped in Elmer's school glue and then sealed with varnish. They've also found use for an old gym's basketball court and tin from an old barn.
(Tip: On the first Friday of the month, merchants on the Square hold a block fair, which is open until 10 o'clock. Here's where we should mention the annual Farmerville Watermelon Festival, held downtown the last week of July since 1963 and filled with races, seed-spitting and watermelon-eating contests.
After all this shopping, you have no doubt worked up an appetite, and Farmerville is not shy of local eateries. Who says you can't find authentic Cajun dishes in Northern Louisiana? Rhett Trahan, a retired Louisiana state police officer and transplant from Crowley, Louisiana began serving his Cajun fair from a cook trailer in Farmerville; today, he is the proud owner and chef of Lache Pas La Patate, which features crawfish, boiled shrimp and pork jambalaya.
For more traditional southern dishes, tempt your taste buds at the Main Street Southern Grill where, on every table, you will find a bottle of ranch dressing to dip your battered fries, onion rings and whatever else you desire. Try their Sweet Heat hamburger, with its special secret sauce and topped with a fried jalapeno and onion ring; there's also a lunch buffet and fresh pies made daily. Locals devour the homemade chicken salad or lunch specials at Mamoo's Market and Catering, and for great burgers and shakes – plus an eye-full of 50s memorabilia – grab a table at the 50's Diner.
After experiencing some of the best of Union Parish, you will be ready for a good night's sleep. For accommodations that are sure to transport you from the cares of the day, stay overnight at one of the many lake houses or cabins on Lake D'Arbonne. Hideaway Point lake house offers expansive views of the lake and is a five-bedroom home with a large open floor plan, outdoor sitting area, a boathouse, and a fishing pier. Another great option is Hideaway Bay lake house, which also has a great view of the lake, extensive deck with pool and hot tub, a boathouse and a kayak and canoe for you to tour the lake at your leisure. For more rustic experience, choose one of the deluxe cabins, lodges or even a campsite at Lake D'Arbonne State Park.
Need a little historical elegance? Check in at Edgewood Plantation Bed and Breakfast in Farmerville, where you will be swept away by this Queen Anne Victorian-style home and bell tower. The plantation was built in 1902 by Jefferson Davis Baughman, and is nestled within eight-acres of towering trees. Pat and Kay Carroll, who exude Northern Louisiana hospitality, are the proud owners of this restored jewel and will be sure to meet your every need.
From the moment you walk into this gracious estate, one steeped in history, you'll be greeted with complimentary wine and your choice of either a fruit-and-cheese or a dessert tray. The full homemade scrumptious southern breakfast is enough to make you dream about coming back time and time again. (Tip: Don't leave without meeting Blackjack, the Carroll's Clydesdale; EP, their potbelly pig; and Cowgirl, their Australian Shephard, each of whom will warm your heart!). Edgewood is also close to all the attractions in and around Farmerville.
For more information go to: http://www.crt.state.la.us/louisiana-state-parks/parks/lake-darbonne-state-park/, http://www.farmervilleshopping.com, http://tourunionparish.org/#, and http://edgewoodplantationlouisiana.com/
*Photo credits: Carolina Parker,
Edgewood Plantation Bed and Breakfast, Gray Durr Marketing