Boating the Basin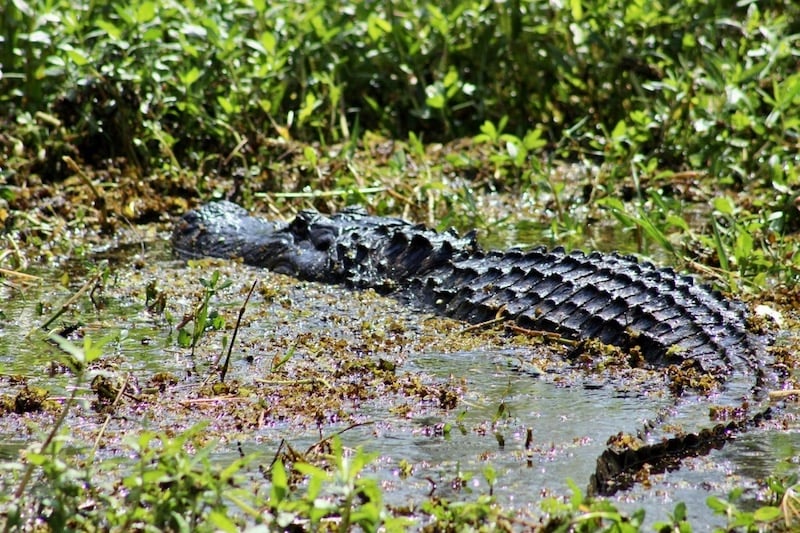 If you've traveled along Interstate 10 between Baton Rouge and Lafayette, you'll have ridden across one of the world's longest bridges. The Atchafalaya Basin Bridge — actually a pair of parallel bridges —  stretches more than 18 miles and is the third longest U.S. bridge and the second longest on the interstate system.
And if you're like me, you've gazed into the massive Atchafalaya Basin and wondered what it would be like to be down there.
Actually, it's quite easy. At Henderson, on the western end of the bridge, two outfitters will easily get you on the water.
Basin Landing Airboat Swamp Tours offers one of the fastest. Plug your earplugs in and away you go, flying across the swamps and lakes that make up the giant river drainage swampland. Our tour took us through moss-covered bald cypress swamps, through open water passages, past nesting osprey and, of course, by alligators. Our Cajun guide called to his gator friend in French, giving the out-of-state tourists a thrill. One even joked that if you swam in the Basin and spoke French, the alligators would leave you alone.
Hmmm, don't count on it.
McGee's Swamp Tours includes airboat tours and canoes to rent but we opted for the quieter swamp boats this time. Also captained by a local offering Cajun history and culture, we saw more ospreys and alligators, plus snakes and other swamp critters, all aboard a covered comfortable boat that's perfect for groups. McGee's offers sunset tours and photography excursions as well.
Both tours take visitors beneath the I-10 so you can look up and see others looking down, wondering what it's like to be on the water. It's quite a thrill seeing the bridge from below, especially in the airboat at full speed. Check out the video of the experience below.
Naturally, swamp tours will make you hungry. Or maybe it's the fact that you're in Cajun Country and Pat's Fisherman's Wharf Restaurant is a few miles away. Be sure to stop in Pat's for fresh seafood, especially now since it's crawfish season.
To arrive at all three, leave the I-10 at Exit 115, then turn on to Louisiana 352 and travel down to where the road ends at the levee. Pat's will be on your left and the two outfitters are to the right, about 2 miles down the Henderson Levee Road.
Information
Basin Landing, (337) 228-7880, BasinLanding.com
McGee's, (337) 247-2628, mcgeesswamptours.com
Pat's Fisherman's Wharf, (337) 228-7512, patsfishermanswharf.com