Boudin and Barbecue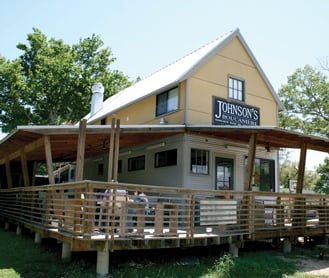 EATING AROUND
Louisiana takes you to plenty of places that emanate proud history and tradition, and the same pursuit also takes you to some places that feel new, modern and forward-looking. It's rare to find an eatery that convincingly, and deliciously, combines the best of both. But that's how it goes at Johnson's Boucaniere (1111 St. John St., Lafayette, (337) 269-8878; www.johnsonsboucaniere.com), a great smokehouse in Lafayette with the energy of the new and the momentum of a long history.
Johnson's Boucaniere harkens back to Johnson's Grocery, which started off as a dry-goods store in Eunice in the 1930s. Johnson's Grocery became a Eunice institution, and eventually it grew into an essential stop for people visiting the area to get their boudin fix. It finally closed in 2005, but it didn't take long for the yearning for its old traditions to kindle a rebirth of sorts. In 2008, Lori Walls, the granddaughter of Johnson's Grocery founder Arnestor Johnson, opened her Johnson's Boucaniere.
It sits just on the edge of downtown Lafayette, not far from the University of Louisiana at Lafayette. The place has a modern/old-fashioned mash-up feel. It looks like an old grocery on the inside. It's cluttered, small and homey, and people line up to place their orders while pondering the meats on display in the butcher case. But the area where everyone eats is a very contemporary-looking covered patio that wraps around the building.
The big things here are boudin, barbecue and music. The walls are lined with CDs for sale from local musicians, their music is always on the sound system, and it's normal to run into a few musicians you might have seen on the festival circuit in here chowing down, too.
About that boudin: If you remember the old Johnson's Grocery links, this one will take you back. Unwrap the white butcher paper, bite in, and you should hear a snap. It's very meaty, with a medium-spice level – peppery but more about savory seasoning than spicy, spicy hot.
Cajun-style barbecue – with lots of sauce and lots of seasoning – works itself into platters and sandwiches.
Here's where the menu takes more of a contemporary turn. There's the "Oja special" – smoked, pulled chicken sandwich with smoked garlic pork sausage and homemade barbecue ranch dressing. There's another sandwich they call a Cajun version of a Philly cheesesteak and the "parrain special," which involves a boudin ball that's been smashed, covered with barbecue sauce and enrobed in American cheese all on an Evangeline Maid bun.
Johnson's Boucaniere is a place for lunch or to pick up food to bring home – or for the cooler – because it closes early most nights, 6 p.m., Tuesday to Thursday. They stay open until 9 p.m. on Friday and Saturday,
after which, presumably everyone should be out dancing to some Lafayette music anyway.
LIVONIA LANDMARK CLOSED (FOR NOW?)
In its heyday, lines of hungry customers stretched down the steps leading to Joe's Dreyfus Store Restaurant (2731 Maringouin Road, Livonia). These days, however, fans of Livonia's landmark eatery have to play a different sort of waiting game – waiting to see if it will once again reopen.
The building dates to 1925 and for many generations operated as the Dreyfus Store, a dry goods purveyor for the surrounding farm community. When a New Orleans chef, Joe Major, took over in 1989, he added his name to the marquee and turned the place into one of the most renowned eateries of rural Louisiana. People flocked here for stuffed quail, catfish etouffee, crawfish bisque and oysters Rockefeller in a rustic setting.
Joe's Dreyfus Store Restaurant changed hands (though not names) in 2004, but it closed in 2007. The brother and sister team of Bobby Webber and Linda Webber Ducote reopened the place in 2008, but now the doors are shuttered. The current owners have posted a hopeful message on its website, however, hinting that a reopening date may be announced soon.
For updates, see www.joesdreyfusstorerestaurant.com