Cajun Country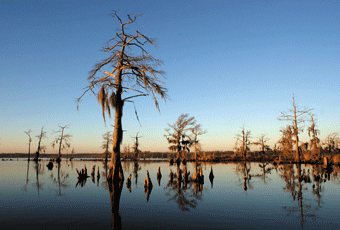 Cajun Country has a spicy history. It was once the stomping grounds of infamous pirates, a haven for Acadian exiles and a place where American Indians could roam freely across the land, and it is home to the rich soil where TABASCO planted its seeds.

This area was first home to American Indians. Then the explorers came and brought their own cultures and people. One of the oldest European settlements in Louisiana was established in 1720 by the French government. What was once home to the Opelousas Indians became le Poste des Opelousas and today is known as Cajun Country.
In the mid-1700s French-speaking Acadians were exiled by the British. They were forced to leave their homeland in Nova Scotia, Canada, and search for a new life. These exiles of L'Acadie settled in the fertile marshlands and prairies of South Louisiana. The people we now call Cajuns joined the American Indians and Creoles who inhabited this area. Through hard work and cooperation and with help from American Indians, the Cajuns and Creoles learned to survive and eventually flourish in South Louisiana.
The Louisiana Purchase infused the area with even more cultures and traditions, with settlements of English, Scottish, Irish and German people who have also contributed to the rich and colorful experience of this area.
When you step into Cajun Country, you step back in time. The scenic highways and byways lead visitors through what is seemingly another country. The Acadians blended their French ways with Catholic Spanish Louisiana, and remnants of their traditions and culture live on in small cafés and businesses where the inhabitants still speak a French patois today.
The music of Cajun Country is a mixture of different cultures and people whose traditions have survived the test of time. Festivals celebrate the lifestyle of Cajun Country, with locals and visitors two-stepping in the streets to the strains of the ti-fer and accordion of Cajun, zydeco and swamp pop music.
The food is loved the world over, and the people who cook the food are known for their hospitality and kindness to visitors.
With Cajun Country scattered throughout the swamps and bayous, nature and the outdoors play a major role in the lifestyle.
Road Trip

Zydeco Cajun Prairie Scenic Byway
This scenic byway passes through the heart of Acadiana. This is where you will find French families whose ancestors came from Europe in the early 1700s. Discover the music, the food, the towns and the people as you pass through Grand Coteau, Sunset, Opelousas, Washington, Crowley, Eunice and on to the Ville Platte area.
Jean Lafitte Scenic Byway
This byway is also known as the Hug the Coast Highway. It crisscrosses through Acadiana and passes through marshlands and the Intracoastal Waterway, past crawfish ponds and sugar cane fields.
Bayou Teche Scenic Byway
This 125-mile route winds through three parishes: St. Mary, Iberia and St. Martin. The Bayou Teche Scenic Byway is home to two distinct cultures — the French-Cajun culture of the upper Teche area and the Anglo-Saxon culture of the lower Teche. It is also home to an incredibly beautiful natural landscape. As you travel the byway, you'll enjoy everything from moss-draped live oak trees along the banks of Bayou Teche to more than 100 historic properties, many on the National Register of Historic Places.
Wetlands Cultural Trail
Cypress trees and cypress knees are common as you pass by Laurel Valley sugar mill, with circa 1875 cabins and scenery unique to the wetlands.
Top Destinations
•Allen Parish is considered the gateway into Cajun Country. Kinder and Oakdale offer a number of antiques shops and flea markets full of treasures waiting to be discovered. The Coushatta Indian Museum is located on tribal lands in Elton. The Coushatta tribe is mostly known for its pine needle baskets, which are on display along with other tribal artifacts in the museum.
•The Cajun Coast in St. Mary Parish is a destination where you can wake up to the sun rising over oaks and cypress trees. You'll find everything from plantations to museums and golf courses to houseboats. This family-friendly atmosphere provides a relaxed setting for all visitors. The city of Franklin hosts the Harvest Moon Fest each autumn. The Acadiana Symphony Orchestra performs a free outdoor concert during this event. Franklin's Historic District is a must-see for those searching for the "old South."
•Morgan City, which has been on the National Trust for Historic Preservation's Main Street Program for more than 11 years, offers a riverfront area with shopping, dining and several attractions. The historical architecture of many of the churches gives visitors a glimpse into the late 1870s to early 1900s.
•Ville Platte in Evangeline Parish is known for its spices and seasonings. It is home to the famous Slap Ya Mama Seasoning; Kary's Roux, the original LaFleur roux mix; and Jack Miller's Bar-B-Que Sauce, which is still made by the Miller family.
•Each year in Mamou, the Mamou Cajun Music Festival celebrates traditional Cajun music and dancing. Mamou is also famous for the special way the residents celebrate Mardi Gras.
•Houma, located in Terrebonne Parish, is considered the heart of America's wetlands. Houma offers birding trails, exotic wildlife, Cajun dancing halls and exciting swamp tours.
•Napoleonville is located in the far eastern section of Cajun Country. Madewood Plantation House, the beauty of this town, is an antebellum mansion that is a National Historic Landmark. It has been featured in magazines all over the United States. The canopy beds, antiques and candlelight dinners are a pleasant find in Napoleonville.
•Lake Charles and Southwest Louisiana offer up spice and variety. From alligators to music with strains of the accordion to legendary pirates (and treasure, of course) to pelicans, Lake Charles and the surrounding area host visitors with genuine hospitality and Southern charm. With more than 75 festivals and special events held every year, there's always something going on in Lake Charles.
Lake Charles' history has it beginning as a rowdy sawmill town. A legend that has been passed down from generation to generation is that the gentleman pirate Jean Lafitte used Lake Charles as a hideaway for some of his treasure. This legend is honored today with the celebration of Contraband Days each May. For two weeks the city of Lake Charles becomes a place where the skull and crossbones prevail and the mayor walks the plank. Many treasure-seekers have searched but have yet to find Lafitte's treasure.
•A true treasure can be won at one of Southwest Louisiana's many casinos. It has grown to a first-rate casino resort destination that offers great entertainment, fine dining and luxurious accommodations. If that isn't the treasure you're searching for, then visit downtown. Lake Charles' historic district is a shopaholic's delight. The newly renovated area is filled with a variety of antiques stores, boutiques and cottage shops.
•Outdoor fans are welcomed with open arms. The Creole Nature Trail All-American Road is fondly known as "Louisiana's Outback." Take a drive down this world-famous route, and discover unspoiled marshland and the rich and varied landscape of rice fields; prairies; timberlands; and the beautiful rivers and bayous that make Southwest Louisiana a destination full of culture, tradition and heritage.
•Lafayette is the heartbeat of Cajun Country with so much to offer. At Vermilionville, visitors step back in time when they enter the beautiful village nestled on the banks of Bayou Vermilion. The artisans and musicians re-create life in Southwest Louisiana between 1765 and 1890. Visit six restored original homes, part of 19 structures that are filled with artifacts and living history. Vermilionville has festivities and programming throughout the year.
•The Iberia area includes places such as New Iberia, Avery Island, Jefferson Island, Jeanerette, Loreauville and Delcambre. Iberians fondly dub their home "the hottest spot in Louisiana." The activities and attractions abound in this area, including the homes of many agriculture products unique to Louisiana.
•The Conrad Rice Mill in New Iberia is the oldest operating rice mill in America. A slide show telling the history of the Acadians is shown throughout the day, and the mill itself offers tours. The McIlhenny Co. TABASCO Factory and Country Store offers plant tours every 15 minutes. The store also offers a tasting bar of TABASCO-brand products that are sure to set your taste buds on fire. The Jungle Garden on Avery Island is near enough to the TABASCO Factory that visitors can calm their soul at the Buddha Temple and bird sanctuary after sampling the TABASCO products.
•Shadows on the Teche is a Southern plantation and garden tour located on Bayou Teche. This site is framed by live oaks covered with Spanish moss and houses a collection and family papers from four generations. They come together to present an authentic picture of life at Shadows on the Teche.
•Spanish Lake in New Iberia is an accessible place for everyone to enjoy. Bring a boat, or enjoy fishing off of one of the five wheelchair-accessible piers. Camping is allowed on site at the peninsula, and the custodian building offers snacks, ice and bait at a convenient location. It is open to the public year-round, and more than 240 species of birds have been spotted here. The lake is home to alligators, beavers and nutria, providing multiple opportunities to enjoy wildlife-watching.
•Morgan City boasts a tourist complex that features the industries and lifestyles of the early Cajun settlers of South Louisiana. The on-site Heritage Park features 3.5 acres of picnic grounds, a zoo with indigenous Louisiana creatures such as alligators and black bears, a barnyard zoo and a gift shop.
•Those who wish to venture further into nature can paddle a canoe into Lake Palourde to watch more than 300 species of birds. Lake End Park and Campground provides overnight spots, a sandy beach and a mile-long walking trail, all helping you enjoy a unique encounter in Cajun Country.
• You can watch the shrimp boats meander along the Atchafalaya River or observe locals passing by as you sit under stately oaks in Lawrence Park. The historic district offers delicious dining experiences, unique shops and museums to whet your appetite.
•In Crowley, which proudly proclaims itself the "Rice Capital of America," everyone has a smile and a warm welcome. Visitors can start a down-home day in the South with a stop at the Grand Opera House or the vast historic district. The Grand Opera House, which is set to reopen soon, used to boast visitors such as Clark Gable, Babe Ruth, Jack Dempsey and Huey Long. Crowley also has more than 200 buildings on the National Register of Historic Places.
But why does Crowley call itself the "Rice Capital of America"? It is because it mills more rice annually than all other rice-producing countries in the world combined. Take a drive down Mill Street to see the large quantity of rice mills. Or if you want to learn more about the industry, take a driving tour of the Rice Trail.
The top floor of Crowley's City Hall is the oldest recording studio in Louisiana that has been in continuous existence. J.D. Miller Recording Studio is best known for its Cajun, zydeco, blues and country releases from various artists. Legends such as John Fogerty and Paul Simon have recorded tracks here. A video history can be seen in the lobby of the studio.
The pirate Jean Lafitte is honored in Eunice at Jean Lafitte National Historic Park and Preserve. Eunice is also home to the Cajun Music Hall of Fame and Museum, as well as the host of the World Championship Crawfish Étouffée Cook-Off that is celebrated each March.
•Washington is the premier Cajun Country destination for antique-lovers. The Old Schoolhouse Antique Mall and various other antiques shops provide a seemingly unlimited supply of window-shopping and browsing, and the historic homes provide an architectural and historic delight. The Washington Museum & Tourist Information Center can point visitors in the right direction. Don't miss the Washington Catfish Festival in March.
Lodging

High-end
Coushatta Casino Resort, located 25 miles north of Lake Charles, offers luxurious accommodations and numerous restaurants for visitors to enjoy. The resort offers a gaming casino, a kids' arcade, an RV park and a golf course. It is Louisiana's largest land-based resort.
The Fairfax House, an elegant sugar cane plantation in Franklin, offers six magnificent rooms. Visitors are transported to a bygone era when they cross the threshold of this beautiful grande dame.
L'Auberge du Lac in Lake Charles is one of the premier casino resorts in Louisiana. The lavish accommodations, large selection of dining venues and relaxing spa show that there is more to this resort than slots and card games. This is not only an adult destination but also a resort that the entire family can enjoy, with the lazy river and other family offerings.
Bed-and-Breakfasts
Aaah! T'Frere's House Bed and Breakfast has been voted the No. 1 bed-and-breakfast in Acadiana. This eight-room lodging facility provides legendary hospitality and cuisine. Its mint juleps and Cajun canapés make visitors say, "Aaah!"
Maison d'Memoire in Rayne offers charming cottages just 15 minutes from Lafayette. These guesthouses are located in a country setting, providing a romantic escape for an anniversary or special event. A full breakfast is delivered in a covered basket at the cottage door each morning. The tranquility of the property makes it a perfect place to enjoy serenity in Cajun Country.
Grand Bayou Noir is one of Houma's finest bed-and-breakfasts. The home is surrounded by 4 acres of beautiful old oak trees and boasts an elegance that not many in the area can match. Relax on one of the swings, or take an afternoon nap in a hammock.
Rip Van Winkle Gardens in New Iberia is set on a 25-acre semitropical paradise garden. Take a tour of the garden and cleanse your soul, or stay overnight in the Cook's Cottage or Joseph Jefferson Servants' Quarters, charming Acadian cottages furnished with handmade mahogany beds.
Off the beaten path
Experience the Cajun Coast by staying in a houseboat. Cajun Houseboats and Rentals Inc. can help you slow down your pace with a stay on The Cajun Sunrise or The Cajun Gypsy. Take a guided swamp tour, or go solo on a canoe through the bayous.
Hackberry Rod and Gun isn't just a fishing charter service. Located in Cameron Parish, it offers condominium-style lodgings with luxury in mind. This lodge is perfect for hunters or fishermen who demand the best.
Ricky's Motel in Grand Isle has taken what nature destroyed and turned it into opportunity. The motel has cabins and rooms that face either the bay or the Gulf of Mexico. When Hurricane Katrina damaged a number of buildings, the owners made room for an RV park with a game room, a pier and a tackle shop.
Located on 30 acres, Wildlife Gardens Bed & Breakfast in Houma offers unique lodging experiences in one of four swamp cabins. Visitors can take a walking tour through the gardens, catch a swamp tour on a boat or feed baby alligators off of the cabin porch.
McGee's Landing can be found in Henderson on Henderson Levee Road. It offers Atchafalaya swamp tours and Cajun guest cabins, as well as a café and bar. Take an airboat ride to see alligators in their habitat, and then relax after the sun sets in a Cajun-style cabin.
Dining
Ritzy
Snake River Grill at L'Auberge du Lac in Lake Charles is a renowned landmark that originated in Jackson Hole, Wyo. This fine dining establishment offers local Louisiana fare, as well as classic dishes from its original restaurant. The cornmeal-dusted Idaho trout is served topped with crawfish, scallions and corn cream. With dishes such as this, it is easy to understand how it won Wine Spectator's prestigious Award of Excellence for nine years running.
Treat yourself to high tea in an authentically restored antebellum cottage located on 4 acres of beautifully landscaped gardens. Antique Rose Ville is located on Freyou Road in New Iberia and also serves lunch and dinner.
BoJangles is New Iberia's oyster and sushi bar. This restaurant blends contemporary cuisine with the traditions of Southwest Louisiana.
Funky down-home
Rita Mae's Kitchen in Morgan City serves genuine home-cooked meals on Federal Avenue. The funky little cottage with its black-and-white tile floor offers home-cooking away from home.
Located on Center Street in New Iberia, Duffy's Diner is a dining establishment where you can enjoy a taste of the '50s with a Louisiana twist. This retro diner dishes up stuffed shrimp, seafood poor boys, gumbo and baby back ribs. The entire family will enjoy the fun atmosphere of Duffy's.
Breaux Bridge is home to Mulate's, "the original Cajun restaurant," located on Mills Avenue and just 6 miles from Lafayette. Diners can two-step as they listen to live Cajun music.
Poppa's Restaurant in Jeanerette serves up savory jambalaya, seafood, poor boys and other Cajun specialties. It is closed on Mondays, but the rest of the week you can find various lunch and dinner specials.
Enjoy a delicious lunch and fresh frozen daiquiris at Pelicans on the Bayou. This grill and tavern is located in the historic district of New Iberia and offers a deck overlooking Bayou Teche. Take part in happy hour, and watch the boats and party barges come and go.
La Cuisine de Maman is located in Lafayette's Vermilionville folklife park. This friendly establishment serves authentic Cajun and Creole cuisine. Enjoy a home-style meal, or learn how to cook regional dishes yourself during one of its cooking classes.
Hunting and Fishing
Dry Creek Ranch in Ragley offers more than 1,500 acres of pine- and hardwood-covered hunting grounds. The property has cabins and private bedrooms for those wishing to stay a few days for a hunt or a photo safari. Rates are reasonable, and packages can be customized for visitors' needs.