Cajun Country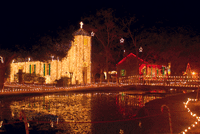 FORK IN THE ROAD
Gifted with gumbo
Gumbo is a signature dish in Cajun country. It is a perfect meal to festively feed people in between holiday feasts or to serve as one of the courses. It would take someone with a serious case of the holiday blues to not be cheered by the prospect of a steaming bowl of Louisiana's premier potage. Here is a somewhat-fancy gumbo recipe concocted by catering chef Emile Steiffel, perfect to start off Thanksgiving, Christmas or New Year's dinners.
SMOKED DUCK-AND-ANDOUILLE GUMBO
1 smoked duck
1 pound Louisiana
andouille sausage
1 cup peanut oil
11/2 cups white flour
1 1/2 pounds diced onion
1/2 pound chopped celery
1/2 pound smoked tasso, chopped in quarter-inch cubes
2 teaspoons garlic purée
2 cups dry white wine
1/2 teaspoon ground
white pepper
1/2 teaspoon ground
cayenne pepper
1 teaspoon whole thyme leaves
3/4 gallon chicken stock
Salt to taste
Pull meat from duck (you can use the bones to make your own stock). Dice into half-inch cubes, slice andouille about a quarter-inch thick, and slice into quarter rounds.
In a Dutch oven that has heated over medium heat for 3 to 5 minutes, add peanut oil and flour, and whisk until you have created a dark chocolate-colored roux. Continue to whisk as you add onions and celery, and then reduce heat, and simmer until onions are caramelized (not burned). After adding andouille and tasso, fry for five minutes, and then add all remaining ingredients. Gently stir, and slowly simmer for at least an hour. In my family, "slowly simmer" usually meant for at least four hours! Serve with rice and any Louisiana hot sauce of choice on the side.
CAUSE TO CELEBRATE
Joyeux Noel
The ever-charming Acadian Village will once again dress itself up in Christmas lights and issue a yuletide bienvenu to everyone to visit and partake of their decked halls, eaves, steeples and posts. Noel Acadien au Village, an annual celebration that has drawn as many as 32,000 visitors, will light up the Lafayette night sky with more than 500,000 lights. One of the largest lighting displays in the South, this charming December festival fills the air with the sounds of Christmas cheer in the form of musicians and bands, Christmas choirs and choruses, candy apples and cotton candy. Photo-ops with Santa are thrown in for good measure. Frottoirs are thumbed with the jolly enthusiasm of "Jingle Bells." With carnival rides included, the Acadian Village will dazzle you with its Christmas finery for three weeks from Dec. 4-23. Acadians add their special joie de vivre to the meaning of Joyeux Noël.
Acadian Village, 200 Greenleaf Drive, Lafayette, (337) 981-2364, www.acadianvillage.org
PROFILE
Beaded bijous
If you start your Christmas shopping during the weekend following Thanksgiving, you may want to wander to the Sans Souci Gallery in Lafayette, where, among the other handiwork of fine artisans, you will see the exquisite bead work of Audrey Leonard. Leonard recently told the Advocate that she sees patterns in everything that she then re-creates into her jewelry.
At 76, this Lafayette native has designed and fashioned some of the most distinctive and beautiful jewelry available today. If Cleopatra were sailing on her barge down the bayous today, I could see her selecting some of Leonard's jewelry. The quality of Leonard's creations is, well, royal.
"Everything has to dangle," she says. "That's my criteria. Everything has to move, have motion."
Leonard claims that it was her pronounced envy of another woman's bracelet that inspired her bead-making on a visit to Savannah, Ga.
"I was haunted, " she says.
When she couldn't find the bracelet in a shop, she resolved to create it herself.
She spins her exquisite work on a wooden table loom that looks somewhat like an old abacus. Leonard puts the required amount of nylon threads in place needed for her particular design, and through the auspices of a looming needle, she follows the pattern of her creation. Delica beads are her preference due to the uniformity of size and the full spectrum of their colors. The result: Bracelets, pendants and earrings are ready to dangle and dazzle from delicate wrists, necks and ears.
Rhea Perlman's dresser on Cheers approached Leonard about her earrings; Leonard sent 10 pairs to Perlman, who quickly purchased five and wore them on the show.
Sans Souci Gallery, 219 E. Vermilion St., Lafayette, (337) 266-7999