Cajun Soul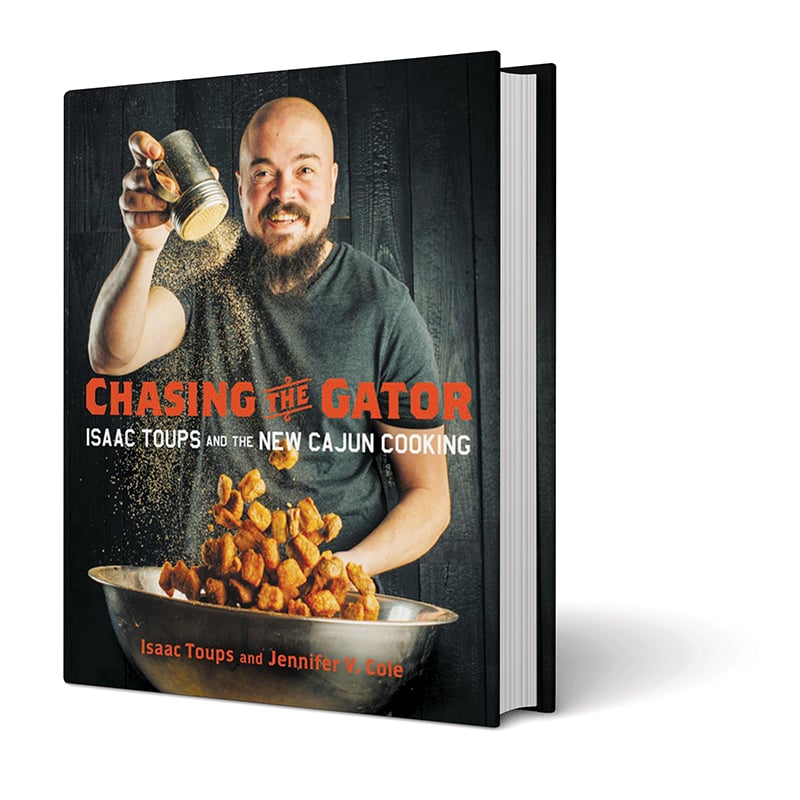 James Beard Best Chef of the South Semi-Finalist/Finalist (four times!) and fan favorite on Bravo's "Top Chef" contestant Isaac Toups brings his fresh brand of cooking, storytelling, and pork fat-inspired magic to his new book "Chasing the Gator, Isaac Toups and the New Cajun Cooking."
Toups, who is chef and owner of Toups Meatery and Toups South in New Orleans, has focused his career on bringing his unique cooking style both home to Louisiana as well as across the country, using tried and true Cajun family food-ways melded with "chi-chi" culinary practices, for a truly transformative dining experience.
In "Chasing the Gator," Toups teaches readers and home cooks how to pass a good time, boil some shrimp and play bourré, with expert advice mixed with the right blend of spicy, salty language. There are a few good Boudreaux and Thibodeaux stories folded in the mix, as well, for good measure.
Chapters include "The Homestead," "The Fish Camp" and "The Boucherie," which fully encompass Toups' own experience growing up in the Cajun culture in Rayne, and cooking his way across Louisiana from the prairie to the coast.
There are tips on basic steps, such as how to make a roux, to more advanced cooking experiences, such as "Double-Cut Pork Chops with Cane Syrup Gastrique," which is really just a good ole' pork chop with fancy gravy.
Take a dive in to Toups' wonderful world of pork and sauce and shrimp and good living — you and your belly won't regret it.
---
"Chasing the Gator, Isaac Toups and the New Cajun Cooking"
By Isaac Toups and Jennifer V. Cole
Little, Brown and Company, $35
---
A go-to guide for book lovers
The perfect gift for you or the book lover in your life, "1,000 Books to Read Before You Die" by James Mustich, highlights must-reads from around the world with deep dives and discussions into each one. It's like having your very own book club at your fingertips, or on your coffee table.
Louisianians will recognize several regional authors – Truman Capote (New Orleans), author of "In Cold Blood," Ernest Gaines (Oscar), author of "A Lesson Before Dying," and the children's classic "Goodnight Moon" by Margaret Wise Brown (Alberta).
---
"1,000 Books to Read Before You Die"
By James Mustich
Workman Publishing, $35.
---
ASK A LIBRARIAN: FICTION
Recommendations for great reads from Faye Prendergast, Collection Development Librarian, St. Tammany Parish Library.
"Three Things About Elsie"
by Joanna Cannon
This second book by the author of "The Trouble with Goats and Sheep," was named to the 2018 Women's Prize for Fiction longlist. Scribner, 2018, $26
"November Road: A Novel"
by Lou Berney
After John F. Kennedy is assassinated, Frank Guidry, a loyal lieutenant in the New Orleans mob, finds himself racing across the country trying to outrun the hitmen who are after him. William Morrow, 2018, $26.99
---
ASK A LIBRARIAN: NONFICTION
"The Library Book"
by Susan Orlean
The bestselling author of "Rin Tin Tin" and "The Orchid Thief" delves into the unsolved mystery of a fire at the Los Angeles Public Library in 1986 that burned for more than seven hours and destroyed more than 400,000 books. Simon & Schuster, 2018, $28
"All You Can Ever Know"
by Nicole Chung
Adopted by white parents as a premature baby, Nicole Chung undertakes a search for her Korean birth parents when she is pregnant with a baby of her own. Catapult, 2018, $26
---