Can Bogalusa Save the World?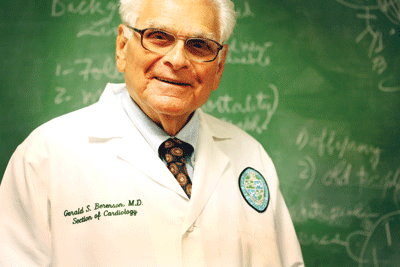 Bogalusa sits some 60 miles north of New Orleans, tucked away in northeast Washington Parish, its outer city limits flirting with the Mississippi state line.
Perhaps best known for an uncomfortable smell emitting from the Temple-Inland paper mill, Bogalusa often can struggle with its self-identity. In fact, during the dark days following Hurricane Katrina, when asked about the significant damage the storm unleashed in Bogalusa, then-Gov. Kathleen Blanco made the now-famous comment that the city was located in Mississippi.
Locals frequently recall that comment with anguish, with time serving only as a mild salve to a festering wound.
Dr. Gerald Berenson understands; after all, he's a local boy who is a proud graduate of Bogalusa High School and who organized an annual reunion of former Lumberjacks athletes several years ago.
"I'm so glad to have done that," Berenson says of the event that is growing annually at a local restaurant.
Few would suspect Berenson has become a distinguished and internationally known contributor in the study of cardiovascular disease. At first glance, the bespectacled Berenson, with his fading white hair, mild manner and seersucker suit, appears to be a snapshot of days gone by.
In another era he would have been regarded as a Southern gentleman.
By his own admission, Berenson, 89, has been "lucky as the dickens."
Now it appears his luck may be running out.
From a tiny office in the shadows of Bogalusa's iconic smokestacks, Berenson expresses concern about the future of the Bogalusa Heart Study program, which he founded 39 years ago and nurtured into one of the world's premier pediatric heart studies.
Quite simply, the money has run out.
"It's a financial issue," says Berenson, his expression failing to mask the fear of the end of the program that is the signature of his long and distinguished career.
For the past several years, the National Institute of Aging has funded the program, but that ended in August. Nearly all of the program's employees are gone, and Berenson and a select few are left to archive the past to secure a healthier future.
He operates most of the week out of an office in New Orleans, and the Bogalusa office is open a few hours a day.
By taking a reduced salary, Berenson figures he and his small staff can last until June, when some "money left over" will be fully spent, and the program will expire.
"We don't have the funding," he says. "Not everyone thinks the Bogalusa Heart Study is important."
It was a study that almost didn't happen. In the early 1970s, while doing research on cardiovascular heart disease at LSU, he unknowingly reached a crossroads in his career when, with the support of school officials, he applied for a lucrative government grant. Berenson, who received his medial degree from the Tulane School of Medicine in 1945 and returned to his alma mater in 1948 after serving in the Navy, recalls there were 44 applicants and the paperwork was burdensome.
"I almost killed my secretary," he says with a chuckle. "We worked Christmas, New Year's. That was difficult."
Berenson's proposal was one of 23 selected for site visits, with 25 people from Washington, D.C., coming down for evaluations.
Ultimately, Berenson's proposal was not approved.
"What a lucky break," he says. "I was crushed. We're still fighting the government."
Berenson, who served on the faculty at the LSU School of Medicine from 1954 until 1991 when he rejoined Tulane, quickly rebounded and seized the opportunity to apply for a grant from the National Institute of Child Health and Development. It was then the initial seeds of the Bogalusa Heart Study, an ambitious study aimed at tracking black and white participants from birth into adulthood, were planted.
At the time, he also understood the need for outside help, so he enlisted the aid of the local chapter of the NAACP, no small
feat given the racial atmosphere prevalent in Bogalusa at the time.
In fact, the city was generally considered the epicenter of racial strife during the 1960s, but he was driven by his staunch belief that the study should be multiracial, which was innovative at the time.
BIRACIAL FAME
"The [NAACP president] said anything good for the kids in Bogalusa, I'm for," Berenson says.
The grant attracted 22 applicants; the Bogalusa Heart Study and the University of Chicago were the winners.
Thirty-nine years, three textbooks, more than 400 publications and 16,000 participants later, the program has garnered worldwide fame. At one time it was the flagship study for the Tulane Center for Cardiovascular Health.
The long-term biracial study led to significant breakthroughs on how cardiovascular risk can be affected by lifestyle trends, such as obesity, that began nearly at birth.
Berenson says he concentrated on young people from Bogalusa because that was his hometown.
"The vascular study related to what causes obesity," he says. "It started at an early age. Some people are worse off, already showing signs
of heart disease [at an early age]."
According to Berenson, the multiracial component was critical because of the results yielded.
"I think the contrast makes a big difference," he says, adding that results showed hypertension is "more rampant" among blacks and "coronary heart disease is greater in white men."
Berenson says he employed a multidisciplinary team of medical professionals – including anthropologists, biochemists, cardiologists, epidemiologists, nutritionists, psychologists and statisticians – to study hereditary and environmental aspects of early coronary artery disease.
Berenson estimates more than 200 doctors have come through the program and those that he trained are "practicing all over the world."
He says three doctors he trained are now cardiologists at Ochsner.
Each participant's height, weight, dietary habits, physical activity, family history and other vital statistics were originally recorded. The children were then given annual physical exams and such key data as blood pressure were recorded. They were also given blood tests, EKGs and other noninvasive tests, according to Berenson.
"We can detect any abnormality, and they will be studied as a cardiac patient," he says, adding that early detection can lead to dietary and other lifestyle changes that will help prevent potential future heart disease.
The results provided a fascinating insight into the diets of young people and those eating habits that contributed to potential health risks in adulthood. It was discovered that children as young as 2 were already on the path to potential cardiovascular disease by virtue of being fed a diet high in fat and sodium and low in fiber, which parallels what many consider as today's typical American diet. It is also those dietary habits that are being labeled the villain in the growing obesity problem among Americans.
The pathology suggested that signs of early coronary disease, such as fat buildup in the aortas of the heart, were evident in adolescents. It was also discovered that cardio risk factors – smoking, obesity, high blood pressure and dangerous cholesterol levels – increased with age, thus leading to Berenson's crusade to show that heart disease prevention fundamentally begins at birth.
Some results showed that 10-year-old children in the late 1980s were heavier than their peers in the early 1970s. The study showed that children consumed more saturated fat and cholesterol than what was recommended.
That era was also a time when the country witnessed the proliferation of fast-food restaurants, noted for their unhealthy fare.
The study further revealed that children were being served unhealthy food at school, which Berenson recognized as an opportunity to branch off in a different direction and help reverse the alarming trend. He helped launch the Washington Parish Prevention Program for Children, which originally was a parish-wide program that addressed "the often preventable and dangerous risk factors for heart disease."
He says the goal of the model "is to prevent and offset childhood unhealthy lifestyles that lead to obesity and its serious consequences."
The program relies on volunteers to motivate program participation from various community groups and provides some salary supplementation to teachers who take on leadership roles.
FLOURISHING IN AUSTRALIA
The program reaches children directly through the school system. He says it provides elementary school teachers with an easily adaptable curriculum that meets national education and science standards.
He says the curriculum is behavior-oriented and tailored for each individual grade. Lesson plans and activity suggestions to help teachers integrate health promotion to students are also provided.
Funds for physical activity equipment where none is present are also available.
The program was sustained through various federal and state grants as well as through local government and school agencies.
Although the program is flourishing in areas as far away as Australia and Finland, funding for that
has also dried up in Washington Parish.
"It's a shame when you can't get [government officials] to support it," Berenson says, although he is optimistic about the Bogalusa City Schools picking it up after a meeting with new superintendent Louise Smith.
Berenson is proud of having had the opportunity to introduce his hometown to the world. He is internationally renowned for his work and recalls one incident when he was giving a speech in Japan.
"They didn't know anything about New Orleans, but they knew about Bogalusa," he
recalls, beaming.
Berenson has also received several awards for his work, perhaps the most prestigious coming in 2008 when he was one of 13 researchers from throughout the country to be selected as a Distinguished Scientist by the American Heart Association. That award is given to medical professionals whose work has played a role in advancing the understanding of cardiovascular disease.
Even HBO has gotten into the act: The entertainment giant spent two days filming in Bogalusa as part of its series on obesity.
Camera crews spent time at Bogalusa schools focusing on the Heart Smart Program and the benefits to young people. Past students
were also interviewed, including school bus driver Cindy Roach, who was one of the heart study's early participants.
For now though, Berenson is left to reflect on a program that appears to be nearing its end. Disappointment drapes every word, as he believes there is much more work to be done.
In fact, Berenson admits research remains to be completed on serum samples frozen as recently as two years ago.
"There's still a lot to be published," he says. "I can't analyze the data. I have to get somebody to analyze the data and write it. I edit it."
He says approximately $500,000 is needed to continue the long-term study with seven to eight people, but he needs $200,000 "just to keep what we have."
"It will be difficult, but I'll get it done," he says.
Even the archiving of nearly 40 years of results has proved to be difficult. Originally, Berenson's attempts to have those results archived in LSU and Tulane facilities were rejected by each administration, citing a lack of space.
So he found a medical library in Texas to archive the studies. But recently, LSU and Tulane have both approached Berenson about keeping those results local.
Although hopeful something can change financially, Berenson has become philosophical about the status of the Bogalusa Heart Study.
"We don't want to give up," he says. "We cannot prevent death. We can teach young people from an early age how to prevent heart disease. We can help improve the quality of life for people with heart disease. Now you tell me, is that an impact?"
The long-term biracial study led to significant breakthroughs on how cardiovascular risk can be affected by lifestyle trends, such as obesity, that began nearly at birth.