Carnival in New Orleans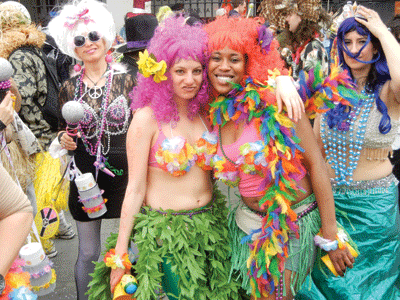 Pictured here are members of the Mondo Kayo Social and Marching Club on Frenchmen Street in New Orleans. If it is true that blondes have more fun, what can be assumed, from this picture, about people whose hair is pink or orange?
A. They don't have any fun.
B. They are shy.
C. They shun celebrations.
D. They have fun, too.
Frenchmen Street has become a gathering point for some of the most creative costumes in the New Orleans Carnival. In what historic neighborhood is the street located?
A. Faubourg Marigny
B. Vieux Carre
C. Garden District
D. Faubourg Bouligny
Rex, monarch of Carnival's oldest organization, is the King of Carnival. What is one of Rex's influences on the statewide celebration of Carnival?
A. Chasing after chickens
B. The colors purple,
green and gold
C. Gumbo along the parade route
D. Throwing cracklins
from the floats
Bogalusa native Henry Roeland Byrd, better known as Professor Longhair, recorded one of Carnival's classic rhythm and blues songs. What is it?
A. "While We Danced
(at the Mardi Gras)"
B. "Carnival Time"
C. "Mardi Gras Mambo"
D. "Go to the Mardi Gras"
Some of the largest floats for the New Orleans Mardi Gras are built in what community?
A. Metairie
B. Algiers
C. Covington
D. Bordelonville

Your friend's psychiatrist says that tossing throws from a float might be a good outlet for his anxieties. He figures he has his best chance of getting on where the numbers are big. In terms of riders, what is the largest krewe in all of Carnival?
A. Rex
B. Bacchus
C. Orpheus
D. Endymion
At some high-society balls, the monarchs march in a procession to the music of the "Grand March" from Aida. Who wrote the opera?
A. Wolfgang Mozart
B. Gioachino Rossini
C. Giacomo Puccini
D. Giuseppe Verdi
In 1871 Aida was first performed in a city that is on the same parallel as New Orleans. What is it?
A. Milan
B. Paris
C. Athens
D. Cairo
Movie star Andy Garcia was the monarch of this parade in 2011:
A. Babylon
B. Bacchus
C. Proteus
D. Rex
Your friend tries to tell you that the date of Easter is determined by the date of Mardi Gras. You tell him it is the other way around. Mardi Gras is 40 days, not counting Sundays, before Easter. How is the date of Easter calculated?
A. The first Sunday of spring
B. The first Sunday after the first full moon after the vernal equinox
C. The first Sunday after the last Tuesday prior to the first full sun of the year
D. The 16th Sunday prior to the autumnal equinox
Answer this BONUS QUESTION and be eligible to win an overnight stay for two at the luxurious PARAGON CASINO RESORT: Name the oldest parade that marches either on Mardi Gras or closest to Mardi Gras in the following towns: Baton Rouge, Lafayette, Lake Charles, New Roads and Shreveport.
Send in your answer on a postcard addressed to:
Louisiana Life Bonus Question
110 Veterans Blvd., Suite 123
Metairie, LA 70005
Two winners will be drawn from among the correct answers. Each will receive an overnight stay for two at the recently expanded and remodeled Paragon Casino Resort in Marksville. Winners' names will be announced in the May/June 2012 issue.
For our September/october issue, the question was: Several Louisiana towns have the name of a foreign city or region. Name them and the parish they are in.
The correct answer was:
There were at last 30 possible answers ranging from Alexandria to Venice with stops including Sicily Island, Hamburg, Sorrento and Delhi.
Winners were:
Deirdre Yanes, Baton Rouge
Titus Belgard, Pineville
ANSWERS TO THE ABOVE QUESTIONS:
1.D 2.A 3.B 4.D 5.B 6.D 7.D 8.D 9.B 10.B
SCORING
Score 10 points for each correct answer:
0-20 Consult your nearest library.
30-60 Begin by buying a good road map.
70-90 You should run for office.
100 You're a candidate for a Ph.D. in Louisianaology.