Carnival in New Roads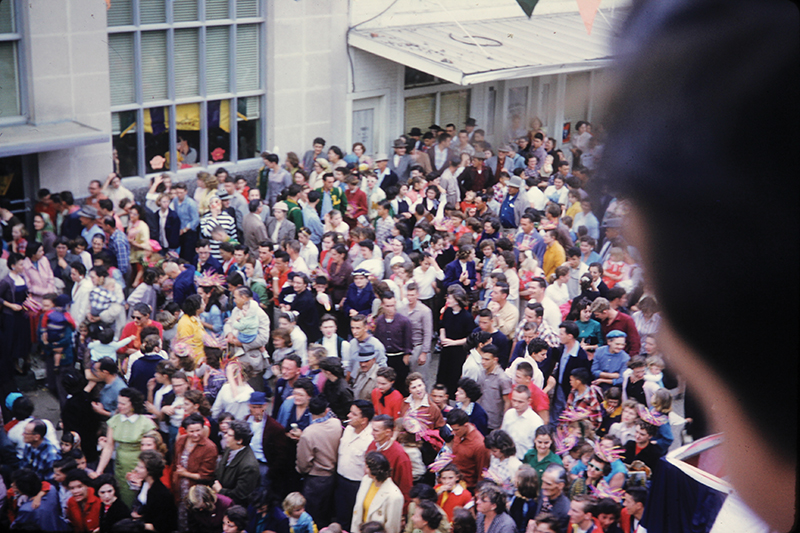 By the time the 2020 Carnival season reaches its climax on Mardi Gras, Feb. 25, numerous Louisiana cities and towns will have wrapped up their perennial schedules of pre-Lenten parades, balls and other festivities. In one community, however, all proverbial stops will be pulled out as New Roads hosts its latest edition of the state's oldest Carnival celebration outside New Orleans.
Though Pointe Coupee Parish, of which New Roads is seat, has a population of less than 25,000, law enforcement and parade officials estimate as many as four times that number throng the picturesque streets of its capital on the banks of False River each year for one of the Gulf region's most popular Mardi Gras events. Locals as well as tourists from across Louisiana, southwest Mississippi and other states, have long appreciated the New Roads fete as a tradition-laden, family-friendly and convenient alternative to Shrove Tuesday in the Big Easy.
New Roads' Mardi Gras roots were whetted in the era of dirt streets and make-do ballrooms. The parish's official journal, the Pointe Coupee Banner, has provided an exhaustive chronicle of the town's signature celebration since the founding of the newspaper in 1880. The following year brought the first account of a large scale Mardi Gras ball, held at the Duvernet Hotel on Shrove Tuesday night 1881 and attracting "the beauty and chivalry of False River." In 1885, New Roads baker Casimir Savignol, a newcomer from southern France, was noted as observing Le Jour des Rois (Kings' Day, i.e., Epiphany), January 6 – the first day of the Carnival – with the sale of cakes containing the "mystic bean": King Cake.
According to generations of oral history, costuming and parading the streets of New Roads began even earlier, with masked men riding horse-back and children in various disguises frolicking throughout the community without any particular route in day-long joie de vivre. A sense of the comic, and the sinister, was evident in adult costumes of the 19th and early 20th centuries, as local men often appeared in wildly colored clashing female attire with generous "padding" front and rear or in homemade gorilla suits of Spanish moss. Many wore the tall, conical hats called capuchons, seen nowadays mainly in Acadiana celebrations, and cracking bullwhips with loud regularity to teasingly frighten youthful onlookers. Such characters are the origin of the local term Mardy Graw for any "promiscuous" (i.e., individual) masker.
New Roads' first known parade of floats occurred in 1897, with the Banner reporting Mayor Harry Demouy sponsoring two mule-drawn floats as a promotion for his drugstore business. The first float featured Demouy robed and reigning as "Rex" in the manner of New Orleans' Carnival monarch and surrounded by courtiers bearing symbols of the pharmacy profession, and the second float carried a brass band.
Members of New Roads' African-American community are recorded as staging lively parades of mule-drawn floats and brass bands in 1910 and 1911, with King "Snowball" and "Consort" ruling in the latter year.
Mardi Gras has been consistently celebrated in New Roads since 1922 when James M. "Jimmy" Boudreaux (1887-1949) inaugurated the town's Mardi Gras morning parade with a lone mule-drawn float and a brass band on the town's then-graveled thoroughfares. Known since 1959 as the Community Center Carnival parade, this annual spectacle is the state's oldest Carnival parade after New Orleans' Rex, Proteus and Zulu and one of the oldest and largest African-American orchestrated events in the nation.
For several years beginning in the 1930s, Jimmy Boudreaux and fellow merrymakers paraded through New Roads on Lundi Gras night, arrived by watercraft at the municipal bathing pavilion on False River on Mardi Gras morning, and boarded floats again for their second procession. Their post- parade "thank-you" notices in subsequent Banner issues stated each year's king and queen hailing from the "Island Paradise of Negrito" to enjoy a two-day rule in town each Carnival, much like the parlance and mysticism of Rex and Zulu.
Mardi Gras afternoon is marked by a second parade in New Roads, founded shortly after the town's streets were paved in 1931 as the Children's Carnival. Sponsored by the community's oldest women's organization, the Mothers' Culture Club, from 1932 through 1940, this event featured costumed children, led by king, queen and court, marching through the downtown area and enjoying a New Orleans-style masked ball in miniature, complete with grand march and call-out dances, thereafter in the old Knights of Columbus Hall.
The burden of orchestration of the afternoon events and the public's changing interests spurred J.T. Niland, Sr. and other New Roads businessmen to coordinate the 1941 parade, which featured eight floats and four school marching bands and attracted a crowd estimated at 10,000. Three months later, Niland and colleagues were formally chartered as the New Roads Lions Club, and the organization has continuously staged the parade as a charitable fundraiser.
---
LEADING UP TO THE BIG DAY
Many New Roads area residents get their amuse bouche of public Carnival revelry at the Livonia Carnival Association parade, an annual event held in the southern Pointe Coupee Parish community of that name on the Sunday afternoon preceding Mardi Gras. The following day is marked by Lundi Gras on Old River, an afternoon of music, food and contests on Raccourci-Old River in Upper, or northern, Pointe Coupee.
In addition to local events, New Roadians holding membership in New Orleans krewes participate in parades, balls, luncheons and dinners in the Crescent City during the Carnival season, though largely in secret if member of one of the oldest and most traditional krewes.
---
Only World War II kept Mardi Gras off the streets of New Roads. In 1942, the town's duo of Carnival parades were the only ones to roll, as those in New Orleans and other cities were canceled due to the recent attack on Pearl Harbor. Material shortages and deference to the war effort resulted in the suspension of parades in New Roads as well during 1943-1945.
"Weather or not," tens of thousands of people of all ages line New Roads' parade routes each Fat Tuesday. Sleet in 1978, subfreezing temperatures in 1986 and 1989, a 3.77-inch deluge and dangerous winds in 2011, freezing rain in 2014 and several other years marked by rain resulted in abbreviated crowds, but the region's "event of the year" went on undaunted. A prime example is Mardi Gras 1989, when an estimated 15,000 shivering but intrepid merrymakers thwarted a mercury of 26 degrees Fahrenheit, threatening skies and numerous road and bridge closures, by far the coldest celebration in the weathered-checkered annals of Louisiana Carnival.
Annual attendance at the New Roads Mardi Gras ranks as the state's largest after New Orleans and Lafayette. In ideal weather conditions, New Roads' crowds are lined as many as 10-deep in some areas. The parade routes have been modified and lengthened to accommodate rises in attendance through the years, most recently owing to easier access from the Florida Parishes and Southwest Mississippi provided by the John James Audubon Bridge spanning the Mississippi River just northeast of New Roads.
The less congested residential areas of New Roads' parade routes and the abundance of off-street parking lots throughout town add to the convenience for parade-goers. Parking is permitted all along the routes, except for the stretch of Main Street between St. Mary and Alamo Streets downtown, where the thick of activity is given over entirely to spectators, concession and souvenir vendors and the antics of hilarious Mardy Graw maskers.
One of the most outstanding aspects of the New Roads Mardi Gras is that its parades are truly "of, by and for the people." Unlike exclusive krewe parades in New Orleans and elsewhere that limit float-riding to their members, the Community Center and Lions parades in New Roads are civic events, open to public participation. Though the morning parade is predominantly African-American in composition, both of New Roads' parades have been socially integrated since at least 1953.
The Community Center and Lions encourage all interested parties to enter floats or marching units in their annual parades, providing entries are in keeping with the family orientation of the celebration. Most floats are built by schools, churches, businesses, clubs and families from throughout a multi-parish region, and marching bands and dance troupes come from Mississippi and Texas as well as across Louisiana.
New Roads' floats, which were last pulled by mules in 1946, have increased in size but are little changed in design from the early years. Most parades in New Orleans and other places are composed of generic rental floats which appear in several parades each season, but New Roads' floats are built new each year and in a signature whimsical style despite any seriousness of subject portrayed. Floats entered in competition adhere to the respective themes chosen annually by the Community Center and the Lions Club, these having included historical events, patriotism, children's literature, music, movies, states, foreign countries and various aspects of Louisiana life and culture.
---
ROLLING FOR CHARITY
The New Roads Lions Carnival was the first known Mardi Gras parade to roll for charitable purposes and has since 1941 helped the Lions put nearly $2 million back into local and state charitable causes. Among the New Roads Lions' beneficiaries have been the Louisiana Crippled Children's Camp, Louisiana Eye Foundation, Boy Scouts program, area schools (public, private and parochial), the National Guard, substance abuse prevention and youth recreational programs, as well as acquisition of street barricades for Mardi Gras and other community events, rescue units and improvements to the Morrison Parkway boat launches on False River.
---
In a kaleidoscope of shimmering and rustling petal paper, New Roads' floats feature such animation as smoke-breathing, head-bobbing papier-mâché dragons, bubbling volcanoes, confetti-firing cannons and rockets and old-time showboat music. The costumed riders aboard, usually children of the float-builders, enact skits illustrating their respective floats' subjects upon reaching the reviewing stands and often proffer "bribes" of various sorts to the guest judges on the stands.
As early as 1949, the Lions parade rolled with 26 floats, six more than the Rex parade in New Orleans that same day. In the first decade of the 21st century the Lions and Community Center have featured as many as 35 and 40 floats, respectively, and nine high school, middle school and college marching bands each. Especially memorable were performances of the incomparable Southern University band of Baton Rouge in the 1953 Lions and 2006 Community Center parades.
At the head of each New Roads Mardi Gras parade are robed and bejeweled kings, queens, dukes and duchesses aboard glittering royal floats. Parade royalty and its secrecy rank among the most hallowed traditions of the New Roads Carnival. Secret committees of the Community Center and Lions Club select their respective kings, queens and attendants about five months before each Mardi Gras. The kings are generally businessmen or professional men who have contributed to the welfare of the community, the queens inevitably college-age young ladies of outstanding achievement, and the dukes and duchesses are local high school students.
Though the identity of the dukes and duchesses of both parades are announced at the opening of each Carnival season, the kings and queens remain anonymous as "Pointe Coupee Parish's best-kept secret" until Mardi Gras itself, when they ceremoniously unmask before their respective clubs' reviewing stands during the parades. At least three kings went so far as to keep their identities as Mardi Gras monarchs secret from their wives until unmasking: Richard Glynn, Lions king of 1950; Joseph Beaud, Sr., Lions king in 1952; and Stanley Jackson, Community Center king of 1991.
The unmasking of royalty, presentation of Keys to the City by the current mayor of New Roads and exchanges of champagne toasts highlight each parade. The day's festivities reach fever-pitch when the newly-unmasked Lions parade king gives the royal command, "Laissez les bon temps rouler!" and the parade lurches forward, bands thundering and trinkets flying, into the sea of bobbing heads and waving hands.
Though the floats and trinkets or "throws" cast therefrom and the boom and blare of the marching bands are the parades' main attractions, other entries include military and ROTC units, high-stepping dance teams (as many as 20 in the Community Center parade), school, organization and festival royalty, equestrian groups and comic mini-vehicles. Recent entries have included United States Marine units and Clydesdale teams.
Celebrity appearances in the Lions parade included Louisiana Governor James "Jimmy" Davis astride his beloved equine, "Sunshine," in 1963 and Baton Rouge children's television personality William "Buckskin Bill" Black who appeared in a convertible most years during 1964-1986.
Bringing up the rear of New Roads' parades are truck floats, referred to locally as "comic floats." These huge entries burgeon with scores of merrymakers, many obviously "feeling no pain" owing to the libations enjoyed, and swaying in time to the classic rock, rhythm and blues, zydeco, Cajun, reggae and traditional Carnival music belted out by on-board bands or sound systems.
Float accidents have been relatively few in the New Roads' century-plus of parades. Most memorable is the burning of the "Batman" float in the 1966 Lions parade, due to a defective smoking device in the "Batmobile" and, fortunately, without harm to the young maskers who were quickly dismounted.
Even the most blasé local or visitor to New Roads quickly gets into "the throws of Carnival" as float riders disburse a wide variety of trinkets and other items with gusto. As in New Orleans and elsewhere, the throwing of souvenirs in New Roads' parades was a gradual phenomenon, done in a sporadic fashion by individual float riders as evidenced in film footage and photographs from the early years.
Many parade-goers remember New Roads' parade throws of the 1950s through the 1970s to have consisted of small hard candies, green apple flavored bubble gum, rubber balls and spiders, whistles and other small toys and paper books of matches. Miniature loaves of bread baked and wrapped by the Holsum Bread company of Baton Rouge were immensely popular catches from 1964 until their final appearance in 1986.
The cancellation of Carnival parades in New Orleans due to a citywide police strike in 1979 swelled New Roads' then-normal attendance of about 50,000 to more than 70,000 that year. From that year on, the crowd's growth and its press upon the floats necessitated the throwing of more trinkets, spurring parade organizers to stock the floats with cases of plastic bead necklaces and small toys. At the dawn of the 21st century, the throws became greatly improved in quantity, quality and variety. Float-riders now disburse tons of long strands of metallic beads and imitation pearls, logo go-cups, stuffed animals, miniature footballs, tee-shirts, posters and other novelties. Specifically Bayou State touches are frequent, such as necklaces bearing medallions shaped as small crawfish, alligators and "shrimp boots."
Doubloons were first minted for and thrown from the 1971 Lions parade, occasioning the headline "Crowds Bustle, Break at New Roads Mardi Gras" in the following day's, Feb. 24, Baton Rouge Morning Advocate.
"New Roads came alive for Mardi Gras Tuesday, but crowd control broke down completely," the article related, elaborating:
…as the floats began moving through the downtown area of this Pointe Coupee Parish seat, youngsters and adults alike paid no attention to the wire barriers strung along Main Street. Deputies from this and neighboring parishes and local policemen made no effort to restrain movement toward the lumbering floats and accompanying automobile [sic] as the onlookers stretched their hands skyward for 'something, mister'."
The coveted doubloon, though not described by the paper, depicted on one side the Lions International logo and on the opposite Canova's statue of the semi-nude Pauline Bonaparte Borghese, albeit not holding an apple but a scroll inscribed "Calliope, Muse of Epic Poetry."
That year's king, who had ordered the doubloon, informed this writer two decades later that he had for economy's sake requested a "stock" piece with one blank side upon which the familiar lion's profile could be depicted and was a bit surprised, and concerned, when the order arrived in conservative, small-town New Roads. Nonetheless, it remains a Carnival collector's item.
Five years after the above, the New Roads Lions and Community Center Carnival parades featured more modestly designed doubloons, commemorating on one side the 1699 exploration of the area by Canadian explorer Iberville and party and on the reverse the United States Bicentennial. In 2009, the Lions' royalty and court disbursed doubloons bearing the names of king and queen, year and Lions logo, initiating a custom which has prevailed in most years since.
Most sought-after of New Roads' parade throws now are the hand-strung necklaces of colorful glass beads, imported from the Orient, and which were introduced by the 2009 Lions royalty. They are reminiscent of the mid-20th century Czechoslovakian glass beads treasured by recipients more than a half-century later.
In addition to the two big parades, other public highlights of Fat Tuesday in New Roads include the Lions' annual $1,000 cash drawing, the Community Center's midway rides, souvenir vendors galore and the day-long peregrinations of Mardy Graw maskers in hilarious disguises throughout the downtown area. Several of the town's famed restaurants are open for the holiday and offer full or limited menus. Numerous concession stands feature tempting Creole cuisine ranging from boiled crawfish and steaming boudin to beignets, jambalaya, pastalaya, gumbo and etouffee prepared by local chefs, among the waffle cones, cotton candy and other more typical American festival foods hawked by vendors.
The aroma of the various viands and the sounds of music, accompanied by souvenirs vendors' cries, the blowing of toy horns and whistles, and the laughter of young and old wafting on a mid-winter breeze offers a multi-sensory setting to the New Roads Mardi Gras familiar to generations and laden with nostalgia of Carnivals past.
Mardi Gras is the climax and conclusion of the Carnival season, which opens on January 6 or Twelfth Night. Balls, dances and soirees are held on the weekends before the big day that is Shrove Tuesday. Locally, these events include the Lions Club masquerade dance and the Community Center ball, with public participation afforded the general public through admission. Gala invitation-only affairs follow the parades on Mardi Gras itself, including the Community Center King's Luncheon and the Lions King's Reception. New Roads' Carnival season also includes countless house parties as well as balls, pageants and other events at local schools, churches, nursing homes and business places, all of which add to the festive spirit. The City of New Roads kicks off its most hallowed annual traditions on Lundi Gras as well, with the presentation of the female attendants of the two royal courts amidst music, entertainment and champagne toasts offered by the current mayor.
Beyond the benefits of tradition, charitable fundraising and affirmation of communal fellowship, the New Roads Mardi Gras parades and related events are profitable for the community. Not only do the New Roads Lions put tens of thousands of dollars into the community each year, local businesses reap even greater monies in revenue owing to the expense of Carnival parades and social events.
For years, throughout each Carnival season, local as well as other cities' and towns' parades, balls and other Carnival festivities have been recorded for posterity in the Pointe Coupee Banner print and online editions by a personage whose byline is "Carnivalus Mysterious" and touts himself/herself as "nowhere yet everywhere" at the various merriments. Thus is afforded a behind-the-scenes view of events otherwise inaccessible to the most readers.
This year, great plans are in the making for Mardi Gras in New Roads. The Community Center Carnival parade will roll at 11 a.m. with the theme "Movies and Pastimes," followed by the New Roads Lions at 2 p.m. with a parade depicting "Timeless Tales." Both organizations are anticipating another colorful and entertaining celebration with "surprise" entries and special throws and are extending an especially warm welcome to first-time attendees.
In keeping with its commitment to education and programs benefitting area youth, the Lions Club will equally distribute the monetary proceeds of its Carnival fundraiser among those schools that roll competitive floats in its parade.
If the past 98 years have been any indication, Shrove Tuesday, Feb. 25, 2020 will prove a tradition-laden, fun-filled day for newcomers and seasoned festival-goers of all ages, in New Roads, Louisiana.
---
TIMELESS APPEAL
An early though timeless assessment of New Roads' Mardi Gras allure is the following, gleaned from a detailed feature article entitled "A Bow to the Town of New Roads" in the March 1956 edition of Baton Rouge's Register magazine:
The Mardi Gras parades in New Roads have become something of a tradition in high quality and though the floats are built by amateurs they have a professional look – each a masterpiece in design, color, detail, and originality…. It is perhaps the thoughts of times past which give that extra sparkle and something out of the ordinary to New Roads celebrations. For tradition is preserved, yet innovations are not denied….
---