Carnival Parties in Louisiana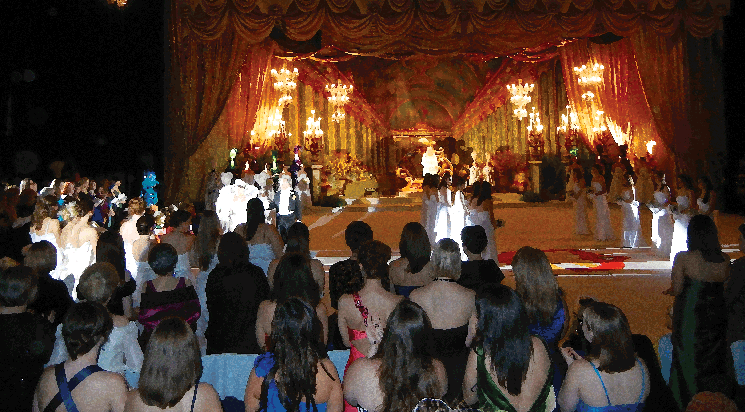 There are the parades, of course, with garish floats, flying beads and shouts of, "Throw me something!" And yeah, there are the inebriated throngs overflowing from the bars and lining the streets in exuberant indulgence.
But Mardi Gras wouldn't be, well, Mardi Gras without the lavish fêtes known as Carnival balls.
The earliest New Orleans Mardi Gras balls date back to the late 18th century. While the tradition of Carnival parties often veer into mythology and hazy history, they have been fairly well-documented, beginning with Arthur Burton La Cour's New Orleans Masquerade: The Chronicles of Carnival, an ultra-rare tome published in 1952. Amazon currently sells one used edition of La Cour's book for $400, but copies can be found in the reference sections of many local libraries.
"Carnival parades are a krewe's way of giving to the public, plus they're a lot of fun to ride in," says Bettye Anding, former editor of the Times-Picayune Living section, who has both enjoyed and written about Fat Tuesday for years. "The balls, though, are the big deal and open only to family, [krewe] members and friends. The high-society ones are debutante balls, at which daughters of members are presented to their social circle.
"It used to be that the girls were pretty sheltered when they 'came out,'" Anding adds slyly, "but now they're in college, and you know how sheltered that is. Still, it's tradition."
Anding says that traditionally, the largest and most important Carnival balls are put on by the krewes of Rex and Comus. Those are traditional society balls. But there are also what might be called the "big party balls": Over the past several decades the fêtes thrown by krewes such as Bacchus and Endymion have developed into huge wingdings.
Overall, New Orleans' Carnival balls are at once elaborate in spectacle and simple in pleasure. The dozens of Mardi Gras balls and the mini-societies that revolve around them form a complex yet fun-filled scene. Says Anding, "It's very complicated."
But although they're the best-known Louisiana Mardi Gras balls, the New Orleans fêtes certainly aren't the only ones in the state.
CELEBRATING IN CENLA
"The balls themselves are very similar to New Orleans, just on a much smaller scale," says Alexandria Mardi Gras Association President Chris Chelette. "The local krewe balls are much smaller and less over-the-top than those in the New Orleans area. We do not have the money nor the resources to bring in such big names as the New Orleans balls do. So I would agree that we are much more family-oriented. But that is a culture that we chose to adopt with our concept many years ago. We put a lot of focus on the family-oriented weekend."
One of the more prominent Alexandria balls is the one presented by the Krewe of Antiqua.
"The balls are a key part of every krewe," Chelette says. "They are a time for each krewe to come together and share in and display to friends and family achievements and activities from the past year."
Chelette says while each Carnival ball helps make up the festive Mardi Gras tapestry in Alexandria, the balls are especially crucial to the krewes themselves, many of which exist largely to plan and put on the galas.
"As far as the importance of the balls to the season, it is less significant than to the individual krewes themselves," he says. "The krewe handpicks its royalty each year to serve as ambassadors to the season for the krewes."
Alexandria's Carnival festivities aren't limited to krewe balls; one of the most important gatherings is the Taste of Mardi Gras, in which local restaurants feature their Mardi Gras delicacies for the public before an evening of live music.
Other municipalities in Central Louisiana that feature Mardi Gras balls include Leesville; Natchitoches; and Marksville, where the Knights of Columbus present a ball every year.
NORTHERN LOUISIANA ROMP
What about North Louisiana? Yep, there's a slew of Mardi Gras balls in such cities as Shreveport and Monroe and smaller places such as Ruston and Minden, where krewes focus on parades and other revelry in much the same way that Central Louisiana organizations do – with entertainment appropriate and available to all.
"The cities of North Louisiana have embraced the seasonal traditions of their sister to the south, including King Cakes and glamorous balls," writes louisianatravel.com scribe P.N. Reichard. "One thing North Louisiana does not embrace, however, is risqué behavior. … The cities and towns of North Louisiana take pride in keeping their Carnival clean."
In Shreveport, the largest city in the northern part of the state, some of the prominent krewes include Centaur and Gemini. The city even has riverfront fests that crown dogs and cats for the day, thanks to the krewes of Barkus and Meoux.
CAJUN COUNTRY
Then, of course, there's Mardi Gras in Acadiana, where French culture perhaps holds the most sway and Fat Tuesday fêtes takes on a communal feel.
"Cajuns and Creoles are universally known for their laissez les bons temps rouler (let the good times roll!) spirit," Katrinna Huggs wrote in Offbeat in 1990. "But Mardi Gras in Acadiana is truly a time for Cajuns and Creoles alike to indulge the pleasures of the flesh. Whether your fancy is a city-style Mardi Gras ball in Lafayette or chasing chickens on horseback in the countryside to make a community gumbo, Southwest Louisiana offers an inimitable way of celebrating the festive holiday."
The second-largest Mardi Gras celebration in the U.S. is in Lafayette, the very heart of Acadiana, where krewes and their balls flourish with as much vibrancy as in New Orleans. Lafayette balls can be traced back to the 1860s, and in 1934, with the formation of the Southwest Louisiana Mardi Gras Association, the pageant tradition was firmly established in perpetuity.
In Lafayette, pageants and balls fill the calendar between Epiphany and Ash Wednesday. As in New Orleans, most of the Lafayette balls are private; the Southwest Louisiana Mardi Gras Association Pageant and Ball is the only Carnival party open to the public – tickets, in fact, are free. Wrote Huggs: "This city's Mardi Gras madness is perfect for the whole family."
But that's in the big city. In rural Cajun country – in towns such as St. Martinville, Church Point, Ville Platte, Elton, Mamou, Iota and Eunice – live poultry, bunches of beer and door-to-door begging are the parties of choice. That's because Mardi Gras in deep Acadiana is celebrated by revelers – most likely already joyously inebriated – on horseback who gather early in the morning and spend the day going from house to house, "begging" the occupants for live chickens, rice and vegetables as ingredients for community gumbo. The truly fun – and funny – part? Tradition dictates that all chickens must be chased on foot.
Once the runs are completed, the community gathers to eat gumbo, drink beer and dance into the wee hours of the morning. For example, the Tee Mamou-Iota Mardi Gras Folklife Festival begins at 1 p.m. on Mardi Gras day in downtown Iota.

FAVORITE MOMENTS
So in general, across all corners of Louisiana, Carnival parties take different forms and feature a wide variety of atmospheres, depending on where the party-goer chooses to celebrate. But in every locale, Mardi Gras balls have been thrown for decades, if not centuries, and long-standing, celebrated traditions are embraced by proud locals and savored by hundreds of thousands of visitors each year.
There's so much partying going on, in fact, that many of the people who take part in Carnival find it hard to select their single favorite Mardi Gras moment. Alexandria's Chelette, for example, is a member of multiple krewes – the area has 23 krewes in all – so he attends numerous balls every Carnival, and his favorite part of the Mardi Gras season is actually the city's famous Children's Parade.
Still, when it comes to relishing the Carnival ball experience, Chelette says that fond memories abound.
"I could say that all the memories are wonderful, a night of laughing, dancing and socializing with family and friends," he says.
As for Anding, the New Orleans-based journalist, her fondest – and, perhaps, most bittersweet – remembrance is when she was invited to one Carnival ball by the queen's mother, who was suffering a lengthy illness and died not long after the event.
But Anding also savored being a part of the festivities thrown by the women's Krewe of Iris, which, she admits, she joined largely to take part in the parades and parties.
In the end, no matter where you are in the state, Carnival balls come down to two fundamental ingredients: tradition and revelry. You can be applauding debutantes at the Rex ball in New Orleans, laughing and dancing with your kids in Alexandria or chasing chickens in Eunice – wherever you are, life, at least for a day, is a carnival.