Castle by the River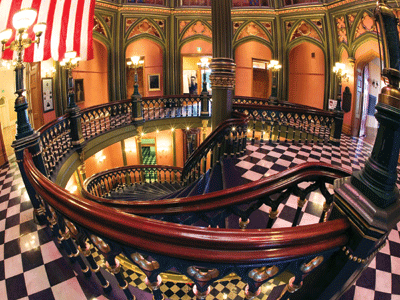 Like the young Confederate ghost darning his socks in a basement jail cell and the "shadow" of a still-talkative Huey Long greeting you in the upper offices, the Old State Capitol in Baton Rouge is alive again! Exhibits are modernized; display areas streamlined – but, says Director Mary Durusau, the mission remains the same: to provide a dynamic and entertaining glimpse of old-time politics in Louisiana's Museum of Political History, housed in the most appropriate landmark imaginable.
The Mississippi River in Baton Rouge is paralleled by the ridge that gives us scenic Highland Road, the "mound" of colonial Magnolia Mound Plantation and the stunning bluff at Southern University. Its most dramatic spot, however, was claimed long ago for Louisiana's Old State Capitol, a storybook castle dominating the view from land and river alike. Now more than 160 years old, this National Historic Landmark stands shoulder to shoulder in significance with the earthworks of Poverty Point and the Cabildo in New Orleans. After all, it not only firmly established Baton Rouge as the state's capital and witnessed the antics and impeachment dramatics of the Huey Long administration but also stands today as, itself, a wounded veteran of America's bloodiest war.
The War Between the States, its very name still a matter of controversy, spanned the years of 1861 to 1865 – its heroics and horrors sure to echo through the Civil War Sesquicentennial observation that begins this year – and it was a vote in the House Chamber of the Old Capitol that brought the war to Louisiana.
Art of the Architects
James Dakin, born in New York, was a firmly entrenched Louisianian by 1847 when he was tapped to design and build a statehouse in Baton Rouge. He had, after all, served in the Louisiana Militia since arriving in New Orleans in 1835, and he organized a regiment that saw service in the Mexican-American War.
A cornerstone was laid on Nov. 1, 1848, and, although Dakin was a nationally recognized master of Greek Revival design, the structure that began to rise on the ridge soon revealed itself to be a turreted and crenelated castle in the new Gothic Revival style. Despite constant problems with delivery and quality of materials, it was far enough along to inspire a dedication ceremony by November 1849, and the Legislature convened there in 1850 despite ongoing plastering and other interior work.
All was complete by February 1852, and later that year, on May 10, Dakin died in his Baton Rouge home at age 45, victim of an unknown disease. His majestic 7-foot iron fence, echoing design elements of his Capitol, wasn't erected until 1855 (magnificently restored in 2009), and landscaping and planting weren't undertaken until 1858. The rare ginkgo tree still living today was one of three brought from China and planted here by Congressman Henry Watkins Allen.
Louisiana's Secession Convention was convened in December 1860 by Gov. Thomas Overton Moore, and on Jan. 26, 1861, the delegates voted 112-17 to withdraw from the Union. Two future generals, Congressmen Allen and Braxton Bragg, strode through the cheering crowd bearing the traditional (but unofficial) Louisiana banner of white, its small pelican cluster set within a single yellow star. On Feb. 11, a new Flag of Independent Louisiana was raised (red, white and blue stripes with a single yellow star) but would fly for only 10 days before Louisiana joined the Confederacy.
Louisiana did not become a battleground till 1862. With a Union armada threatening New Orleans in April, the legislators traveled from Baton Rouge to Opelousas, convening there briefly, and then to Shreveport for the duration. In December 1862, the soldiers' makeshift cook fire in the Capitol basement started a blaze. Thought to be extinguished, it smoldered through the night, rekindled and thoroughly ravaged the building's interior.
In 1880 architect William Alfred Freret of New Orleans entered the scene. With the war and Reconstruction long past, Louisiana and Baton Rouge finally mustered $176,000 for rebuilding the Capitol's interior, and Freret set about capping the old rotunda with the splendid stained-glass dome we see today, blossoming from a central iron column above his immense winding stairway.
To the rooftop Freret added a beautiful multi-windowed structure to provide light to his dome, but, self-control yielding to his fetish for iron, he ruined the castle's appearance by adding, atop the old towers, purposeless iron extensions as disproportionate and unlovely as his rotunda is beautiful. That appearance prompted Mark Twain's infamous statement (in Life on the Mississippi) that dynamite should be used to finish the job begun by the Yankees' "charitable" fire.
In 1882 the Legislature returned, as Freret's work neared completion, and 11 governors came and went before the 1928 inauguration brought Huey Pierce Long, complete with his "deduct box" for state workers' "contributions," a taxation war against Standard Oil, an inevitable impeachment and his famed round robin of enough pro-Longs in the Legislature to block his conviction.
Simultaneously, as we know, a new statehouse was rising a few blocks upriver, and the castle's official career ended May 10, 1932, when Oscar K. "OK" Allen was sworn in as the first governor to serve in Huey's brand-new Capitol.
To arouse crony and crowd support for that great monument to himself, the Kingfish had routinely defamed the Old Capitol, yet, inadvertently, it was he who saved it. Because he was king of the castle when Freret's iron turret-tops rusted to the point of instability, it fell to Long to approve removal of the scrap iron, which led to the public's renewed love affair with the breathtaking beauty of the Capitol's exterior – Dakin's masterpiece unmasked.
The inside, however, still belongs unquestionably to Freret.
See for yourself, but start by spending some quality time with a new handbook of the building's history and lore – perfect preparation for a visit – by longtime volunteer guide Carol Haase: Louisiana's Old State Capitol (available at bookshops or pelicanpub.com).

Just inside the North Boulevard entrance, pause at the admission desk for tickets and a brochure-map. The map suggests starting your tour upstairs, but you'll likely linger on the first floor awhile, enraptured by the swirls and colors of that wondrous winding stair and overarching stained-glass dome.
A Governors' Portrait Gallery surrounds the stairway on the upper level, where screens mounted on elaborate easels light up to present information on any governor you choose. The House Chamber, with its stage and tiered seating, has been put to use for presenting fine films about the building and the state and, in recent years, for special events, such as John "Spud" McConnell's one-man Earl Long in Purgatory performance.
Back downstairs, at a vintage podium in the old Governor's Waiting Room, visitors take turns selecting filmstrips of fiery rhetoric by Huey, Earl and other familiar names or a "farewell song" in the Legislature sung, of course, by Gov. Jimmie Davis and his Sunshine Boys band. The Governor's Office, decorated with Audubon bird prints, features an original desk plus portraits and belongings of past governors, including the
two Murphy J. Fosters who have borne the title.
Then come two rooms devoted to Huey's legacy – one dramatizing the division of the state between pro-Longs and anti-Longs and the other featuring a campaign rally from the days of his Share Our Wealth movement and U.S. senatorial campaign. And we know the end of the story. A little octagonal room (in one of the castle's front turrets), now nicknamed the Gun Room, presents a small but chilling display dealing with Long's death, complete with the glass-encased pistol of his accused assassin.
Across the central hall are three more exhibit rooms, the first telling the story – with drawings, models and photography – of all of Louisiana's capitols, from borrowed and rented spaces in New Orleans to the one-term statehouse in Donaldsonville, from a borrowed courthouse in Shreveport to the capitols of Baton Rouge.
The second, another turret room, displays facsimiles of the war-era journals of Sarah Morgan, belle of many balls held in the Capitol (built, in fact, on her family's estate). They were published in 1913; again in 1960; and finally, in their entirety, in 1991. Thus introduced to Sarah, head for the nearby office now used as a theater; take a seat; and hold tight as she narrates the story of her beloved Capitol and the war while 360 degrees of dancers, flames and clashing armies swirl about you in an experience called The Ghost of the Castle.
And be warned: When you least expect it, in any corner of that castle, the "actual" ghost of Sarah Morgan might suddenly appear. She's played convincingly by Freddie Deblieux of Natchitoches Parish, which is appropriate, because the rooms and hallways of the old and new capitols have been the "haunts" of that veteran guide and chronicler since 1974. Oh, and you'll also want to meet her friend in the basement, the ghostly Confederate soldier confined there since the fall of Baton Rouge. He'll try his real-person act on you, but you'll see right through it.
Secretary of State Tom Schedler, whose office is guardian of the Old Capitol, urges you to continue your explorations by visiting 16 other important structures and collections managed by the State Department. They're listed in the Heroes and Heritage Trail booklet available at www.sos.louisiana.gov/museums, and those who see them all will qualify for an overnight experience in the Old Capitol (with peeks into areas not usually accessible).
For more political history, you should also visit the recently restored Old Governor's Mansion, just up North Boulevard from the Old Capitol, and the very entertaining Louisiana Political Museum and Hall
of Fame in Huey's hometown, Winnfield.